I have literally hundreds of machine knit swatches from the days I taught in a design school program. I periodically revisit them and since cables and their look alike relatives have recently caught my attention I thought I would share photos of some of the samples in the next few posts.
They are not necessarily resolved fabrics, some of them are the result of random demo efforts/ stitch play.
In any discipline over decades one cannot help but become aware of how materials and  styles cycle, and this is oh so true in fashion and certainly in knitting. For a while more than a decade ago knit i_cord yardage/ tubular yarn was marketed by several manufacturers, and it is now making its reappearance.
One way to create pretend cables in varied color combinations is to apply purchased yarn, or machine knit cording/ tubular knit to the purl facing the knitter side as the piece progresses. The application may be done in an organized manner, using a punch card to select needles on which the yarn will be hung, or more random, even with wide knit strips in contrasting colors
purchased yarn

with tubular knit cord in addition to hooking up, anchoring may require some stitching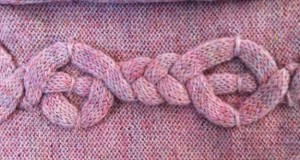 strips of contrasting color hooked onto the knit in the seam as you knit method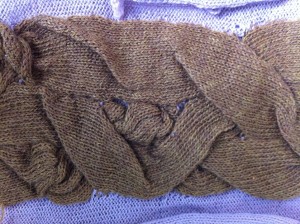 cording may also be inserted into single stitch lace "holes"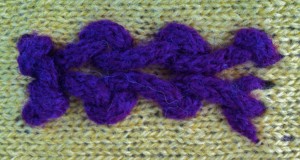 or larger holes created through holding techniques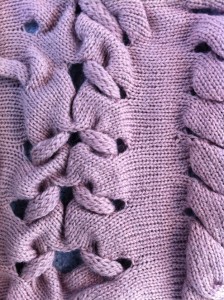 Knit i-cords, ribbon, twisted cording etc. may also be  threaded/woven through holes created at cable crossing as a way to add color and dimension to standard cables, mimicking their movement on the fabric. A recent foreign magazine cover including a variant of the above technique