This cast on (on any ribber) is capable of giving a softer, looser start and is good for fabrics that stretch. When experimenting, check the alignment of needles physically before proceeding for knitting rib on all needles. Often manuals give suggestions as to "needle rule" for each type of rib. The sequence below is knit on a Passap. It, in theory, would produce a 2X1 "industrial rib that could transition to every needle or main bed knitting without any holes at the transition point. Note here there is a needle in work between each pair of needles on the opposing bed.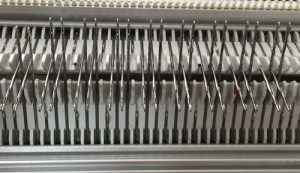 "zigzag" row, normal needle position: work slowly, make certain all needles have picked up yarn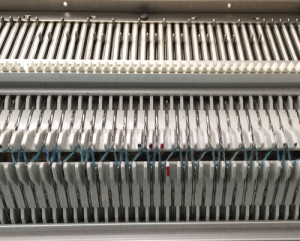 hang comb: the first needle is in work on the back bed on far left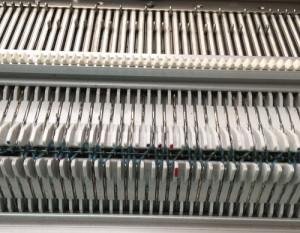 rack one full turn to the right: the first needle in work on the front bed is now on far left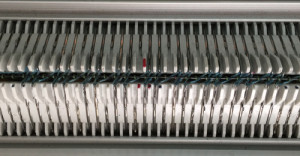 knit one row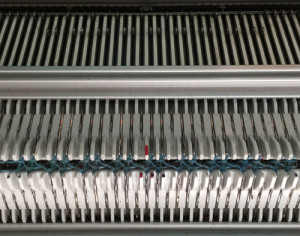 rack back to the original position, continue  plain rib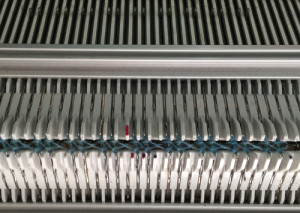 There are sources online including videos that recommend circular rows at this point, they are actually unnecessary. The other recommendation made by many after any ribber cast on is for 3 circular rows. There is no need for the third circular row. It will actually create a visible line across one side of the rib, that is noticeable, and may not be wanted if it is on the "public" the side of the finished garment. To fill in potential holes produced when empty needles are brought back into work, bring all empty needles into work, tuck one row across both beds, making certain loops are formed on each needle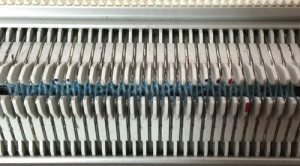 knit 2 rows circular slowly, some needles hold 3 loops of yarn, switch to ENR rib
the result at rest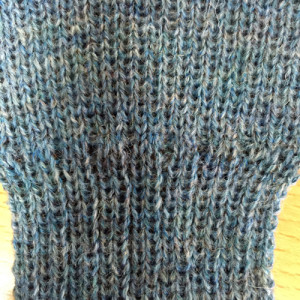 rib stretched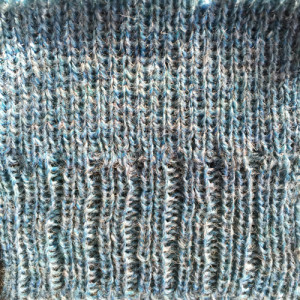 Going for a rib with more of a 2X2 look: set up needles for rib pattern, there are still 2 needles in work, one not, on each bed. The empty needle space is now at the center of each pair of needles on the opposite bed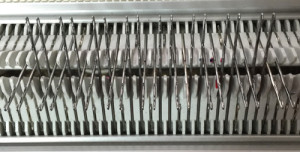 rack one full turn to the right, knit one row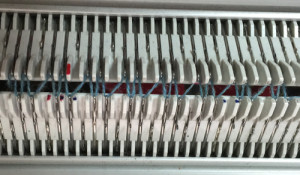 hang comb and weights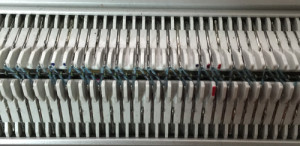 rack back again to "needle rule" position Knit one row at final setting, proceed for rib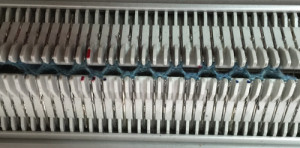 at the top of the rib knit 2 rows circular, proceed on EN rib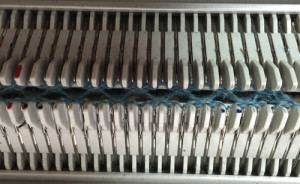 tension adjustments may make a big difference, my samples have been knit at the same tension throughout, and single-ply throughout
the first rib at rest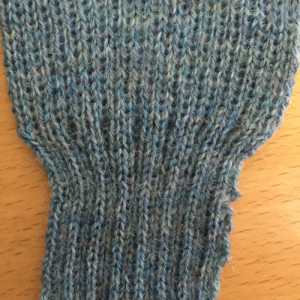 stretched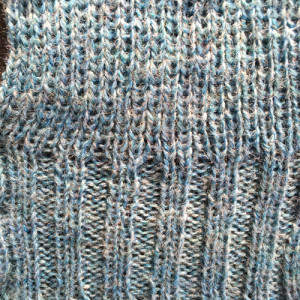 both instances produce a reversible rib
Some experimenting is required to achieve cast on rows in rib that are not too loose or too tight. In this instance there has to be enough slack in the loops so that there is room for racking one full turn, too much will leave loops. Loops created by cast-ons with deliberately large stitch sizes may, in turn, be chained off with a latch tool. The stretch factor and weight of the resulting rib also need to be in balance with the remaining knit fabric. If "improvising" it is always advisable to keep good notes. Most publications and how-tos are really guidelines, starting points for investigating what may be the best method to use in any one piece.