I have always been interested in machine knitting hacks and began sharing information from the internet on the topic as early as 2013. I own the 910 Brother model, and when the ayab hack first became available, assembling electronic components was beyond my skill and interest. I have a good supply of mylars, but have always knit more complex fabrics on my E6000, which has the Croucher cable and switch box for download to and from a Windows laptop, using Wincrea .  I had known a preassembled kit for the 910 hack was in development from a trip to CA, which included a visit to the Bay Area Machine Knitting Guild  back in April 2016.  A recent post on Ravelry alerted me to the fact that Ayab was "alive and well", and that an assembled kit is now available and on the market. The hardware kit developer , to purchase  , wiki , interface , install . My understanding is that the software is still being developed in Germany.
Online discussion groups:  Ravelry , Facebook.  My compiled list of online pattern generators, hacks, free KM manuals, and more: 5435
I have purchased a kit,  and will share my experiences with it as time passes. In addition to by passing the mylar use, the idea of having software that will render more color separations that would normally have to be hand drawn for larger repeats than would be practical is an exciting one.
An artist whose work I admire, using the interface early on is Claire Williams , her tutorial  updated 2016 with DIY assembly of the original "kit".
11/27/17 This punchcard was shared by someone trying to reproduce the implied fabric on their 910. It is intended to be used as a combination lace and weaving card, so on the punchcard machine 2 carriages would be locked on the belt. If even number of passes are made with each carriage, there is the issue of the card not advancing each time when the opposite carriage makes its first pass. So far I have not been able to get this repeat to work for me as drawn, to produce results anything even resembling the "finished swatch" published photo. It did work for me using the LC carriage for 3 passes, releasing it, and following it by 2 rows knit with the KC set to tuck in both directions, a very different fabric. If the LC  is released after an odd number of rows, then technically when the KC is first in use,  the right to left and back to right selection is not interrupted, it is moving in the direction the LC carriage would have moved, and the punchcard row is not repeated. First row with LC selects, second row transfers, selects next row. Third row transfers, selects every other needle for the first tuck row on the next pass of KC, and LC is released. The fabric then tucks for 2 rows as punched, on every other needle. The second tucked row is completed with KC on right. The first LC row has now been preselected, as the *LC heads back to right (1) it transfers the selected needles, selects them again, but since they are now already empty, nothing happens to any yarn, and the next row of transfers is selected (2). Second set of transfers is made to right (3) as first tuck row is preselected. LC is removed. KC tucks for 2 rows (4, 5), selecting first LC transfer row with the second pass.* Repeat. The marks on the left should indicate carriage movements for each carriage, but they are off as well in my version of the fabric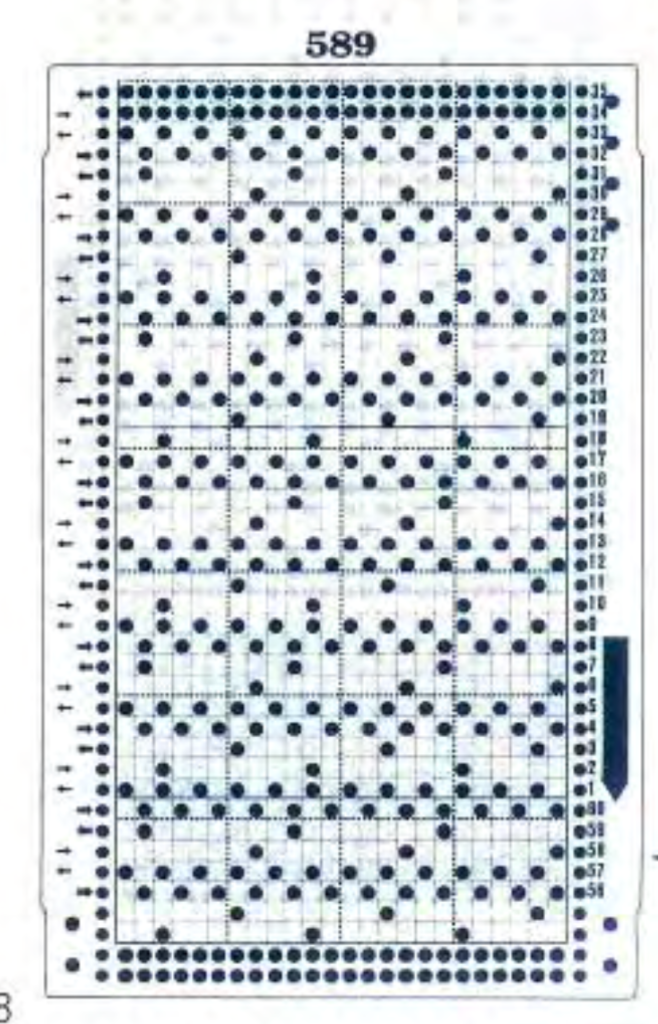 the pattern book swatch image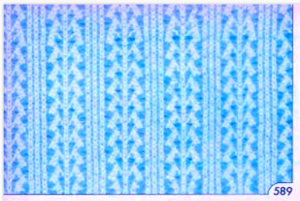 my tuck swatch


Lace is a challenging enough fabric without adding weaving yarn floats, and definitely combining them requires a clear understanding of what the yarn is doing on the needle hooks as one progresses through the repeat. I will be starting a separate post reviewing card markings  in punchcard pattern books, and translating them for electronic use.