WORK IN PROGRESS 
I have long since wanted to experiment with a variety of folds in knits other than "simple pleats". A friend on Facebook has been working successfully double bed. I thought I would share some of my earlier starts looking at some concepts beginning with the single bed.
For a diagonal pleat, I began testing the waters by bringing some needles to hold position every other row, and creating a "moving ladder" or eyelet in the center space between tucked stitch columns. The modified eyelet performed better than the simple one in creating a fold.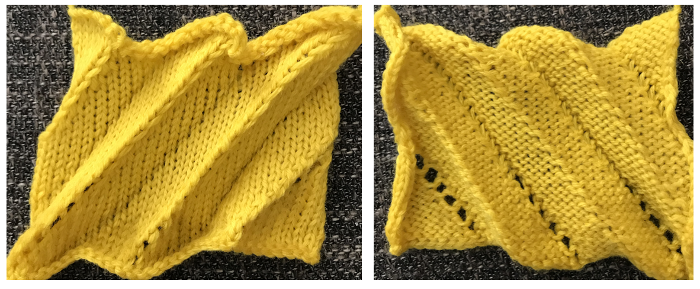 The next question for me is always how to automate any part of the process. Tucking for 2 rows seemed more likely to create a sharper crease. Since the transfers associated with the ladder space are all in the same direction this is a fabric that will definitely bias. The swatch below shows the results, the blue arrows point to operator error in ladder placement, the red arrow at the top of the swatch points to multiple rows of knitting. Multiple rows of stocking stitch at either end are likely to flare out and "ruffle"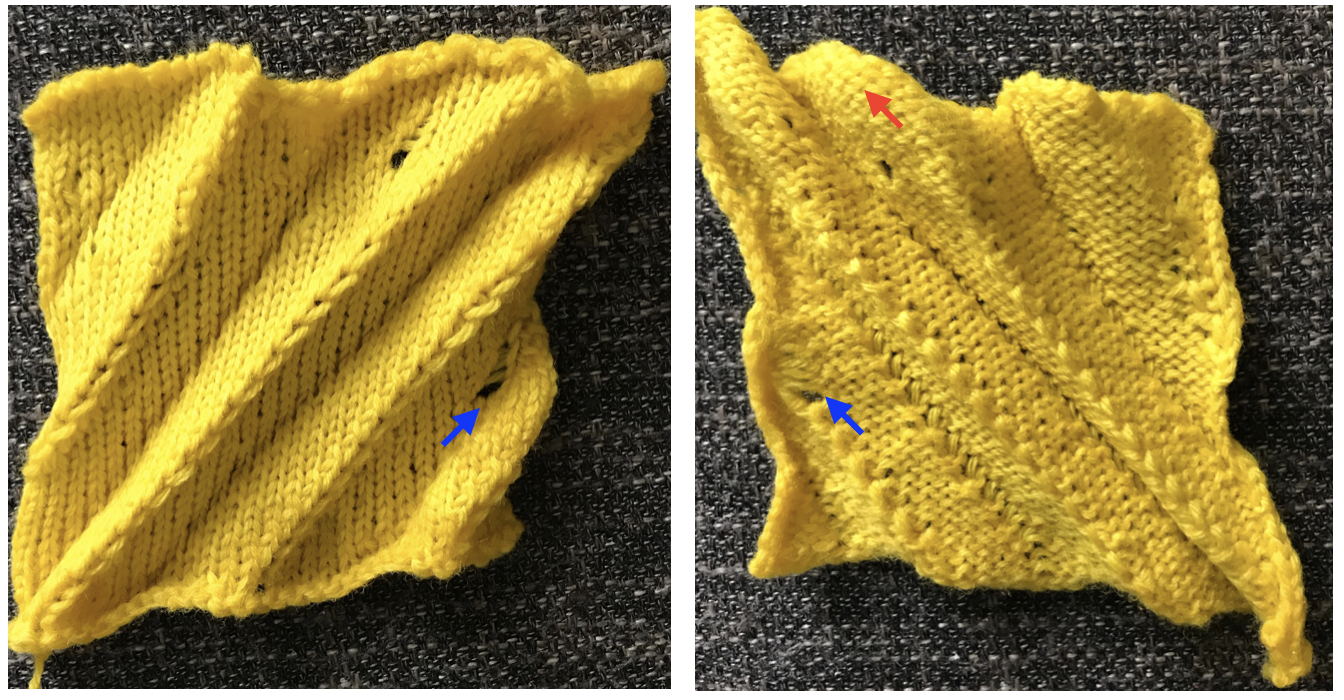 The  fabric had an interesting twist and roll if tugged in opposite diagonal directions when first off the machine

This is the working repeat, suitable for a punchcard machine. On the far left it is shown for use with electronics and color reverse, with green grid highlighting black squares indicating holes which would need to be punched in a card, and lastly, as a tiled repeat looking for any errors in repeat sequences.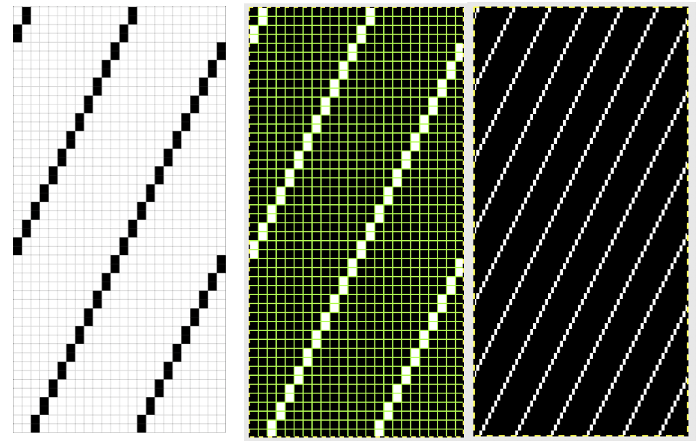 Below the actions taken in part of the overall repeat are represented. The model year Brother machine in use may require you also flip the image vertically before knitting it.  This is what is planned for the purl side.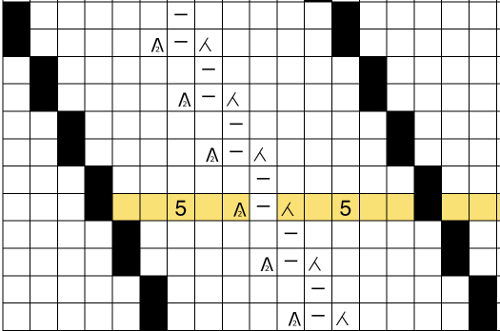 One of the issues with self-published patterns is the adaptation of or use of symbols that are different than that in any published consensus. The transfers to left are commonly indicated this way in lace knitting. If the needle that is emptied is left out of work, a ladder will form. If it is left in work the first pass creates a loop on that needle, the next pass to the opposite side completes the stitch, resulting eyelet on that same needle.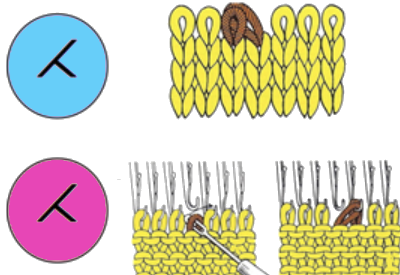 Picking up from the row below is usually represented this way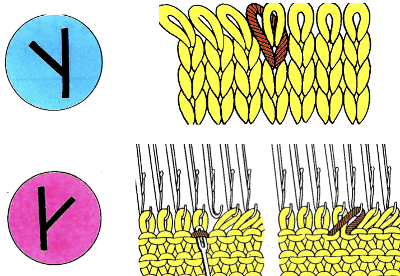 This shows my swatch in progress. ? indicates operator error, in evidence if needle count on each side of the future tuck stitch or ladder space is checked

picking up loops from the row below to keep ladder width constant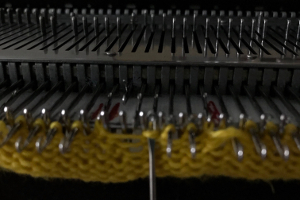 transferred stitch (blue) and 1 needle ladder (pink) marked by arrows 

Check that stitches have knit off properly 
Needles with transfers or moved stitches may be brought out to hold position (E in Brother machines) for easier knitting. If this is done, be sure not to disturb needle selection or lack of it in location for next pair of tucked rows.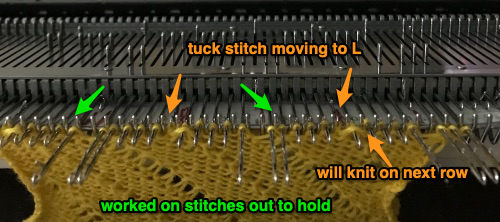 If one is exploring a DIY search for creating fabrics, the journey is often one of trial, error, and an investment of time with not always yield good results, but may yield pleasant surprises and an opportunity for learning and new ideas. These were some of my trial swatches in thinking of more varied directional folds single bed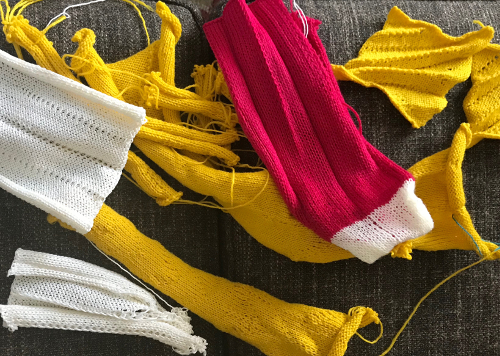 I was led back to slipping or tucking every other row for creating some of those folds, and the possibility of having both actions happening on the same bed automated in some way. Often forgotten and unused in the Brother ia ira capability of tucking in one direction, and slipping in the opposite one. These are the 2 possible settings. It does make a difference in some fabrics which stitch type happens first as one travels back and forth across the knitting bed. "Arrows in opposite directions  are chosen for each stitch type.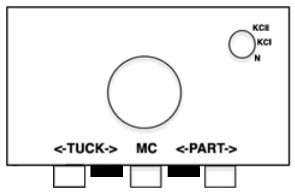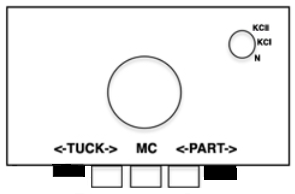 Setting up a working repeat with blue representing tuck, purple slip (or vice versa). The distance between the vertical column, in this case, is fixed and seven stitches in width for a center folding repeat width of 16, color reverse is required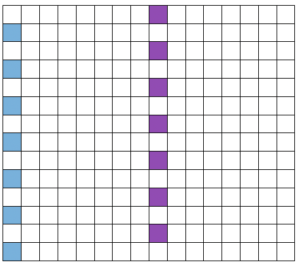 A 12 stitch version color reversed for actual knitting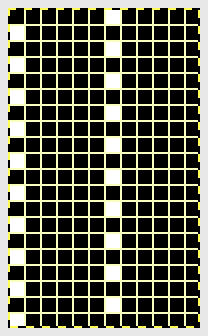 This is the purl side of the fabric with both stitch types happening on the main bed.  It pretty much flattened out with some light pressing, not much of  a  pleat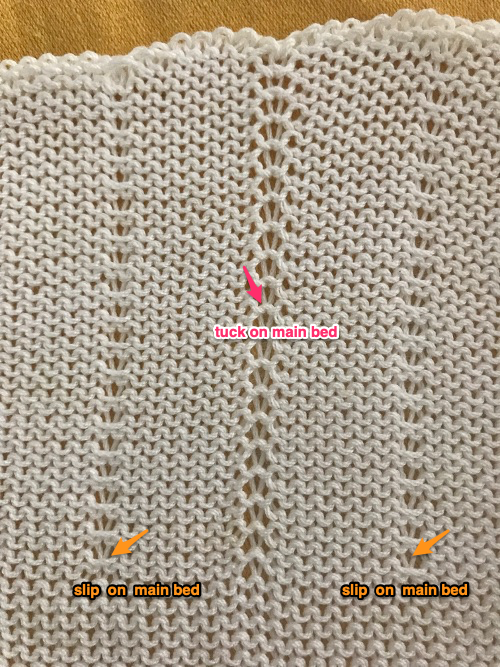 This is what happens once the ribber needles are brought into action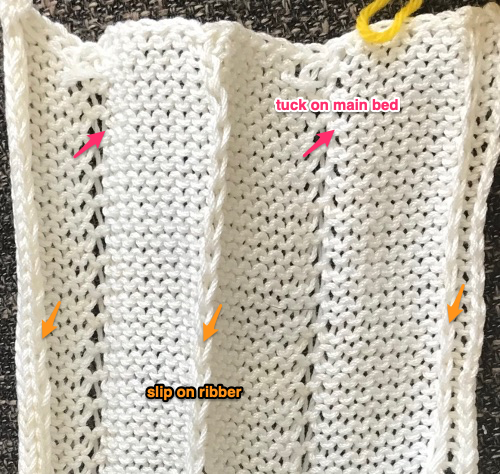 Set up cast on as preferred. I used plain knitting, weighted it, and began my pattern work from the right hand side of the machine. COL my preselection row was made from right to left. White squares in the chart with black ground and green grid become non selected needles on main bed. Transfer non selected stitches down to the ribber. Set the ribber to slip to the right, those  stitches  just  transferred will  slip to moving to the right,  knit on the return pass to the left. The knit carriage is set to knit until that first row is completed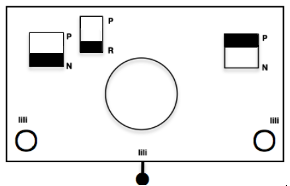 COR the ribber will knit on the next pass to the left. Set the knit carriage to tuck while the ribber is knitting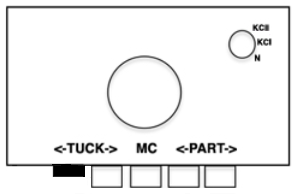 continue in pattern to desired length. Fabric narrows considerably, so several panels may be required for items ie. skirts. The repeat on the kniting bed should also be adjusted to allow for as close to invisible seaming as possible. The stitches on either side of the single needle in work on the ribber may be inclined to drop off. I was unable to use tuck on those same needles for any significant length for that reason. It pays to visually check for stitches knitting off properly to avoid this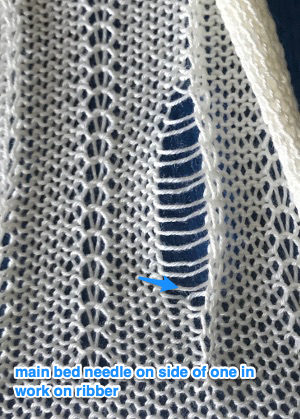 The start of vertical pleats, with the slip stitches folding to the purl side, the tucked stitchs folding to the knit side on the machine,  just after binding off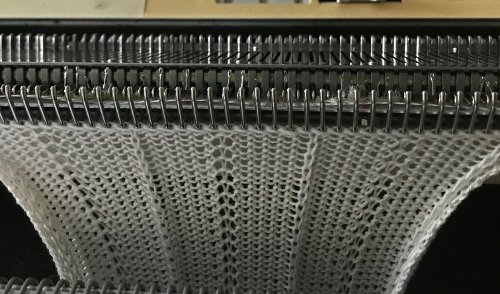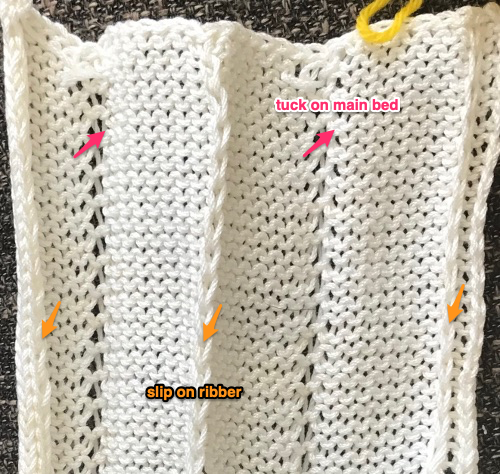 two fabrics side by side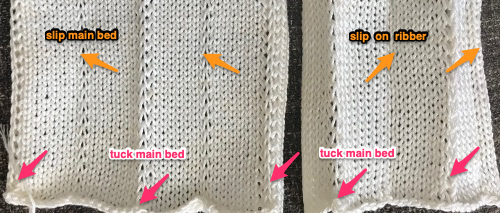 different fibers  can  produce  varying  resuts in fold and drape.  Setting either bed function for the wrong direction will  produce an all knit fabric (top of red swatch).