Lace on the machine can render beautiful fabrics that closely resemble hand knitting, but programming very long repeats is a challenge both in placing every hole in the correct square in a punchcard, and in programming individual pixels on a mylar or as pixels for download correctly. I found the "leaf lace" repeat below shared frequently on Pinterest, and thought I would test the approach discussed in the post on using numbers and gimp to create images for electronic downloads . Because it is 16 stitches wide, it is not suitable for punchcard knitting, which requires a factor of (4, 6, 8, 12) and up to a 24 stitch maximum width.
The published pattern on the left is shown as shared on Pinterest. In turn in was captured, opened in Gimp, and magnified. After a threshold adjustment, it was converted to a BW indexed, scaled to its 16X96 original stitch and row count, and then saved in 100% magnification result for the possible electronic download.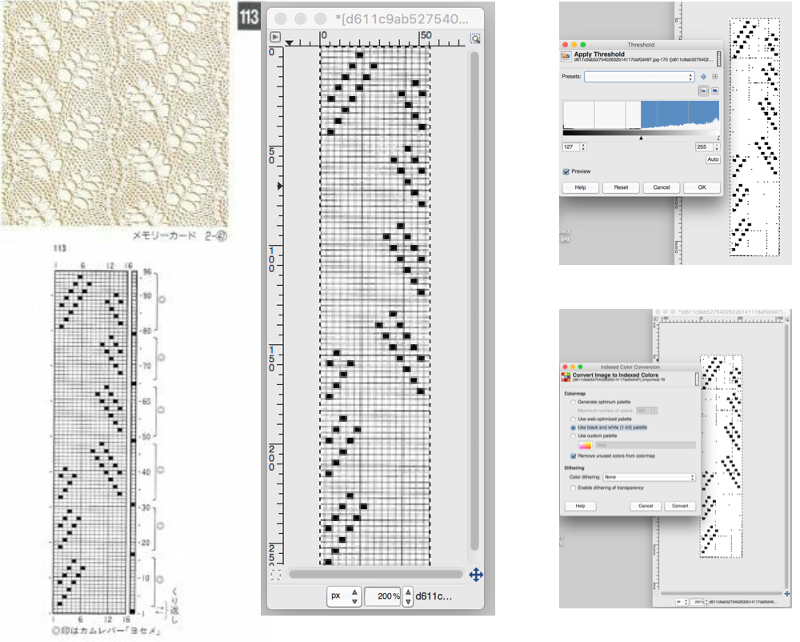 On far left below is the first BW processed single repeat isolated from its source. To its right it has been adjusted so first row is a preselection row for the lace pattern, and the full repeat ends with blank rows (Brother KM characteristic). The latter in turn was saved as an image for download. Since the leaves change direction in the way they lean, spacing between each pattern swing in the repeat is actually 3 all blank rows, not the "standard" 2, including at the top. The bottom half begins with the first row resulting in transfers to the left, while after the the first 3 knit rows the  transfers will begin to the right.  The plan was for me to use Ayab for knitting a proof of concept swatch.  In order to achieve that, the full repeat is first flipped horizontally (ayab will auto mirror it,  so starting with it this way it will be in the correct orientation when knitting). The mirrored repeat may be used in unaltered  machines as is with LC operating from the right, KC operating from the left (not possible in ayab without adjustments). The full repeat consists of 16+14+18+16+14+18= 96 passes of the lace carriage, for each 12 rows knit. My sample was programmed horizontally for 3 full repeats, the width of my planned swatch. I added one additional needle in work on each side, with the LC end needle selection cancelled, allowing for full pattern as programmed with a single stitch all knit border on either side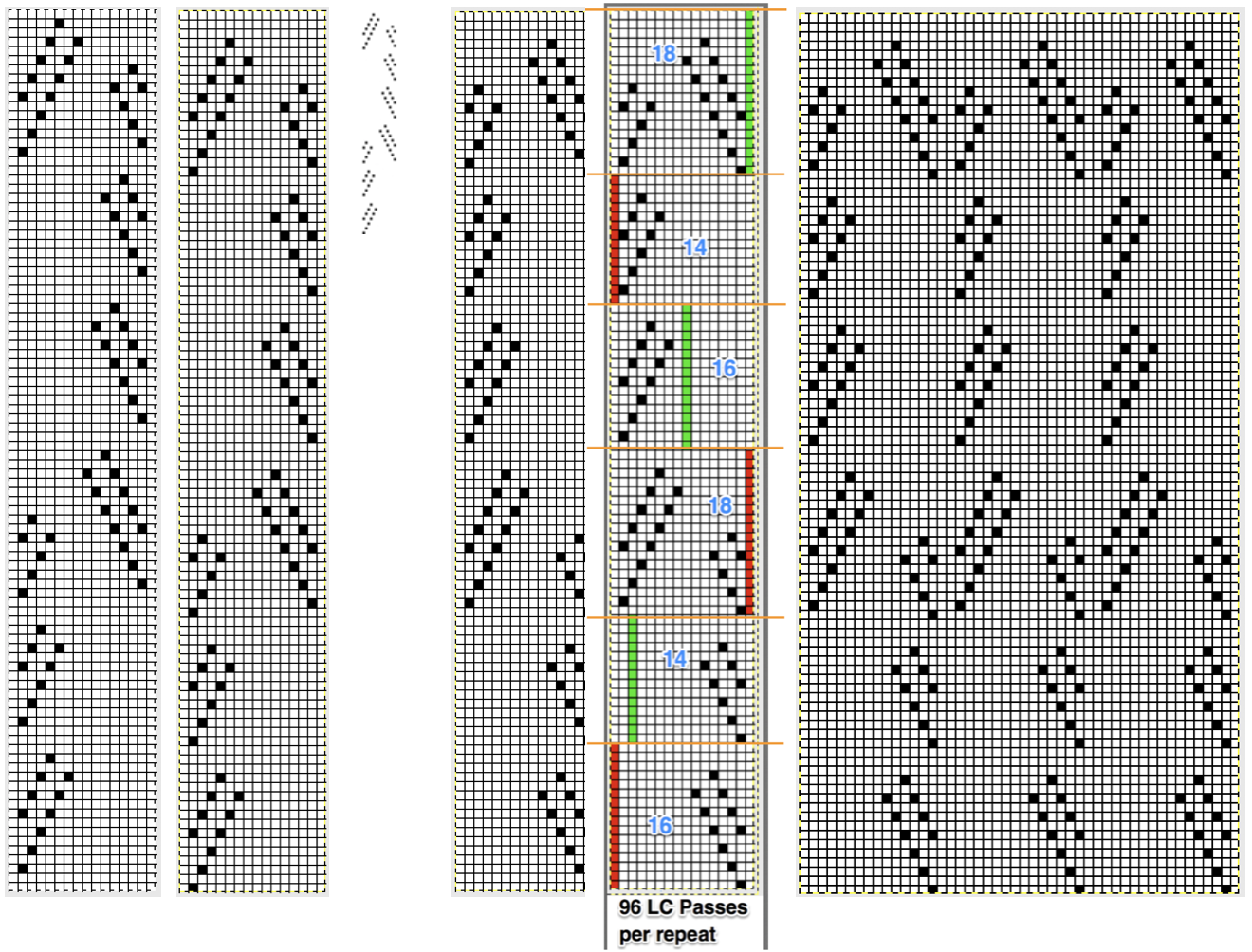 A tightly twisted cotton yarn did best in terms of handling the multiple transfers and not resulting in split stitches or breaking. I had occasional selection errors, seen in center panel at the top of each repeat (my common experience with the interface), but the repeat itself appears to be sound.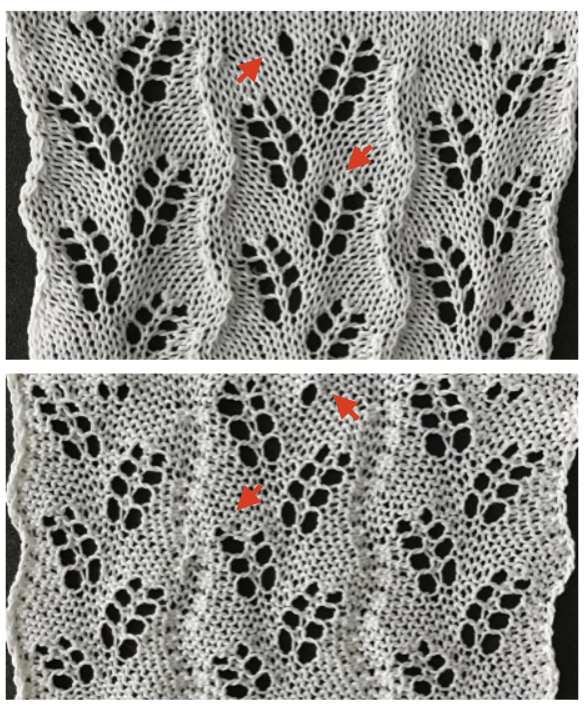 Lace repeats that have even numbers of rows for both and LC transfer and knit ones are easy to follow. Punchcards are also easily annotated and if knitting is interrupted needle selection is easy to return to or restore if necessary. In electronics, there may not be a any memo to indicate row #  location for each carriage pass in pattern, or when to switch carriages. Because in this instance there are so many transfers (some of multiple stitches) between knit rows and dropped stitches are best corrected as noticed during knitting if possible, I created a "cheat sheet" of sorts to help keep track of actions. Each block here represents one full repeat, read from their bottom up, with red borders at the start and end of each sequence representing knit rows. A visual check at the end of each segment's # of rows in the series is well worth it to prevent unnoticed runaway dropped stitches and large holes. A check in boxes next to # could indicate completion of transfers. and a number added manually in that same row for that sequence, record the row on which knitting was interrupted ie. stopping on row 8 out of 16 to fix dropped stitches would be a reminder 8 more LC passes are required before the next visual check.