Working between electronic and punchcard machines needs to take into account that repeats on a punchcard KM must be a factor of 24 (2, 3, 4, 6, 8, 12). An electronic tuck stitch repeat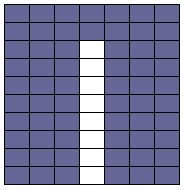 Since it is seven stitches wide, if punched accordingly it would occupy 21 out of 24 stitch units on a punchcard, so as is (unless those extra needles on the far right and left are left out of work for ladders) it would not be suitable for an all-over fabric. It can, however, be used for a trim. If the latter is the intent, only one series of vertical repeats as seen below needs to be punched. The numbers below the image indicate Brother needle tape markings. This is a 6-row tuck fabric, so thinner yarns should be used if the pattern is automated, as tuck loops build up in needle hooks. If you wish to experiment with slightly thicker yarns, decrease the unpunched areas to 4 rows, or execute using holding. Held stitches sit on top of the needle shank, tolerance is determined by how many rows it either takes for knit stitches on sides of the loops jumping off needles or accumulated loops being unable to knit off consistently on the next all knit pass. To test yarn out, try the technique by using holding, then punch your card. Automating makes the process less prone to error and faster if great lengths of trim are needed.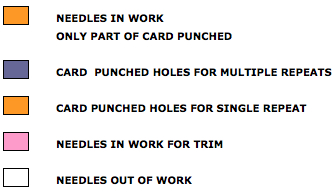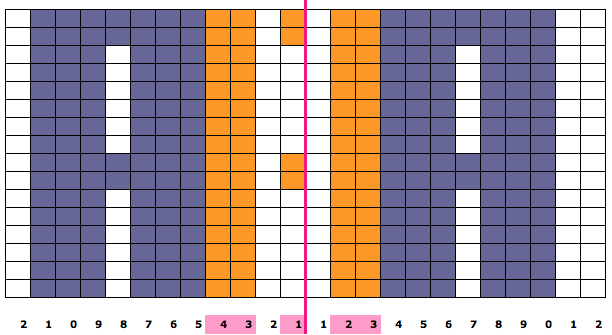 Using the trim as the cast on edge for a garment: determine the length required after a technique test. Knit a bit extra and remove on waste yarn, so more may be added or some be unraveled if needed or you wish to change the configuration using it as your cast on. Rehang and cast on later when it is completed. The flared out portions of the trim will be used to "cast on" the edge of the piece, continuing with some needles out of work
an attempt at a line drawing the "trim" sideways

Using the curved out edge of the trim, hang stitches half if possible, or one full stitch away from its edge as illustrated below. Knit 4 rows. With a tool pick up all ladder loops created by NOOW (RC 1-4) and hang on the center empty needle. Knit rows (RC 5, 6), hang ladder loops on still empty needles, knit across all needle, continue with garment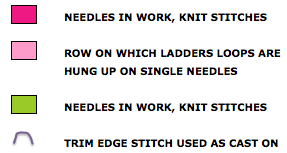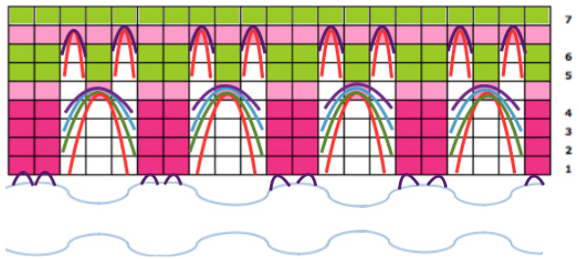 needle arrangement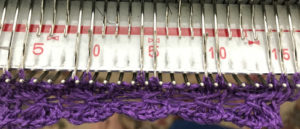 picking up loops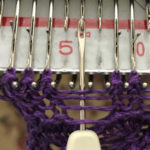 The yarn used is cotton and appears to have a tendency toward biasing on knit rows as seen in the tendency to lean in one direction in the above photos. It has no stretch, so stitches that knit off several tuck loops remain elongated. A look at the structure on the purl side: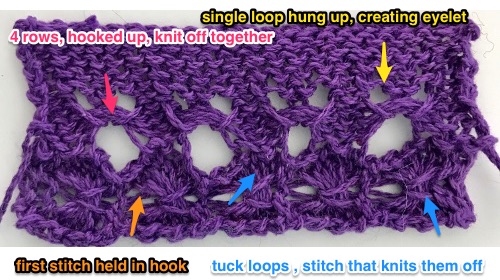 In Brother knitting when needles are out of work, the automatic end needle selection may interfere with the pattern, and this is a consideration in many knits. Intro to all over tuck "lace" patterns: one to try. Two 8 st repeats shown, suitable for all kms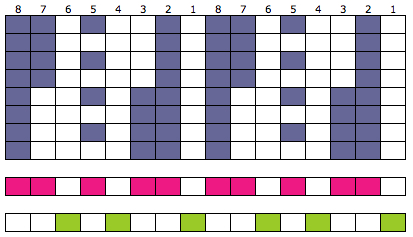 Single bed: arrange the needles as shown. Cast on and knit a few rows, set the change knob to KCII, knit one row. Push in both tuck buttons, and knit the desired number of rows.
Double bed: OOW needles on the main bed will now be in use on the ribber Set half pitch lever on H, racking indicator on 5. Cast on the desired number of stitches and knit base rows. Set half pitch lever on P, transfer stitches between beds arranging them as shown with NOOW on both beds. Set change knob to KCII, knit one row. Push in both tuck buttons, knit in pattern for the desired number of rows.