Category:
Swatches and Experiments
While procrastinating returning to production knitting for the spring season I found myself inspired by Judy Perez's Fiesta ornaments and have made my first attempts at metal embossing, adding them as elements in my postcard sized fabric collages, which in turn combine knits, needle felting, needlework techniques, and objects from a stash of accumulated "stuff'. Here are 2 of the results: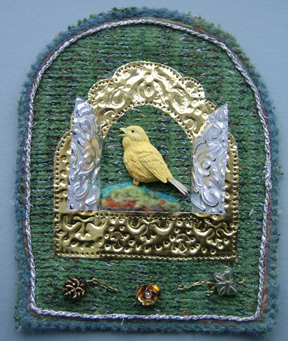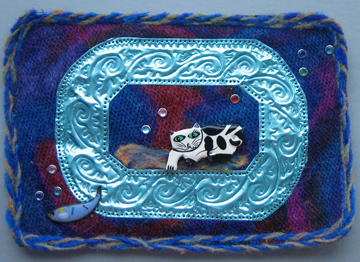 These are my first two attempts at needle felting on random swatches remaining from machine knit experiments. Both pieces measure "postcard" 4X6 inches. The scale restriction requires thinking in a new way for me, and provides a different way to play with my yarn stash and found objects. It is not clear if any of these techniques will be incorporated into my clothing and accessories, or simply be an end in themselves. Collage lace with some of the same fibers is also on my list of "must try".