Still leaf obsessed, I have punchcard repeats in the works for leaves similar to those in the previous posts. The leaves themselves are not as full as with the hand technique and are more pointed as well. Repeat is 52 rows long, with 10 rows of actual knitting completed per repeat. I was unable to sample in the yarn I had used in previous leaf samples due to stitches "dropping like flies". Switching to a thinner yarn yielded better results:
this sample has 2 rows knit at the end of each complete repeat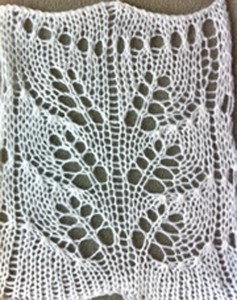 this one has 6 rows knit at the end of the first repeat, then 4 at the end of the second  repeat, and varying width ladders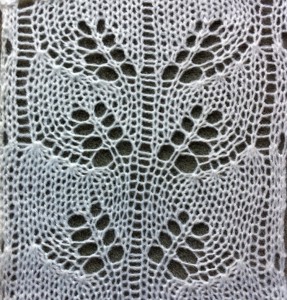 Below is my first try at a staggering leaf repeat, going back to the culprit that began all this. I estimate the punchcard repeat will have to be 120 rows to achieve this. My present supply is low. I found a source for a "brother" punchcard roll online, have it on order, will give the idea an attempt when the roll arrives. It is actually being shipped from Hong Kong. I will share the source here once I see how the "shopping experience" turns out.