A detail of half fisherman machine knit "dragon scales"  MK ribber version of stitch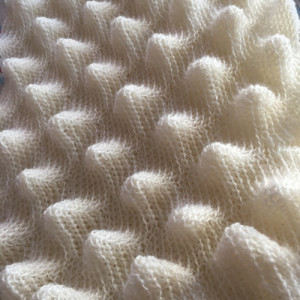 its related posts :
https://alessandrina.com/2016/01/09/ribber-pitch-a-bit-on-racking-chevrons-horizontal-herringbone/
https://alessandrina.com/2016/01/13/racking-2-vertical-chevrons-herringbone/
https://alessandrina.com/2016/02/02/vertical-racking-3-automating-half-fisherman-in-pattern-2/
My last experiments led to a search for a possible hand knit "scale" version. Similar shapes may be achieved through holding, but here the effect is created through the use of increases and decreases. The test for the repeat was knit in a 4 ply acrylic. As with the machine knit version, the pockets become more pronounced as the fabric relaxes, without any blocking. Garter stitch was used in the first sample, for both texture and speed. Everyone has their preferred methods for increasing (M1) or decreasing/ combining 3 stitches into one. I tried picking up from row below or casting on single stitches (#1), but found the least noticeable methods to my eye, using this yarn and stitch type, were simply to knit in front and back of the stitch (#3) where an increase was required, and to knit 3 together (#2) for the decreases.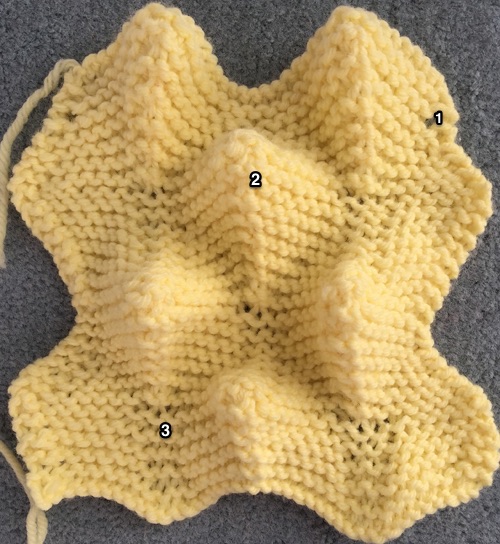 the reverse structure curves in a similar way to the machine knit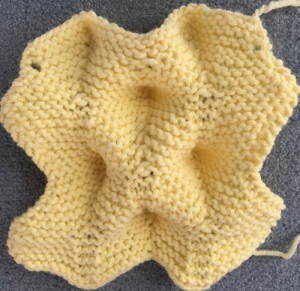 The number of stitches remains constant on each row knit; the chart reflects side panels (A, C). The central 18 stitches (B) that may be repeated multiple times to achieve the desired width. The border stitches added may be any number, are also knit on every row.
The fabric changes dramatically when every other row is purled. This swatch was knit with a single stitch garter stitch border, and I experimented with increases and decreases. The M1 sts were created by picking a loop up knitwise from the row below for the increase. The slight shift in the pattern center where decreases and increases meet helps define a point on the "scale" shape. The same yarn and needle size were used as in the above sample. A softer, thinner yarn knit using smaller needle size would benefit either variation. To my eye, the all garter stitch version was more successful and pleasing.
knit as "outside", default shapes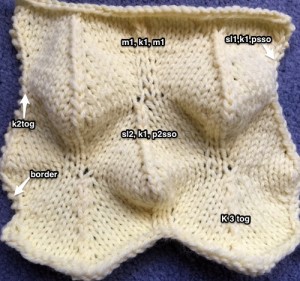 reverse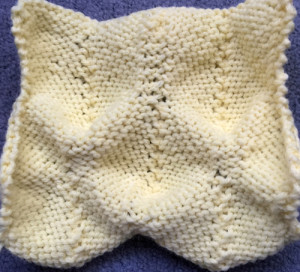 purl as "right side" after poking scales out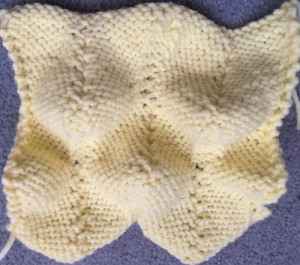 its reverse
for a less pronounced, "scaly" relative using lace in its design please see https://alessandrina.com/2015/01/09/a-swatch-experiment/     https://alessandrina.com/2015/03/28/machine-knit-dragon-scales-update/