Many of these swatches are part of my stash from my teaching days. They were usually not intended for finished pieces, merely to illustrate a range of possible results with the techniques, often produced during my demonstrations. The colors were chosen to stand apart in the shared yarn stash in the studio, intended only for my personal use and for easier visibility during demos. The latter were being videotaped from some height and projected onto a large screen during classes for added visibility. At times enrollment was between 15 and 20 students per session.
Eyelets indicate tension # used for ground yarns. It is best to avoid dots between whole numbers. If swatches are too small to reflect the tension used, knots can be placed on yarn ends at the start of each experiment. The ends themselves may need to be doubled to make knots palpable.
thin mohair over a cotton/poly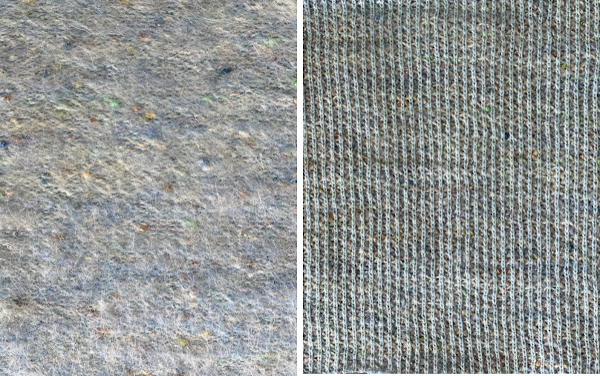 chenille over cotton, tests for a pillow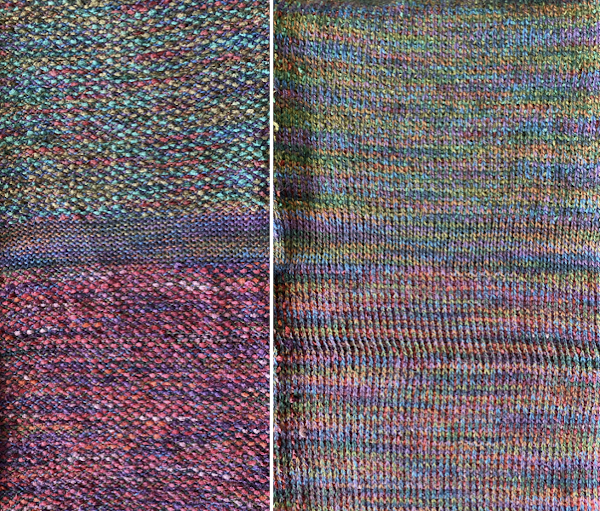 chenille ground, wool weft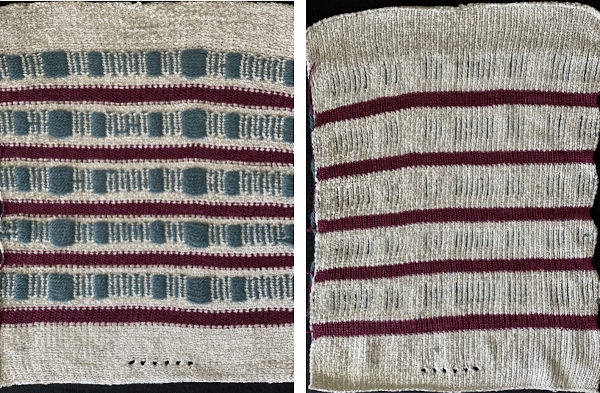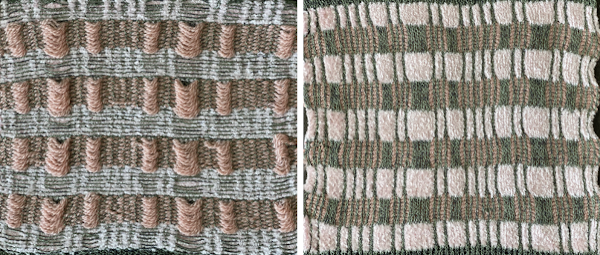 hooked up floats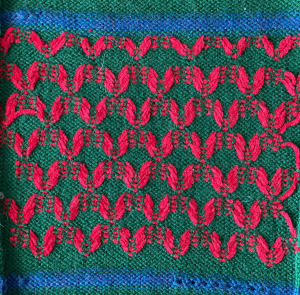 vertical weave, the second with a scorched spot from an iron, experimenting with direction of wraps,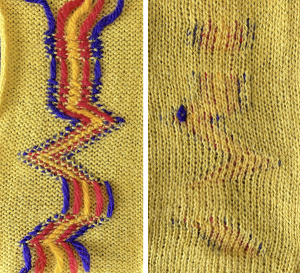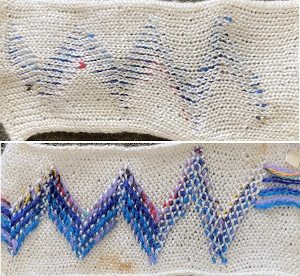 a combination of loops and wraps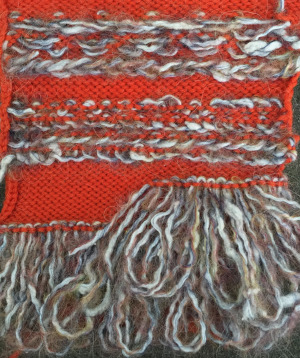 wool ground, felted, monochrome acrylic weft, cut floats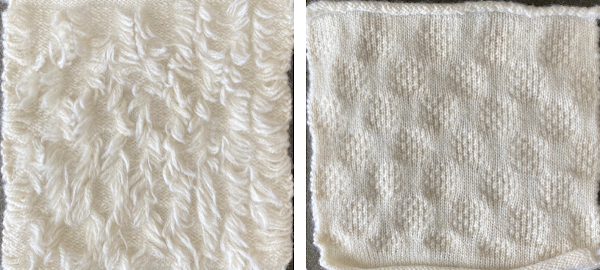 wool weft over cotton, cut floats, further trimmed in the top photo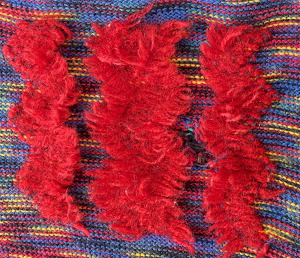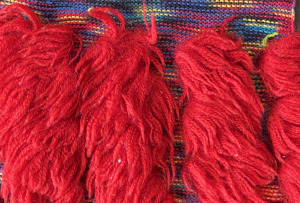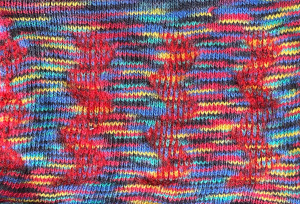 The same card 3 ways: the weft is too soft, the effect is lost in monochromatic version, cut floats become muddied with wear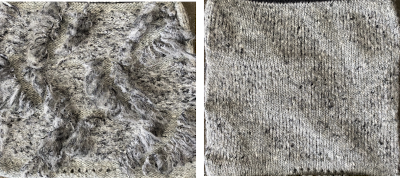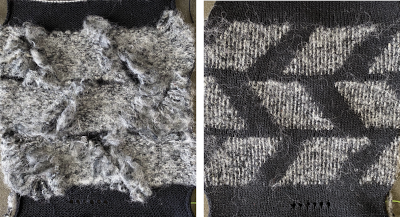 worked in the intarsia method, with a separate yarn strand for each shape, possible on monofilament to create floating shapes when placed over another fabric layer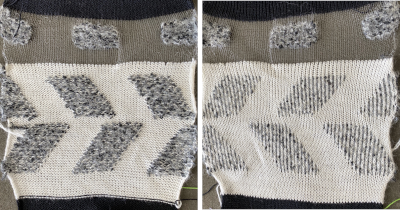 crochet start as cast on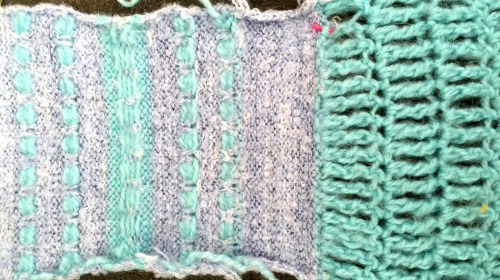 fringe woven with multiple strands of thin yarn appliqued to a long swatch.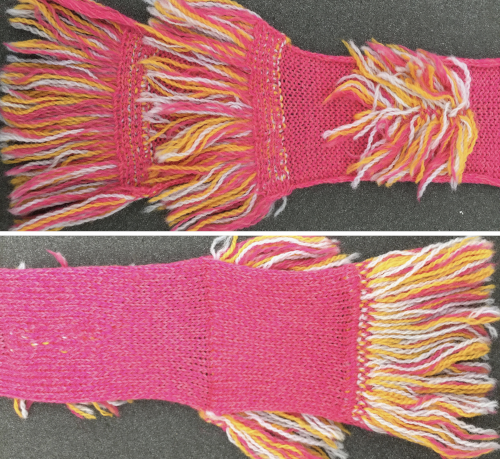 beads strung through dental floss hooked on periodically, horizontal wraps;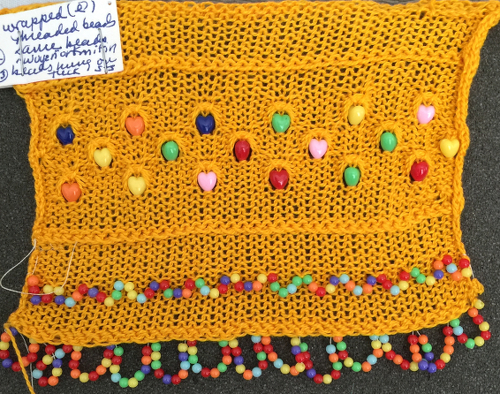 ladders and long stitches with a needle or tool such as this, found in fabric stores, 10.5 inches in length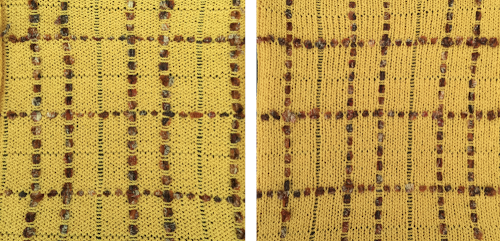 automated pattern with added weaving through ladders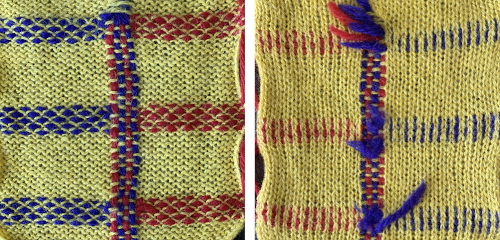 "loop embossing", separate threads were worked in and out vertically through ladder spaces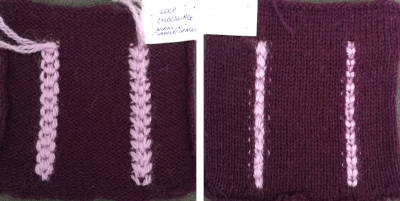 worked on bulky 260, tension 2, using card 1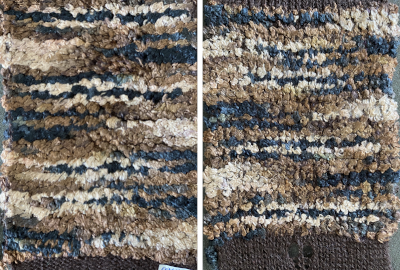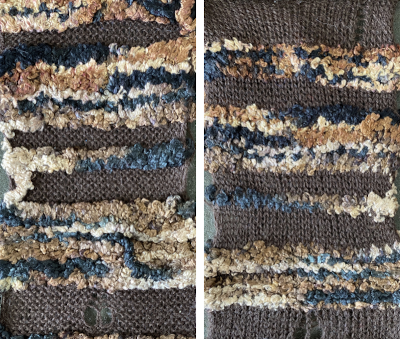 weaving and lace combinations.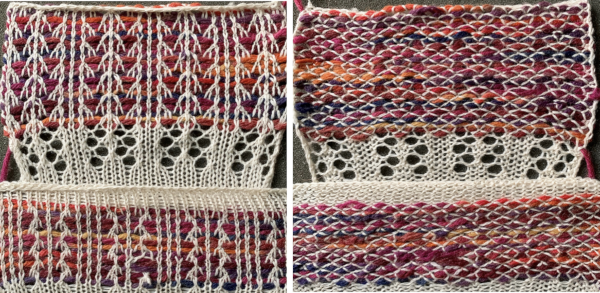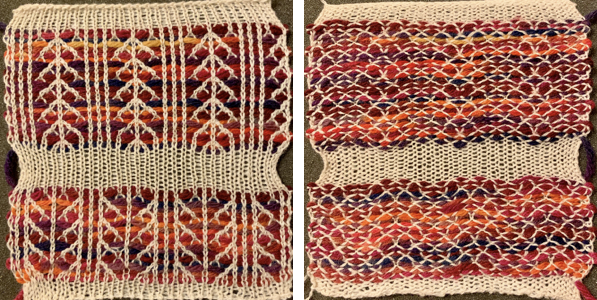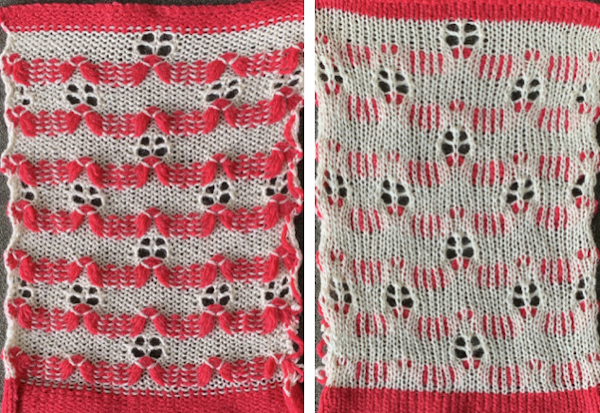 Weaving yarns may be laid in between the beds with the ribber in use. This is the option for "weaving" on the Passap. 1: shows the rib needle configuration, 2: racking is added, 3: floats are teased out. In the latter, a sewing machine could always be used to anchor added float arrangements.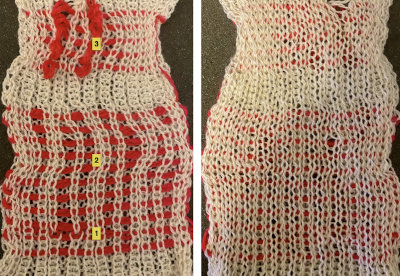 In this swatch, a waffle weave effect of sorts was intended between EON rib columns. The horizontal pairs of treads are an easy guide for feeding the yarn across rows with the work off the machine. Here the chenille was "woven in" off the machine using a tapestry needle, double-strand at the top 2 rows, single below them. Beads can also be threaded and laid in one at a time between the rib columns,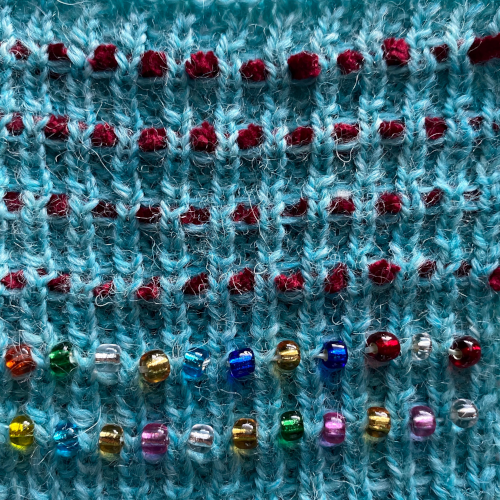 Any fabric with eyelets may be used as a ground for inserting fabric strips, very thick yarns, even hard objects such as rods or twigs. A quick grab of random studio bits resulted in these: torn fabric has frayed edges that can be used to create secondary patterns depending on the fabric, and the way the strips behave depends on the width of the cut. A bodkin is useful in the threading process. Bodkins measure about 3 inches, and cost about $3 in US sewing supply stores


a narrower strip of the same fabric began to permanently twist

using thick yarns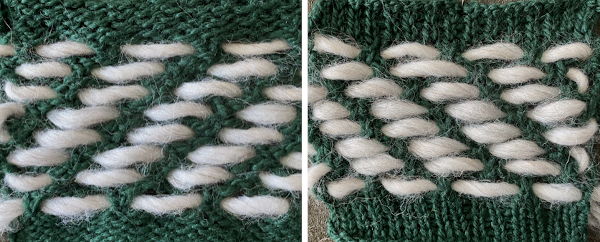 Plastic bag strips "woven" on a Passap, "floats" were cut after finishing the piece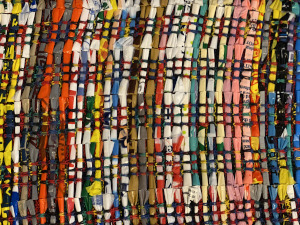 used in a wearable made during my student days for a "recycling" art day.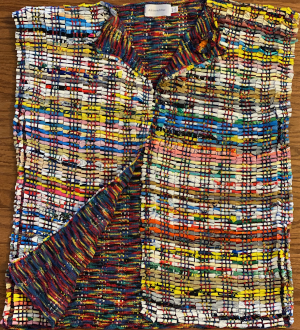 Hooking "things" on in a variety of ways, varied wraps, mixed techniques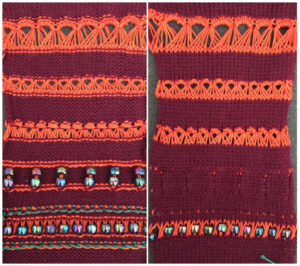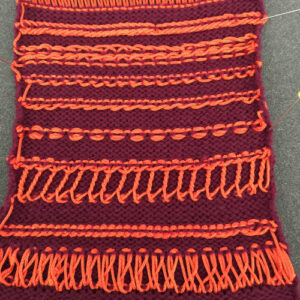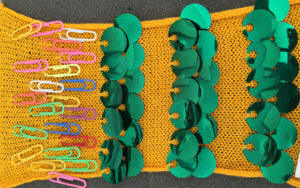 roving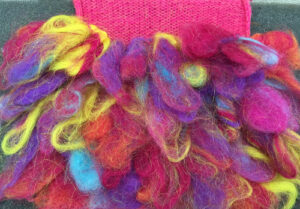 strips of torn silk individually placed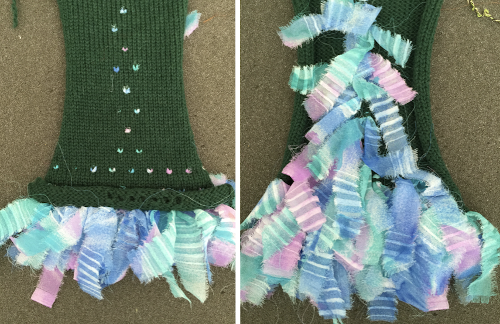 wire shavings, on bulky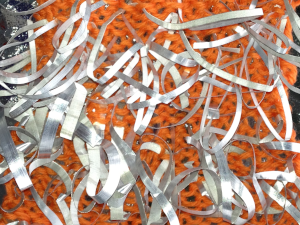 lace and trims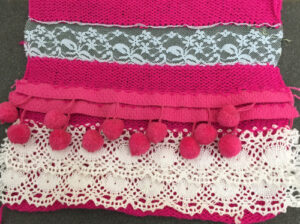 hair decor and kite string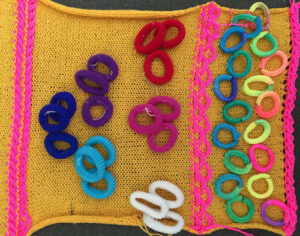 tube knit on child's circular "machine"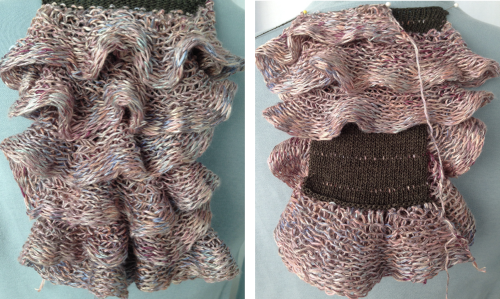 Finished items from eons ago, the pillow used the gauge calculated based on  the chenille swatch included above, the sweater was for my mom, likely knit in the very late 1980s