In anticipation of participating in the Lowell show, and in the upcoming art to wear show at Cambridge Artists Cooperative in the fall, I have returned to fabricating wire collars. In writing updated artist statements I am again considering why fiber, certainly why wire. I continue to enjoy the surprise and problems in each new piece. Curiosity, exploring and experimentation temper the repetition of production.
Monofilament, fishing lines, wire, have a mind and personality of their own at the opposite pole of friendly yarn such as standard gauge wool. Attempting to work with them and their in-betweens makes the playground that much larger.
One present collar using both wire and vinyl:
the "knit", convex side out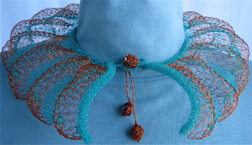 the"purl", concave reverse side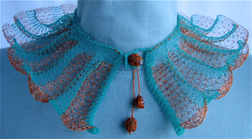 The oval "beads" consist  wire crocheted over glass, the round one is coiled and stitched wire and beads.