I have always been interested in mock crochet stitches executed on the knitting machine, have done a bit of experimenting in the past. The ones that are the most interesting to my eye are usually knit on the double bed, often making them reversible, which in turn may require hand manipulations. Browsing through old knitting magazines I came across this baby sweater and became determined to produce a similar fabric, in a manner that might be more manageable for production. In this instance the back locks are changed in sequences of 3, 1, with button changes, the yarn is fine. The first sample I produced was following the pattern stitch instructions.

The fabric as a hand technique, dropped stitches included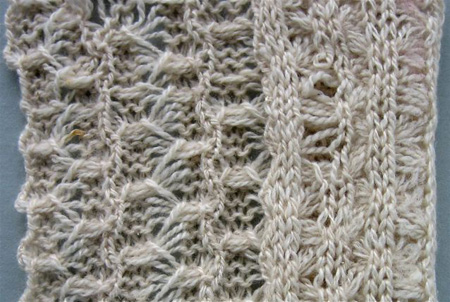 The challenge: creating a downloadable stitch pattern that will automatically select appropriate needles and duplicate this texture. Yarn used will be varied and have different weights. Pusher/needle set up both beds critical, then there must be an edging…more to follow.