When creating braided cables one may punch cards to aid in the accuracy of twists. Once the principle is established as well as some basic rules, it becomes easier to work with variations of patterns based on simpler ideas.
Ladders may be used for marking repeat edges as well as for contributing to pattern interest, or for latching up on reverse thus creating "purl stitches" aside cables. They are one of many things guided by personal preference/ taste.
All over cables narrow fabric considerably, looser tension than for stocking stitch in the same yarn is a must.
A place to start experimenting with in terms of row spacing is to cross stitches a minimum of every number of rows equal to the number of stitches crossed, ie. 4 stitch cables every four rows, six stitch cables every 6 rows. Usually, for crossings involving more than 6 stitches, extra yarn will be needed for the additional stitches to move far enough across the metal bed to complete the cable and knit off properly on the following row.
Preselection allows one to pre-plan exactly where repeats occur on the needle bed. If the repeat does not center either side of 0 when a card or other form of input is used, removable colored tape or water-soluble markers may be used to mark the needle tape between the first and last needle of each repeat. This is not needed if the repeat itself coincides with 24 stitch markings on the tape itself, as in the sample below. I actually use punchcard needle tapes on my electronic machines as well for consistency of markings.
A simple braided cable may be created by working with alternating twists on six stitches.
In the image below:

Program repeat, as usual, set to advance normally, KCII if there are needles OOW.
KC carriage remains set for plain knitting throughout
1. when needles are selected take center stitches off first on a 2 prong tool, hold to front and side
2. remove stitches from selected needles on a second tool, place them on the center needles
3. place the held center stitches on the needles now empty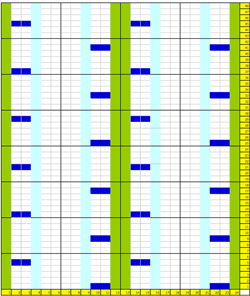 Many cables may be translated into a punchcard or programmed pattern. It takes a bit of time to sort out the necessary "rules" and attention to detail while knitting is still required, but the process is overall quicker and more accurate.
Passap knitters can perform similar functions, except it is the pushers that are pre-selected for the next row of knit, not the needles themselves. Tech 129 with color reverse will bring up pushers to correspond to  Brother markings. The machine remains set to N throughout, sets of stitches outside the area of cables may easily be transferred to the opposing bed for a ribbed version of the fabric. It is necessary to sort out where patterning occurs on the needle bed, non involved pushers on the front bed should be placed completely out of work.