The following begins to address cable translations. I posted some content on cables in January 2012, but this content follows the present vein.
Blue dots continue to represent the hand-knit symbol, below them the fabric is illustrated as viewed on the knit side.
The pink dots and the images on either side of them the machine knit, or fabric as viewed from the purl side.
In the column on the far right, the green dots and the images below them represent the opposing twist in HK and are illustrated only on their knit side.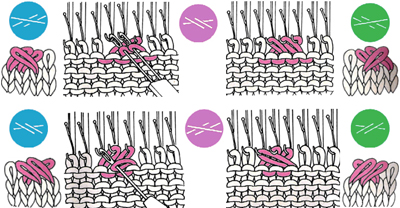 To execute combinations in knit-purl on the same side of the knit on the machine, a ribber is required (or a Brother G carriage). Purl stitches are on the main bed, and knit stitches are created by the opposing bed. To match the hand-knit here, crossings are actually made in the same direction in both HK and MK
…