This is a Superba drop stitch fabric, using the same principles as those in the last post, with a rib stitch outlining the alternating drop stitch shapes on the purl side
directions from the manual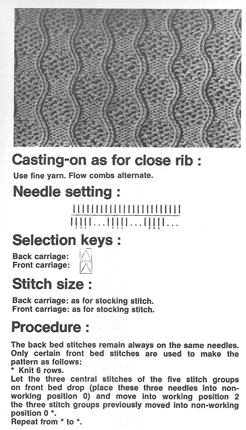 In my knit sample the ribber does all the knitting every row and patterning is accomplished on the main bed, reversing the recommendation in the Superba manual
the new repeat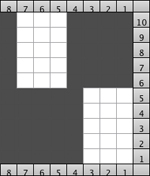 Set up is so that needle selection position once again begins with 5 stitches on the left, occurs in a multiple of 5, with extra needles in work on ribber on either side
Transfer all stitches to ribber, begin needle selection with first five stitches on left in work, 3 OOW, 5 in work, 3 OOW across the bed as seen in the illustration above, reversing the beds.
The first needle, then every 4th, and last on right on the main bed will never be dropped, are always in work.
When needle selection changes to block number 2 from left, the center 3 sts of every group of 5 every needle rib sections are dropped, the empty 3 needles beginning with the second group from left are brought into work, repeating the process across the bed.
Knitting continues until needle selection changes, *the middle 3 stitches of each 5 stitch EON rib group are dropped, the previously 3 empty needles in the opposing sets are returned to work. Knitting continues until the needle selection changes* and the * * process is repeated.
Cast on and bind off methods are determined by end-use and personal preference
the resulting fabric, purl side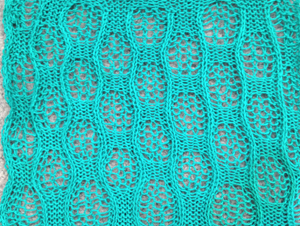 the knit side (not truly reversible as  the swatch in the last post)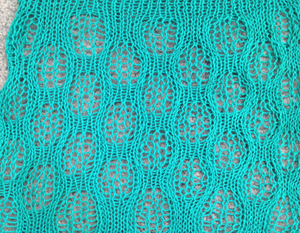 a not so bubbly bubble end