A recent Ravelry forum thread resulted in this response from me re drop stitch patterns with multiple colors per row: "some random thoughts on these techniques: they are often much easier on the Passap, particularly the E 6000 because the machine is capable of separating colors for techniques that would require software or lots of hand/brain work to be done manually and entered. The drawback is that the pattern books offer no explanations of the programmable techniques, simply offer a number to the program to reproduce a specific illustration in their publication, and need to be analyzed by DIYers if one chooses to apply them to their own patterns.
Sorting it all out can help reproduce the fabrics when using other KM brands.
In the case of multiple color patterns: to retain some of the knit structure for each color accompanied by long stitches in the same color on any single row, some of the stitches need to be knit only on the ribber or Passap back bed, with the alternating stitches in the same color dropping after they are knit on the patterning bed.
Distinctions are sometimes made in Passap knitting between release stitches and summer fair isle. For these techniques, weights are recommended. All stitches are transferred to the back bed after cast on and before beginning a release pattern.
The racking handle is down, black strippers are recommended.
The back bed pushers must be in the rest position after the pattern is set up.
All stitches are released from the front bed before binding off on the back one.
E6000 Tech 256: knit 2 rows with yarn, 2 without yarn, dropping stitches
Tech 129: N/LX end release, single color
Tech 185: N/LX 2 rows color 1, 2 rows color 2, end release
Self-drawn reader technique for 3 colors  

Self-drawn reader technique for 4 colors

Tech 117 for color separated designs and entered for 3+4 colorwork. From my E6 manual with my scribbled notes

In tech 185 when combining the technique with a stitch pattern, the white squares for each design row K1R, skip 3, the black squares slip for 2R, K1R, skip one, with each 2 col row expanding into 4. Stitches are picked up on patterning bed EOR (odd #), not on even, resulting in both knit and dropped stitches in each color, in the pattern. BX with left arrow key/LX, 2 rows with yarn, 2 with no yarn to drop loops on the front bed. The "long stitch" Tech 184 or "pintuck" Tech 250 may also be used for release stitch.
The front bed stitches must be released before any shaping as well as prior to binding off. The edges of the resulting knits can be uneven. The side opposite that in which color changes are happening, right on Passap, left on Japanese machines, tends to be looser than the other. When color changes happen the floats on the edge between them can pull up the fabric on that side, so a small wight may have to be added and moved up every few rows on that side every few rows to keep that from happening.
Passap knitters: see summer fair isle pp 41-43 E6000 pattern book for illustrations of some 2 colors per design row stitch patterns…I am guessing also that separating colors for selective stitch dropping can help where one wants to retain some stitches while dropping others in that same row using pusher selection selectively (such as in the Superba-inspired bubble sample).
Below is a quick E6 sample: the fabric was pressed, had been much more textured prior to doing so, and is shown in sideways format; casting on and binding off would have to be considered in planning an actual fabric, as the patterned portion is a very different width than simple stocking stitch in the same yarn.
An Australian woman, Faye Butcher, developed a tool intended for dropping stitches without disrupting pusher selection on the front bed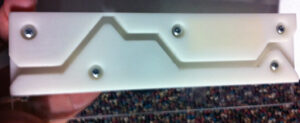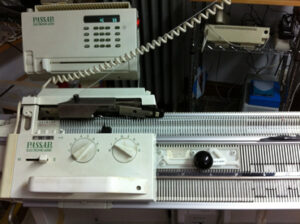 It may be used to drop any individual rows, but with some practice, it can be shifted from one side to the other, preceding the locks as they move to the opposite side, dropping loops formed on the previous row ahead of new ones being knit making the process very quick.
The Passap test swatch
purl side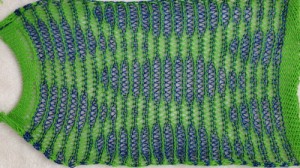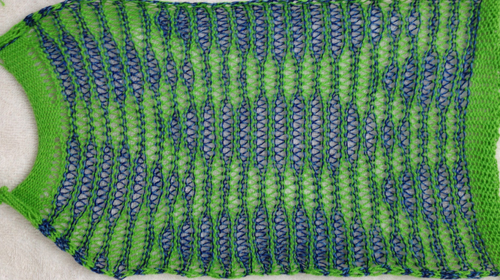 knit side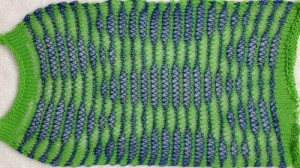 Passap stitch formation is more predictable and even than in Brother knitting.  I prefer to drop at regular intervals, in my experience with longer pieces, not all stitches may ravel properly after doing so in a test swatch.
End release does not work in every design,  ie if long stitch shapes are distributed on knit striped grounds.
A Brother sample using the same design repeat as in the Passap swatch.