A short while ago there was a Ravelry thread discussing reversible, double bed knits. I recalled a demo from eons ago I saw at a machine knitting seminar and decided to explore my memories and share. The result approaches a "reversible" fabric, with imperfect results depending on yarns used and other factors. There is a group of knitters that are presently experimenting with "glitch knits", where the intent is to purposely create patterns with what some people might consider "mistakes" as purposeful parts of the design. For one example see a video of the technique. The "imperfections" in the fabric below may be seen as a positive by some. It is not the result of any aberrations in the programmed pattern, but rather a result of the way the threads get pulled through each other as the carriage moves across each row knit.
My samples were knit using equal weight yarns. The fabric may be better served by using different weights, approaching the usual recommendation for plaiting. See the manufacturer's directions for plaiting feeder use.
Cancel end needle selection on your knit carriage. Cast on is for full needle rib with both yarns in place. Hang comb. Knit 2 circular rows followed by one more all knit row. Change to rib tension that has been tested for yarn combination if your cast on was tighter than it. Several rows may be knit for a "solid" color edging.
When the first pattern row is selected, one need not set the KC carriage to slip. N is king in Brother, regardless of pattern/ needle selection as long as no cam buttons or levers are pushed in/ selected, everything knits, whether single or double bed. After the first row of the pattern is preselected on the main bed, use a tool to push in both buttons as seen below, and proceed in the pattern. Even though end needle selection has been canceled, if the end needles on the main bed are selected, they need to be pushed back to B position or those stitches will be dropped
my punchcard carriage set up on one of my 910s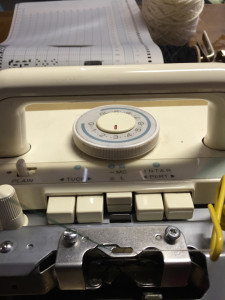 when testing motifs it is always good to begin to do so using a simple pattern, making needle pre-selection easy to view and check. I began with "checkers". They can be viewed at the bottom of the image below with the machine set for double length, at the top as drawn on the mylar; most such fabrics are well served by double-length on any machine, electronic machines could easily vary the repeat size or color reverse at the flip of a button, using lili buttons on ribber may add to the mix of results as well.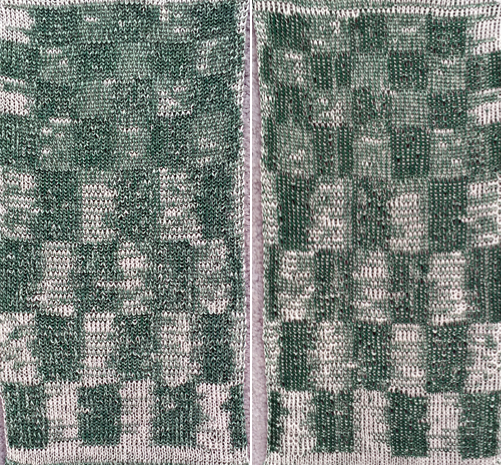 a familiar stock Brother punchcard, knit on my 892, double-length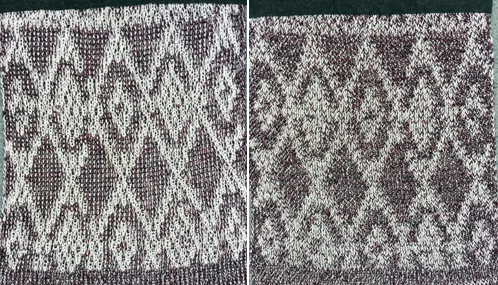 Review of the use of plaiting feeder from Brother ribber manual