In the following series the blue dots and accompanying diagrams continue to represent the fabric as it would appear on the knit side if hand knit, or after the work is removed from the machine. The pink dots and accompanying graphics represent the matching stitch on the purl side and as it may be executed on the knitting machine to match the original fabric.
A/B revisit increases within the row. The same motion may be used on the KM to increase single stitches at the garment edge, allowing for increases on both sides at the same time (if they always occur mostly on the same side however, one side will have consistently tighter end stitches, and be shorter). C/D revisit slipped stitches. In D the image on the far right shows the position for the needle about to be skipped/slipped. If working slip stitch through hand selection, the needles that are out to 3rd position, or out to "holding" will knit. E/F revisit twisted stitches within any one row.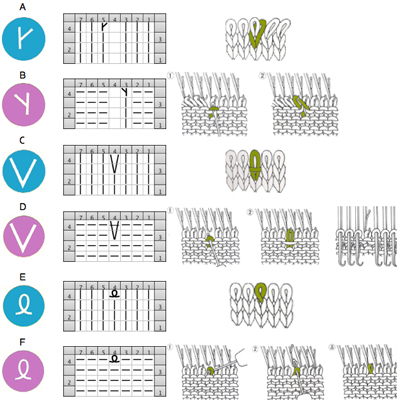 Revisiting tuck stitch, and ruching: in the tuck stitch formation in A/B, B has the added illustration showing bringing out to "holding", (D, or E position depending on machine brand) any needle that has multiple loops on it prior to the next row of knitting all stitches. C/D are variants: in addition to combining loops, the top stitch is reformed to show as purl on the knit side, knit on the purl. E/F illustrate ruching where single or multiple stitches are pulled up to gather fabric and create texture, for any desired/varying number of rows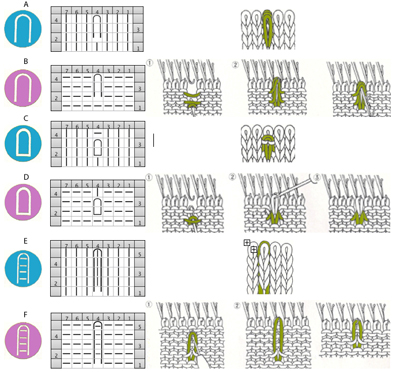 Below the first row illustrates ladders resulting from a few methods in hand-knitting to emptying needles and leaving them out of work (A position) on the KM. The second row represents a wrapped increase on the edge of the knit, on the KM this is known as e wrapping.

Cable crossings may be represented in a variety of ways, below are just a couple; the grayed-out areas after the first chart IMO help define forward-facing stitches on completion of the transfer for the cable, whether on front of the knit or on purl side facing the knitter on the machine.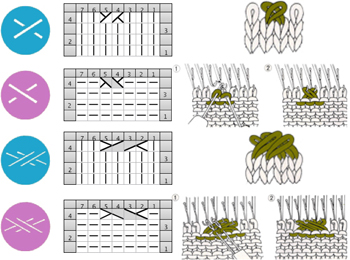 Other fabrics such as ribs and more on lace will be explored at a later date.