In the chart below pattern repeats take into account the punchcard limitation of 24 stitch maximum repeat. In the sections separated by the color stripe, the bottom shows a purl side symbol chart for slip stitch, the center the purl side symbol chart for brioche/ tuck stitch, the top the repeat punched out for use on the KM with black dots representing punched holes. Keeping in mind there is a 36 row minimum for the card to roll adequately through reader, this repeat would need to be punched 9 times. If one wants to use the color changes in other than totally random manner, then the pattern repeat must be an even number of rows in height. One option is to use double length, but unless the yarn used in the repeat below is very thin, for tuck stitch that may be beyond the limit of the KM. I also prefer when knitting lengths of fabric not to use elongation; for me that makes it easier to correct mistakes. A reminder: the punchcard selection mirrors the design horizontally (particularly noticeable in letters), so the hand knit repeat need not be reversed for a match.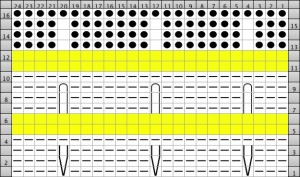 Below is a more manageable tuck repeat reconsidered for color changes (shown in change of ground behind punched holes). The first row selection needs to be from right to left toward the color changer in Japanese machines (Passap is on right, but console takes that into account). This is not the only color change sequence possible, only a place to start.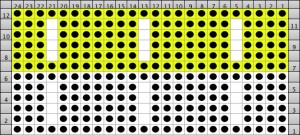 With very rare exceptions, tuck stitches generally must have a knit stitch/punched hole on either side of the unpunched square. This is because side by side loops jump off on the next pass, rather than knitting off in a group, making a long float in in some cases an interesting mess. Because slip stitch skips needles creating floats rather than depositing loops in needle hooks, the tolerance for side by side slipped stitches if far greater, and the number of rows that the individual stitches are not knit is limited by the strength of the yarn, and the tolerance in the machine. Both tuck and slip stitch fabrics benefit from being evenly weighted, with weights being moved up regularly during knitting. Canceling end needle selection and having the pattern repeats line up with tuck/slip on each edge may produce interesting side edges. If texture is the goal yarns that can be "killed" by pressing/steaming should be avoided.