For a while, there was agreement on "international symbols" for charting knits. With the proliferation of programs now and methods for self charting and publishing using fonts and personal icons, things can get a bit confusing. Hand knitting in the circular akin to machine knitting results in stitches always worked on one side of the fabric, another consideration. In the last Russian pattern in the previous post, I was unable to get the repeat to work properly regardless of any common meaning I tried to assign to several of the symbols. I have used Intwined for some charting in the past, am finding it problematic again in Mavericks Mac OS, and my go-to for the moment is the latest version of Numbers (3.2), which appears to include changes that make it even more intuitive and easier to use than the previous version. My symbols library includes the Aire river knitting font and an assortment of wingdings and oddball characters found in some of Mac's built-in libraries.
my hand knit version
Taking it to the machine: chart's beginning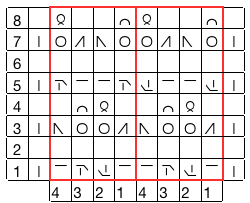 tweaking it a bit, taking in consideration only the purl side will be facing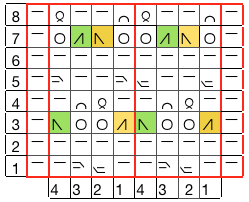 flipping it to achieve the same direction transfers as HK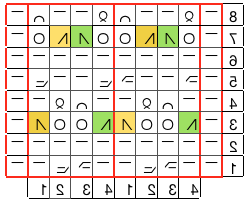 knit on 260 bulky KM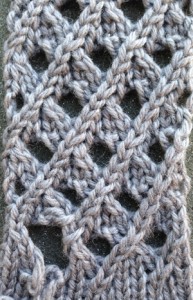 The large hole at the bottom left of the image is not due to a dropped stitch, but rather to yarn breakage. The sample was knit in worsted weight wool, and I found I needed a far looser tension than I would normally use for the same yarn to allow the double transfers to knit off properly. Eliminating the combinations of knit and purl within any one row as seen in the hand-knit version avoided retooling those stitches as well.
 A revisit on topic, April 2015
I am back now to once again, using primarily excel to create all my charts. Various Russian, German, and one English pub have offered variations of this particular fabric, some needing interpretation, but consistencies in repeats are easily recognized and isolated.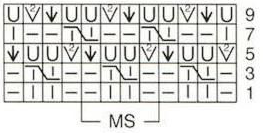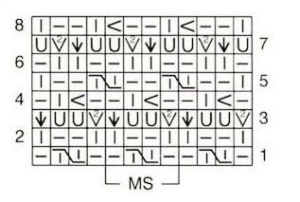 this image is from knittingstitchpatterns.com, they call it grand-eyelet-lattice, and provide written instructions for its execution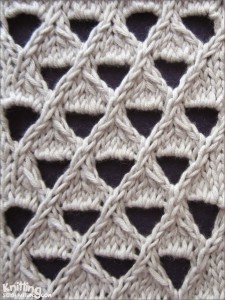 below is another relative, charted in Intwined, with the program's associated written instructions; repeat is 4 stitches wide by 8 rows tall, border stitches are not represented; cable crosses are reversed after every other eyelet sequence, yet another pattern variable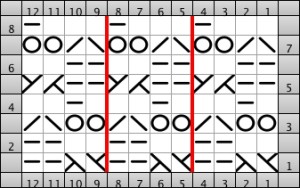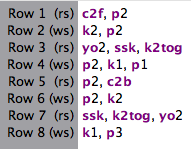 a chart for same using Sconcho and its built-in stitch library. For software details please see symbols post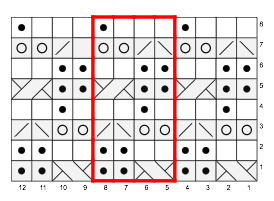 4/26/15 a variation found today on knitca, another resource for hand knitting stitch pattern collections; this is their image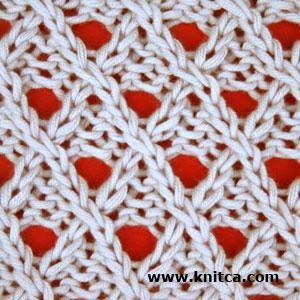 1/2/2016 a Ravelry post on the stitch family