The first repeat below is for a vertical cable panel 24 stitches wide, 12 rows high (2 repeats shown); within the repeat, odd rows are all knit, even rows are all purl. Colors are indicative of cable crossings.
Borders in the swatch, or area in between multiple vertical panels, may be worked as 1. purl on even-numbered rows, knit on odd-numbered rows to create a purl ground behind the cables on the "right side", or 2. knit every row for garter stitch in same areas.
Abbreviations : RS: right side, WS: wrong side. CF and CB indicate where the cable needle (CN) is held during the process.
CF: CN to front | LC: Left Cross, cable leans toward left
CB: CN to back | RC: Right Cross, cable leans toward the right
Dotted borders in chart outline columns 3 stitches wide; all cables in the sample are 3X3 crosses.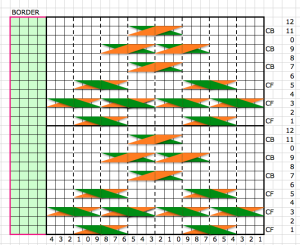 An alternative way to picture things: numbers on the left of the chart below indicate row numbers; on the right, they indicate the number of stitches knit before crossing cable stitches begins on that row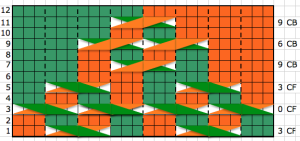 the hand knit swatch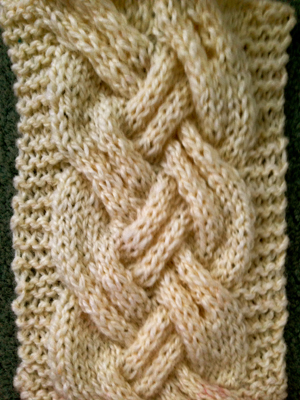 Adding a purl stitch ground: a shortened chart using Aire River Design font, odd rows only shown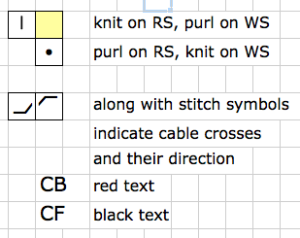 using color in Excel, showing every row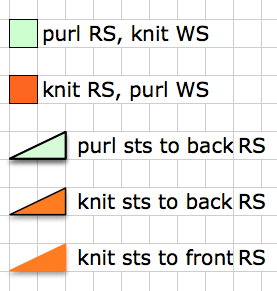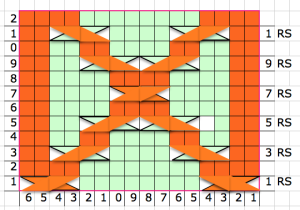 visualizing multiple repeats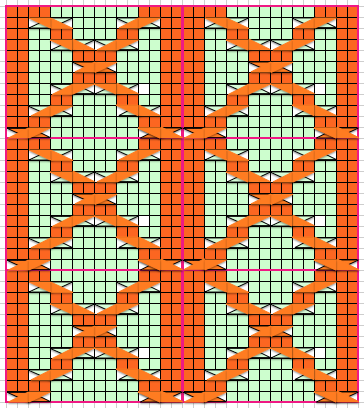 a very quick, hand-knit test swatch, knit with needles a bit too large for yarn used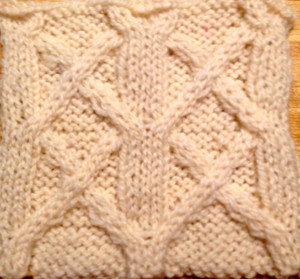 another possible charted in Excel, multiple repeats shown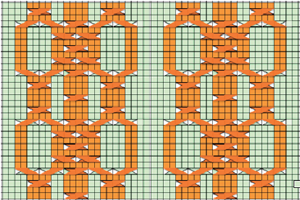 If patterns are for publication in specific venues, conventions in symbols may, or should have to be observed. To keep track of personal projects we often differ in what format or shorthand makes the most sense to us. If the like of the above result appeals to you, I am sharing a workbook with pertaining puzzle pieces. I find working at 200% magnification is the easiest for me, which may be easily changed to suit.
PS: My working palette in the original document was as seen in the images above. You may find some of the colors will be different in your download, depending on your computer. I have read on other sites in the past that the color change can be an issue in excel knit charting downloads. The image below reflects such a change. It is a quick capture of part of the chart when I tested the download myself. The large color blocks are the ones affected and may be easily changed to match the cable crossing colors.