If you have a machine that selects needles to the forward position, you may use a punchcard, mylar sheet, or program to select needles for indicating cable placements. On the single bed, the selected needles act as the signal to actually create the cable crosses. When working on the double bed, the needle selection on the row before the cables are crossed may serve to remind you to put extra needles in work on the ribber, thus providing some extra yarn for the crossings. Previous posts on topic
https://alessandrina.com/2011/12/19/aran-knits-a-new-thread/
https://alessandrina.com/2012/01/07/a-simple-braided-cable-and-card/
Keeping crossings all in the same direction and having ladders to mark vertical placements makes the process far easier. The stitches on either side of the cable may be knit, dropped every X# of rows, and latched up to create a purl ridge on either side of the cable, at times there is enough slack in the ladder created to achieve the same. End needle selection needs to be canceled (KCII) in any pattern with needles out of work. In simple patterns using selection to keep track, ladders are not needed to stay in a clear vertical.
An alternative repeat for combining 2X2 cables and 2 twisted stitches is illustrated below. The repeat is suitable for punchcard use, must be drawn in multiples to meet machine requirements (at least 36 rows in length). Spacing between twists and crossings may be far more varied in machines that use mylars or programs

for an all-over pattern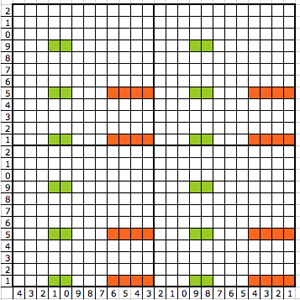 for a 22 stitch repeat or vertical panel, with ladders added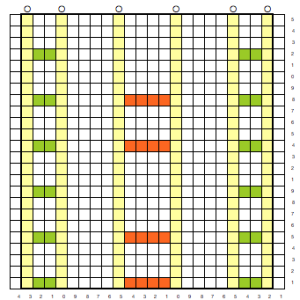 If using the ribber, stitches marked for "ladders" may actually be transferred to the ribber to create the purl ridges on either side of the cables and twists.