The patterning resulting from creating and manipulating ladders with needles out of work can create interesting openwork fabrics. I like to use punchcards or mylars for "automatic" patterning in selecting needles, with carriage set to plain knit,  to help keep track of where to introduce transfers when possible. Microsoft Excel or Mac Numbers remain my favorite "graph papers" for working out repeats at various stages of developing the trial swatches.
A work in progress sketch: 2 side by side repeats, my first "drawing". Empty circles indicate where I think I want to produce holes, green transfers and orange ones are toward each other, colored squares (orange and green) indicate the number of prongs on the tool used for transfers: orange transfers are made with a single eye tool, green with a triple eye one. Needles in the greyed-out area are left out of work after each transfer to create ladders. Where a lace hole is desired the empty needle is returned to work after its stitch is transferred. The yellow line is the knit of every row's center stitch of the pattern. The chart does not match the card, which was further edited

the punchcard repeat for the edited final version, including markings showing directions of transfers and " row 1″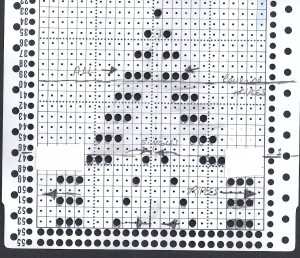 the resulting swatch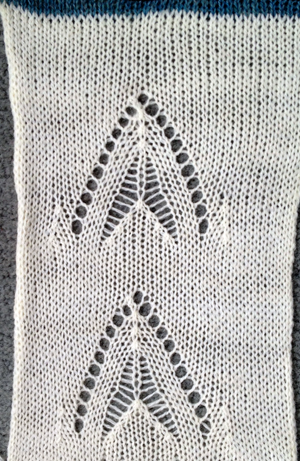 I have a brick repeat sorted out, not certain about its end-use
another card, 2 prong tool was used for transfers, arrows on right indicate the direction of those transfers, color change indicates its reversal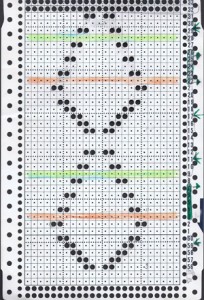 the resulting fabric: A_ empty needles left in work throughout, B_ as the direction of transfers is reversed, the empty needle on top portion is "filled" in by lifting up purl bar from the row below on its adjacent side, C_ 2 adjacent needles are constantly left empty to create ladders, with one needle brought in to work for every one taken completely out of work as needed. There are more possibilities. When experimenting it is helpful to keep good notes to ensure the ability to reproduce the desired effects.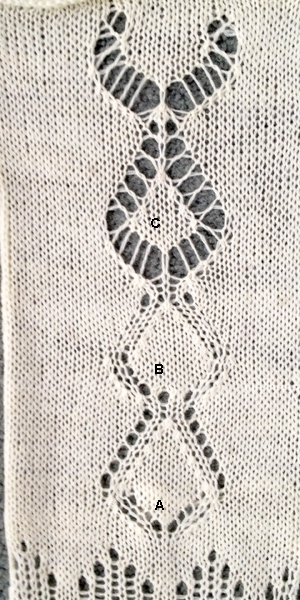 previous post on leaf-shaped lace
…