This is a blog post I actually began working on in November 2013, and never quite completed. A Ravelry thread on a hand-knit lace to machine knit pattern translation made me think of it, so here are my working notes on one approach to charts designed for hand knitting that require transfers every row, with the intent to automate them for possible use with the lace carriage for transfers rather than working from a chart as a straight out hand technique.
The Japanese publication hand knitting chart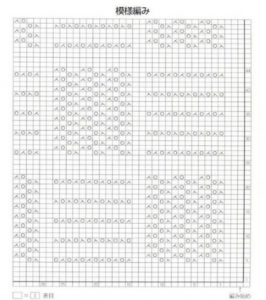 the hand knitting chart in Intwined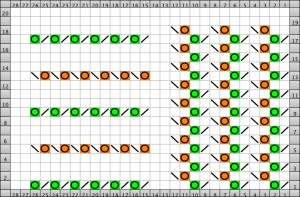 the HK instructions generated by the program to match chart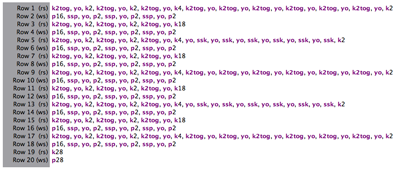 the chart flipped horizontally for machine knitting could be achievable using LC on the right side of KM, which would require method used in the previous post: elongation X2, 2 passes LC toward KC, followed by one row knit  A.
In this chart note the 2 cols representing opposite directions for transfers, not a physical possibility when using the LC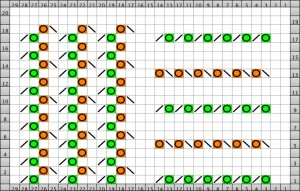 here the chart is amended, keeping like colors together on the same row, starting with LC on right,  LC 4 rows of passes followed by 2 rows knit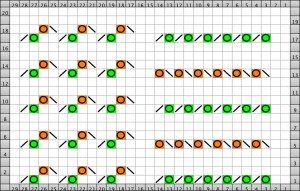 repeats can be adjusted so spacing matches more closely between motifs after swatching (B);  if the first row of transfers is to the left, lace carriage must make a pass to select from left to right, the second pass will transfer from right to left; in row 1 and 4 there are no transfers, rows 2 and 3 transfer selections from the previous rows; row four lets the LC return to its original position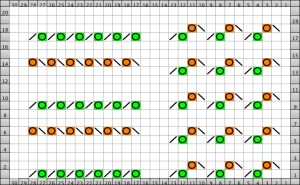 knitting with the mylar: in transfers observed on the purl side of the fabric, facing the knitter: the lace carriage transfers selected needles in the direction in which it is moving on the needle bed; if first row transfers need to be transferred to the right, the lace carriage starts out on right for selection row, and will transfer to right on its second pass, from the left to right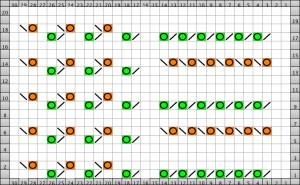 moving things around for a possible brick layout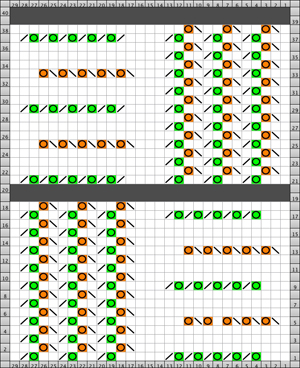 the mylar markings for selection from right to left: A and B, C from left to right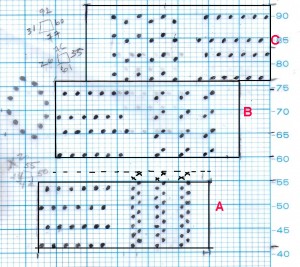 A is technically an incomplete repeat for continuous use, 2 more rows would be needed
that fabric swatches:  C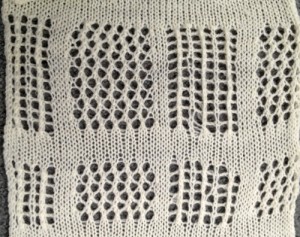 B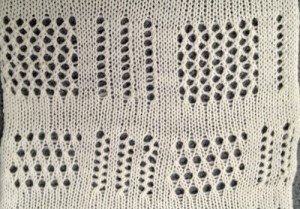 A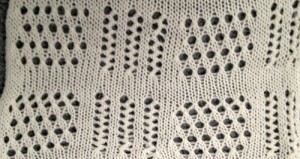 the tuck pattern Passap 1030 using the method of elongation X2 as described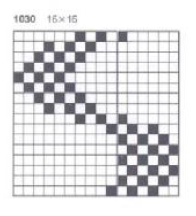 the resulting mesh, with some yarn issues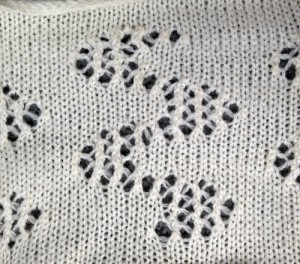 …
previous related posts
https://alessandrina.com/2013/09/19/studio-simple-lace-on-brother-electronics/
https://alessandrina.com/2013/11/30/a-bit-of-seasonal-lace/
https://alessandrina.com/2013/12/05/lace-mesh-motif-charting_-mac-numbers/
and the previous posts on translating HK patterns for use on punchcard or electronic machines
https://alessandrina.com/?s=from+lace+chart+to+punchcard