I am pondering returning to some drop stitch lace experiments on my Brother KM, have blogged previously on drop stitch lace, and some of the tools that can help speed up the technique. Studio has marketed a "pile knitting" accessory usable for this purpose, still being manufactured. A recent web search revealed its cost is presently in the range of approximately 13 to 20 dollars per unit. As is, the tool does not work on the brother machine. One of the critical differences between brands is in the shape of the rear rail. Brother kms in addition have an elevated metal piece at the center of km, behind the rear rail and in front of the belt, as seen below in 2 of their different models, that hinders smooth movement by a tool across the length of the space it rests on.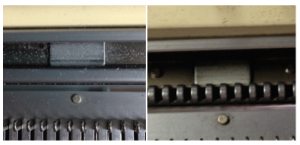 Issues with using the tool as manufactured: its back "rail" (1) is taller than the front (2), keeping the unit from sitting flat on the Brother bed, and also striking the metal rectangle pictured above. The front parts (3) and (4) do not align properly with the metal bed and further, interfere with use.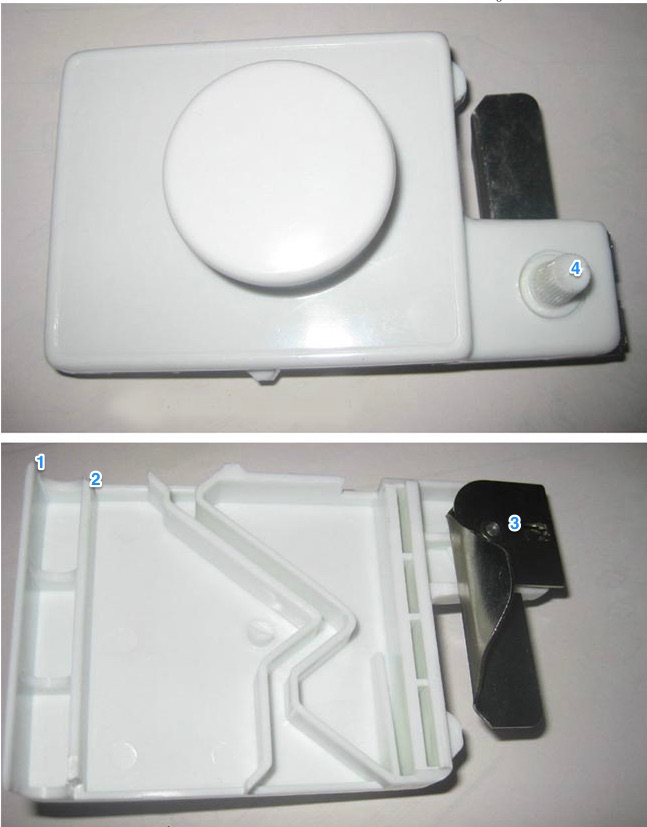 Some sliding of the tool along the Brother metal bed, comparing the placement for areas within which the needles need to move, led to my altering the carriage by trimming the rear rail (1). Initially, I used a handheld electric sander, followed by a nail file to "even" things out rather than making any effort to cut the plastic.
In my revision (1) is now shorter than (2), rather than taller, and flush with the top of the curved ridges between both.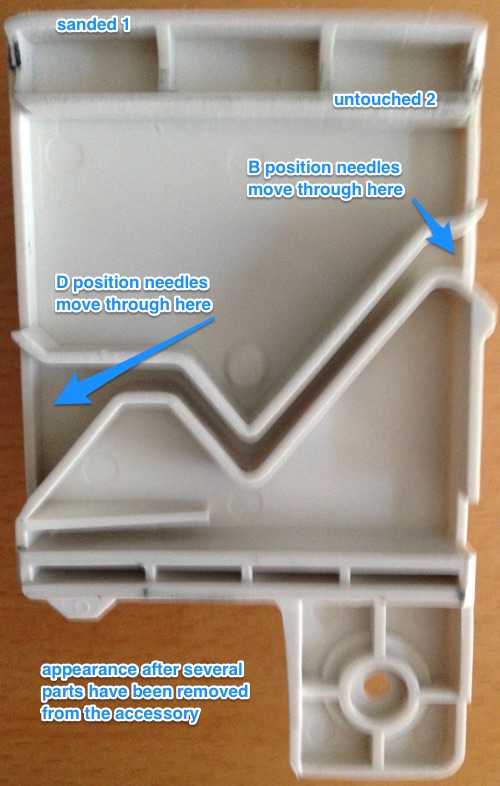 the Brother Bulky 260 "D slider" was supplied with bulky kms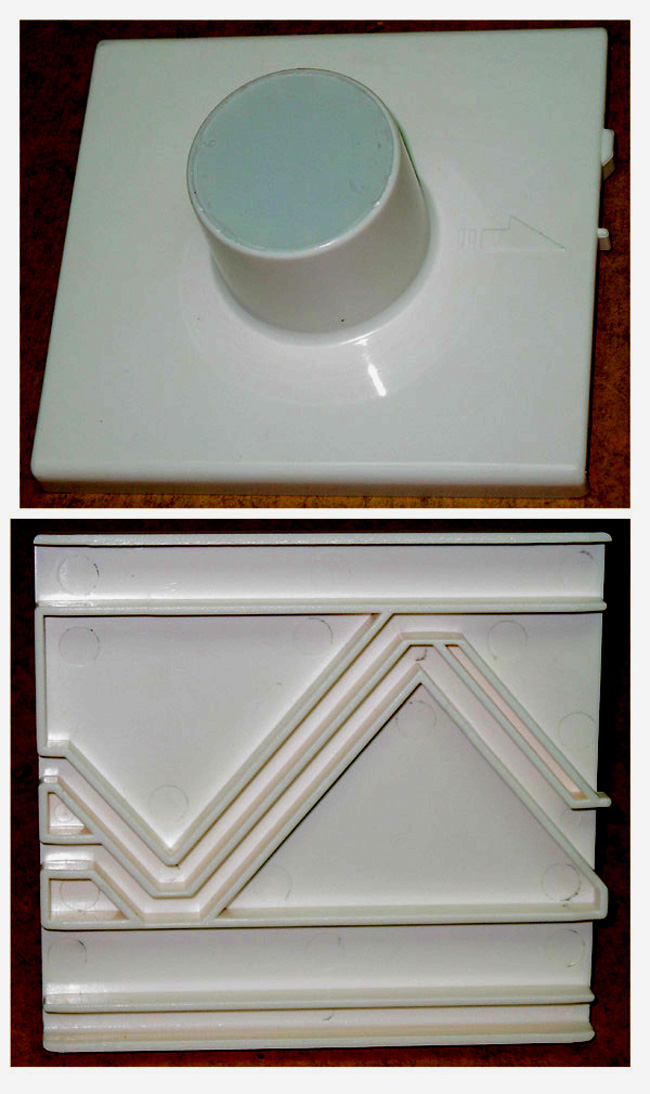 So far I have tried the altered Studio tool out on solid color knitting with hand needle selection. All knitting needs to be on ribber if the main bed is going to make stitches for pile, drop/ long stitch (aka mesh in some references) lace. For a test: with both KC buttons selected to slip, hand select needles for long stitches, put out to holding and knit across all needles. Selected stitches only will have caught loops on the main bed, all stitches knit on the ribber. Using the tool now that needles are back in B on the main bed, passing it from Right to Left brings all needles out to D, traveling back from Left to Right with it realigns them in B, dropping them. B is the needle position for needle selection on rows with no punched holes, black squares, or pixels when programmed patterning is used on the machine.
Instructions in the studio manual showing it in use, with all parts in place. A reminder: Studio needle positions are A, B, C, D, while Brother skipped the third letter of the alphabet, using A, B, D, E on its beds.