I am often surprised when I return to visiting past ideas and discover how long I have actually been blogging. In 2016 Vogue knitting published what appeared to me to be an interesting pattern for a leaf lace variant combining dropped stitches and lace transfers. In looking back my leaf "phase" began in 2011. Here are links to my previous posts and process at the time:https://alessandrina.com/2011/02/15/beginnings/
https://alessandrina.com/2011/02/20/in-progress/
https://alessandrina.com/2011/02/20/on-the-blocking-board/
https://alessandrina.com/2012/02/25/back-to-lace/
https://alessandrina.com/2012/02/28/more-on-those-slanting-lace-leaves/
https://alessandrina.com/2012/03/08/back-to-leaf-lace-add-rib-and-take-it-to-the-passap/
https://alessandrina.com/2012/03/20/getting-there/
https://alessandrina.com/2012/03/27/the-joys-of-lace-on-the-km/
https://alessandrina.com/2015/03/22/ladders-with-lace-making-things-work/
Below, I am sharing my WIP swatches and notes. I am presently working on some production knitwear pieces, and it is unclear when I will return to more samples of this variant.
The "new leaf" requires hand techniques, working with multiple transfer tools. Dropped stitches in hand knitting may translate to ladders in a machine knit. My first trial swatch was made on the standard KM.  Casting off and on posed interesting questions. The lines where knit stitches meet ladders, as pointed out in previous posts, can result in the knit stitches aside the ladder growing in size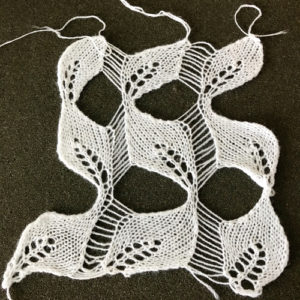 I do not enjoy time-consuming hand techniques on the machine, so to speed things up I moved on to the bulky. As with any other knitting, the lengthwise sides of the knit are going to want to curl to the purl side. I deliberately worked with acrylic yarn, anticipating that blocking it would be required to attempt to get the results to stay flat. Here is the resulting swatch, as first off the KM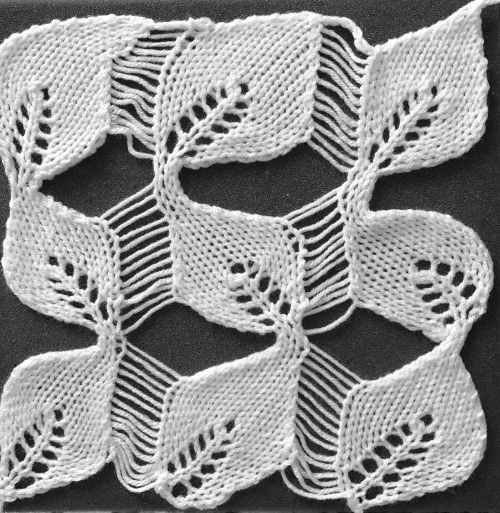 A couple of days later the fabric was still lying flat, so I decided to try to chart it out for slightly different results while planning for a different turning angle and a consistent number of ladders throughout.
---
I began to use Excel 2008 in 2009, as well as Apple's Pages and sometimes Numbers over time to produce my charts and illustrations. I keep learning tiny bits as time goes on. Some features may disappear in such programs or become added with upgrades. These are settings I prefer for backgrounds and borders in Excel
format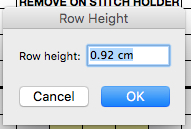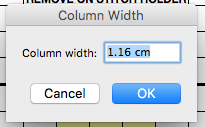 and for screen grabs or improved visibility, zoom comes in handy 

For links to some online tutorial by other authors https://alessandrina.com/2013/10/29/charting-knits-in-excel/, a search in my own blog will lead you to my own explorations over time. Simple graph paper and color pencils may be used if the software is not available to help work out proper repeats, etc. A single repeat of my leaves so far is shown in 2 segments for increased visibility, successful knitting, probably in another "killable yarn" tbd.