There is a resurgence of circular yokes on the runways and market at the moment. My previous post discussed some of the considerations in knitting them. For those not up to working that particular way, there are variations in carrying the patterns around the body in continuous lines.
If raglan shaping is used, angular lines are created where patterns meet. All knit is essentially vertical striping. Raglan shaping should match both the front and back of the sleeve, the wider the raglan shape, the less sharp the stripe intersection. Striping in a traditional cap sleeve creates designs that move horizontally across the combined body and arm at rest.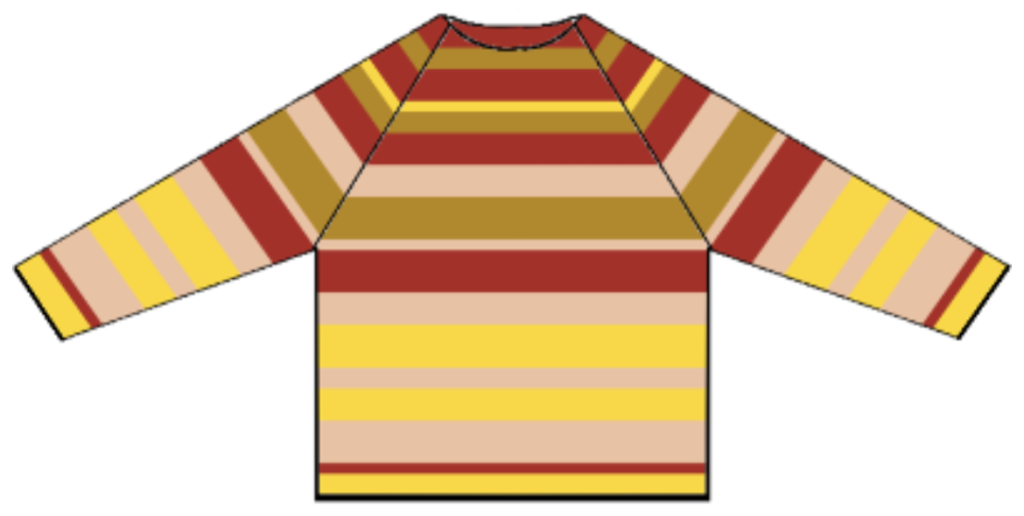 In shaping raglans, however, the angle at which the stripes meet is also crucial in order to be able to use stripes matching in the number of rows. The stitch that is the closest to producing stitches in a square gauge is garter stitch. A charted sample of a mitered, even angled striped square: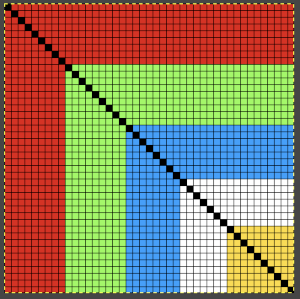 The start of imagining the graduated angles required in garter stitch for altering the shape, keeping in mind that the number of rows in each angle must match,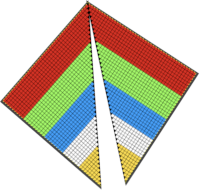 The assumption is that if knitting in garter since row gauge and stitch gauge presumably match, any striping on 2 edges at the same angle will also match. Hand knitting patterns can serve as a source of inspiration, garnstudio is a wonderful resource for such patterns, in multiple languages. These patterns are both knit in garter stitch: https://www.garnstudio.com/pattern.php?id=1078&cid=17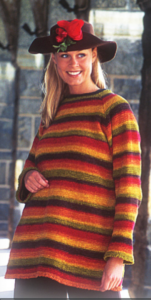 https://www.garnstudio.com/pattern.php?id=1078&cid=17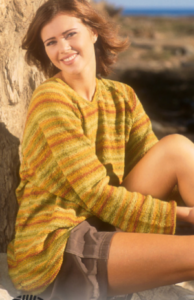 In stocking stitch, gauge for stitch and row counts do not match, stripes meeting at different angles will be matching rows to stitches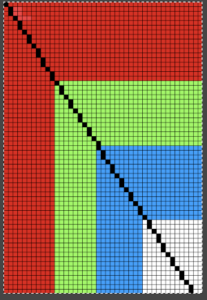 Sometimes a stocking stitch band is placed between the 2 shapes facilitating matching rows to rows. Space-dyed yarns can create more forgiving intersections https://www.garnstudio.com/pattern.php?id=661&cid=17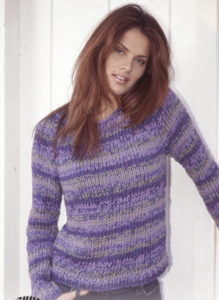 A stocking stitch sweater pattern for purchase on Ravelry: https://thefibreco.com/product/striped-sweater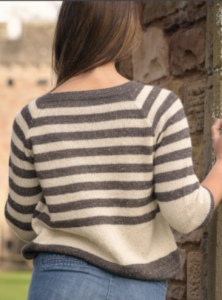 Matching is possible with more planning than when using garter stitch, but compromises may need to be made in either or both the width of the body and the raglan sleeve cap, which may alter the amount of fabric pushed forward at the spot where the armhole and the body meet.
In a simple raglan sketch, both sides of each piece are symmetrical. The body's back neck opening is knit straight across, the front is shaped. The front and back raglan armhole edges, A and B, measure the same, with an equal number of knit rows. The sleeve cap top is straight, helping to form the full-size neckline opening. The small bind-offs of at least one inch at the start of the armhole and raglan shaping help reduce the bulk of fabric in those areas as in when knitting dropped shoulder sweaters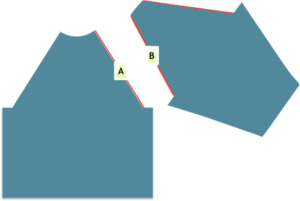 When designing a sweater with a shaped sleeve cap, knit a sample of your stripe pattern. An online stripe generator can help visualize stripe formulas, colorways, etc. If knitting fair isle use row counts for FI pattern height for stripe placement. It is helpful to have a 1 row, 1 stitch graph to plot repeats out. It does not matter if the grid is square or rectangular, providing that vertical and horizontal numbers are based on your gauge. Draw a line from armhole point to armhole on both pattern and sleeve, and there is your match. Work stripe pattern up from armhole line for your cap,  down from line for sleeve repeats.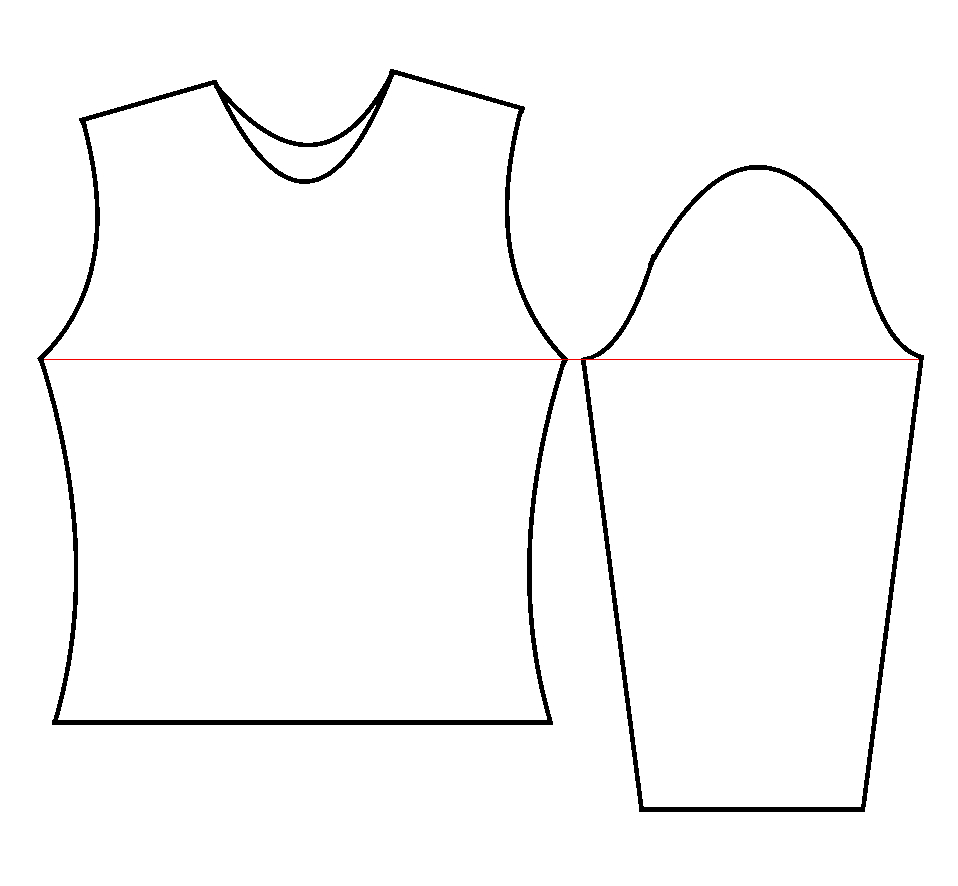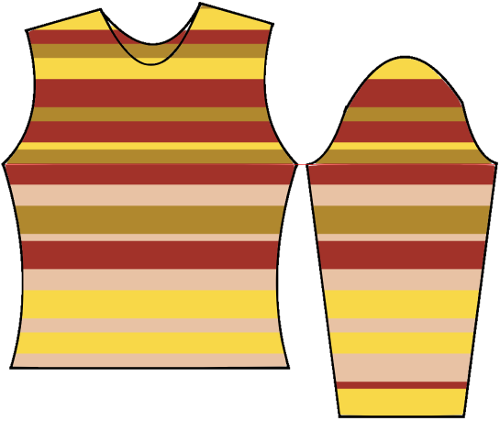 In my theoretical sweaters, the sleeve's wrist edge is technically below the armhole to waistline length, so stripes need to be plotted accordingly, from the armhole down.  The same method is used if single motifs or other variations in striping are involved. For single motifs, if matching them in body and sleeve cap, begin by designing them so they fit in the cap's crown. Place motif in body and sleeve on the same line, and plan the remainder of the sweater calculating from the armhole as for stripes, basing placement on numbers of rows in each design segment.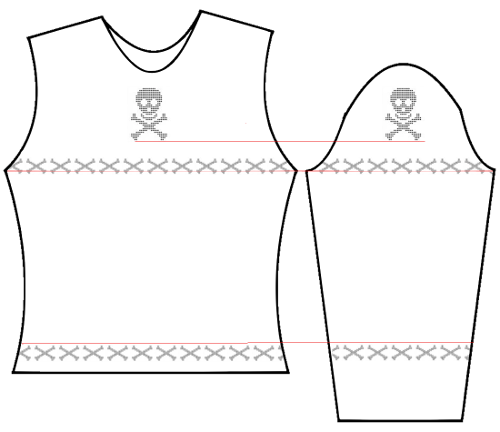 A collection of online references:
Ravellings on the knitted sleeve By Jenna Wilson
http://knitty.com/ISSUEfall04/FEATfall04TBP.html
http://knitty.com/ISSUEwinter04/FEATwin04TBP.html
http://knitty.com/ISSUEwinter05/FEATwin05TBP.html
math calculators for knitting
https://itunes.apple.com/us/app/knit-evenly-calculator/id370449748?mt=8
"magic formula http://www.getknitting.com/ak_0603triangle.aspx
http://www.getknitting.com/ak_0603mfcalc.aspx#
http://www.getknitting.com/mk_0603frilled.aspx# site is now closed, updated links to find it and other shaping information links may be found in the blog post: Online Pattern generators, hacks, free KM manuals, and more