This is an illustration of the #3 frill from the Ribber Techniques Book:
1. COR: knit a zigzag row to left, hang comb and weights, no circular rows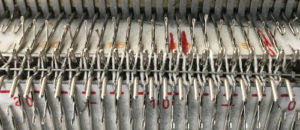 2. knit second zigzag row to right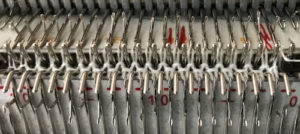 3. transfer stitches as shown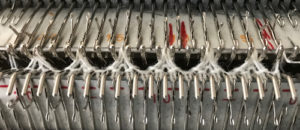 4. knit to left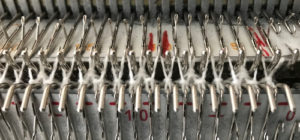 5. knit back to the right

repeat steps 3-5 to the desired height
For another variation, knit 4 rows rather than 2 between transfers. My yarn is still a 2/24 acrylic. The trim would look quite different using a thicker yarn or even simply a tighter tension. I continued in rib. Ribber stitches could also be transferred to the top bed for continuation in stocking stitch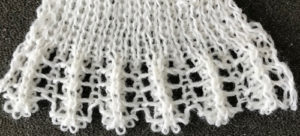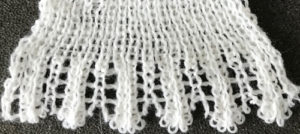 In theory,  it is possible to knit lace transfers in Brother by dropping the ribber bed enough for the lace carriage to move across the beds while clearing the gate pegs. This remains on my "try someday" list. To my mind, hand transferring remains the best way to deal with lace/ ribber stitches combined.
Tuck patterns on the main bed (or slip stitch) designs can be used to automate and create patterns where holding is recommended in some sources ie.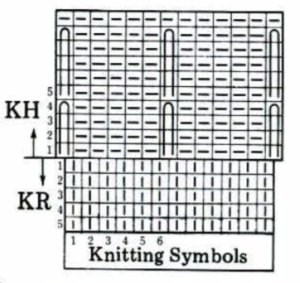 For a punchcard machine, the repeat must be a factor of 24 in width ie. 6 or 8, or  12 stitches wide. Electronic knitters can draw a single repeat, either the one on the left also using color reverse or the one on the right. Punchcard knitters need to punch the grey squares on the right across the card and repeat it in height. An extra all-knit row needs to be added at the top of each series of 4 rows tucked for the loops to be knit off automatically by the machine. Step 4 in the techniques book, resetting the main bed to N to knit a row after every 4 rows in a holding pattern is missing in their illustration above.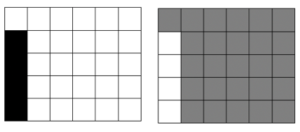 The punchcard repeat: punch each grey square to match the illustration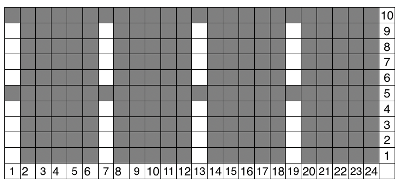 A few to try,  shown in repeat X2, as BW gridded .bmps,  and with the color reversed for knitting.  All but one are  12 stitches in width, suitable for punchcard machines as well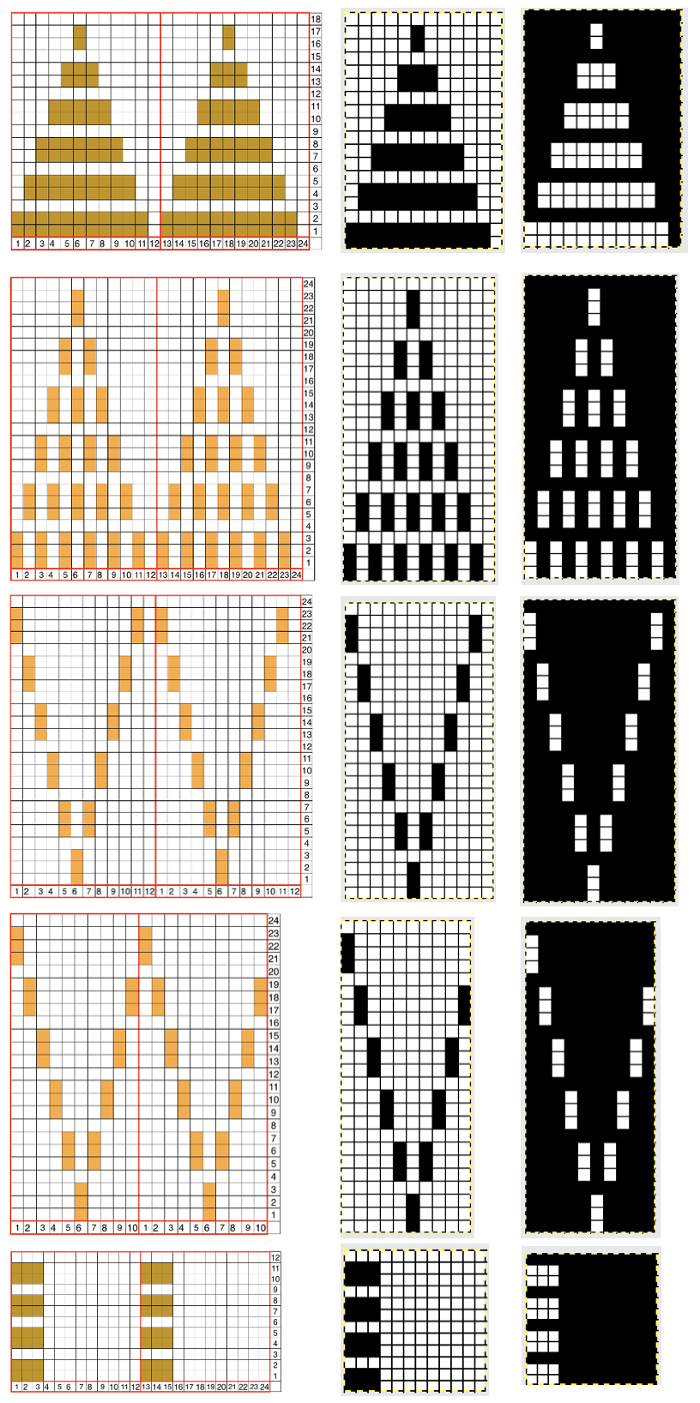 Too much black? want to count those black squares more easily? pick your preferred grid color, it will disappear when the image is saved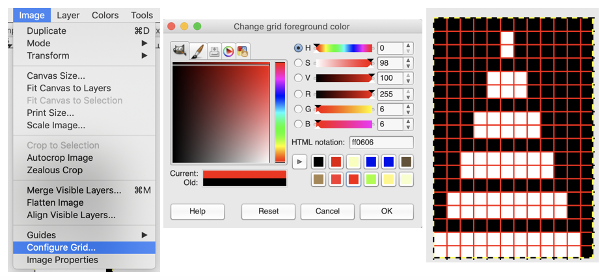 A screen grab from my iMac shows the original charts and the resulting single repeat .bmps after working in GIMP, ready for download with color reverse option and use on the electronic machines. Ayab knitters, in addition, would need to program the repeat in width to match the number of needles planned for use in the piece