This is a quick note attempting to illustrate the third circular row as shown in manuals is not needed and in some yarns, at least to my eye, there is an extra "bar/float" making a difference between purl and knit side of the fabric. I find the 2 circular rows also make a bit tidier, tighter edge. My swatches are very small, in fine 2/18 silk wool.
This is the purl side facing, 2 circs on left, 3 on the right

the knit side, 2 circs on left, 3 on the right

every other needle, purl side facing, 2 circs on left, 3 on the right, with markers indicating the "extra float"

the knit side, 2 circs on left, 3 on the right

I knit the samples as tightly as possible. When making dbj slip stitch scarves I wanted the bottom to match the top in width. The ribber stitches were transferred to the main bed and tested on a test swatch whether I preferred to knit an added row or not before performing a latch tool bind off around gate pegs. To deal with the cast on width,  I simply planned to knit the zig-zag row on at least garment tension, thus leaving me with what are normally considered ugly loops. There are 2 such loops for each stitch. With a latch tool, begin opposite the yarn end, and consistently choose the next right or left loop, chaining them through each other.
Two circular rows are also used when transitioning from varied configurations to every needle ones, illustrated in the post on  racked-ribber-cast-on-and-rib-configuration-tips
picking up an edge loop, moving it behind the latch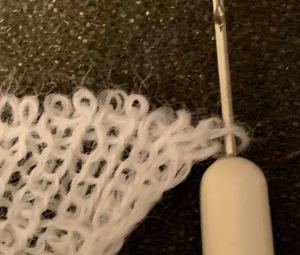 proceeding  toward the yarn end, pick up one of the next 2 loops in hook, here I consistently chose the one on the right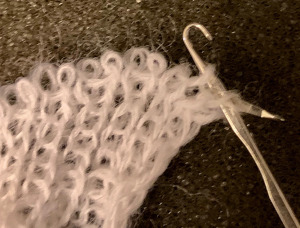 if the first loop slips in the hook again as well, get it behind the latch once more before proceeding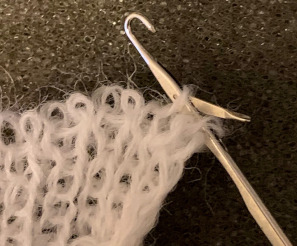 pull the second loop through the previous one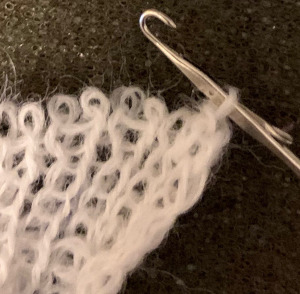 work across the row, secure the yarn end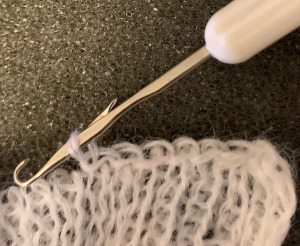 the appearance on the reverse side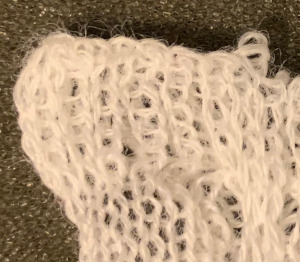 I can be a little bonkers with my finishing, have even been known when dealing with getting top and bottom edges to match in look and width to rehang every other loop, knit a row, and then perform the latch tool bind off. If tuck double bed fabrics are knit, they require planning for loose cast ons and bind-offs. Slip stitch is short and thin, tuck stitch is short and fat, whether knit single or double bed and then is compared with fabrics where either bed predominantly knits plain.