A category search for machine knitting/mosaics and mazes design will lead to my blog posts on the topic. Among later posts, one method for color separations for this fabric using Gimp alone may be found in 2021/07/18/gimp-update-for-mac-2/.
Previous posts on working with Mc Numbers include: knit charting using Numbers 2  which covers basics, keyboard shortcuts, and more,
Numbers to GIMP for creating images for electronic download, charting knits color separations 2, charting knits, color separations 1, lace mesh motif charting, charting knit repeats using numbers 1, visualizing knit cables, knit graph paper 
Rules for and appearance of designs: Mosaics and mazes: machine knits_ from design to pattern
To knit these fabrics use one light color and one dark for major contrast is recommended. Matching the dark yarn to dark squares and reversing their positions may produce interesting optical variations. The resulting knit has reduced floats and is not as bulky as traditional Fair Isle. Many patterns published in punchcard machine pattern books will produce such patterns when knitting on a single bed, changing color every 2 rows. White squares need to be 2 rows high, no more than one square wide. A page from one such reference: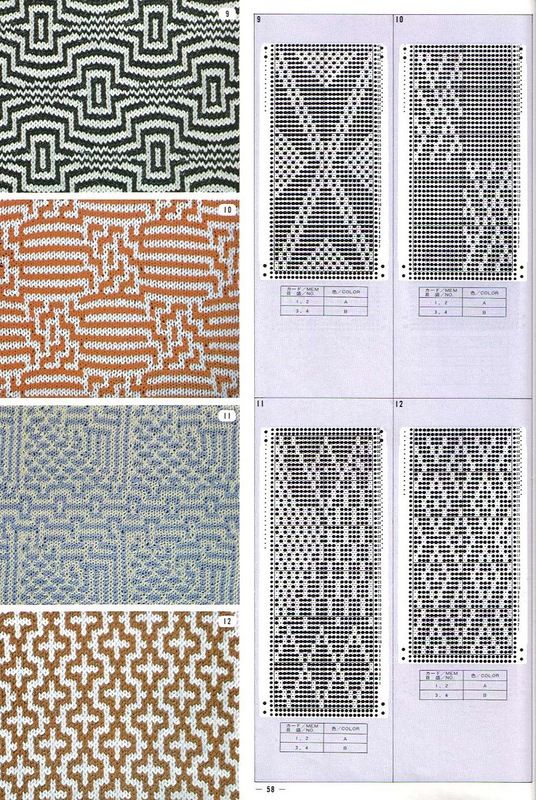 What appears as a maze designs in the swatch photos below would actually be unsuitable for use in the mosaic separation discussed in this post. The cards are designed for tuck (or slip) with color changes every 2 rows. The approach for planning and charting out such fabrics would be a very different one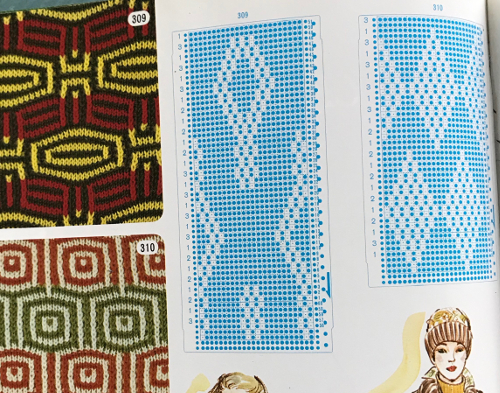 There are a few rules in designing your own: in mosaics, the odd grid rows should contain single or dark-colored squares plus any cells used to create horizontal lines. The even grid rows usually have single or adjacent light squares but only single dark squares. As with any other fabric access to electronics allows for use of small repeats that can be color reversed or lengthened X2, whereas punchcard knitters need to meet the usual constraints in motif size in width and height. Tile features in software can often give clues to errors such as skipped cells or edges at top and sides of repeat that do not line up, avoiding having to actually test the repeat in knitting to evaluate the same.
Pre-drawn motifs that require color separation are available in a variety of sources. Kathleen Kinder published 2 books with repeats one for 24, the other for 20 and 40 stitch punchcards, including isolated electronic repeats as well.
The original "swatch" inspiration for this post and its repeat were pictured in Mosaic Knitting page 110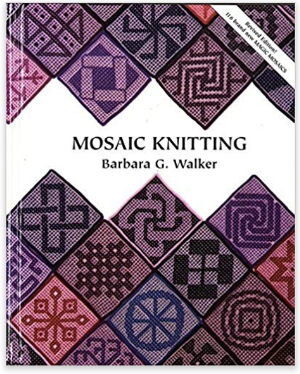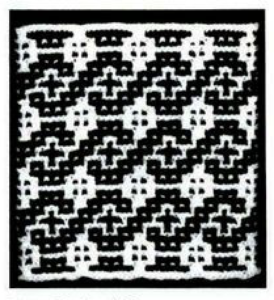 the numbering system reflects every other row worked alternating sides of the work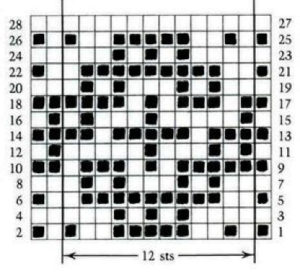 it is shown here with a superimposed table grid with its cells outlined in a thick border and positioned in front of a scaled screen grab of the original motif (arrange/ aspect ratio turned off)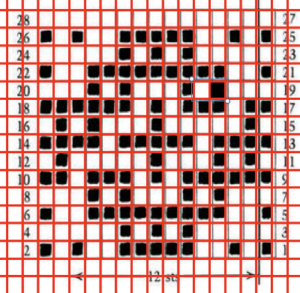 use command key to select a series of cells to be filled in with color, I chose to use black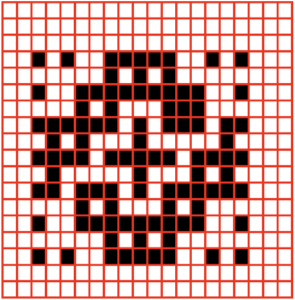 the cell borders can be edited as wished. Here borders were removed by selecting none, then, in turn, the outer border was highlighted in an easy to identify a thicker red line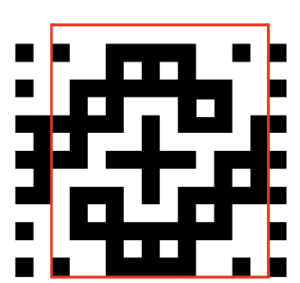 Below are more variations on borders and numbering for the start of the machine knitting repeat. Adding digits to the Numbers original repeat serves as a guide to appropriate size scaling in GIMP. One way to obtain the repeat size is to type digits in at least 2 cells at the desired location in any row or column. Select both cells, click on the yellow dot, and drag it to the last cell in the series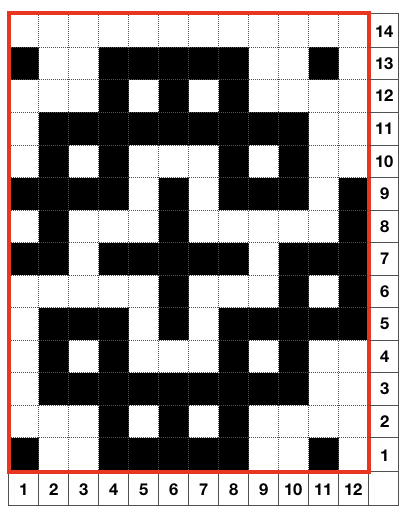 here I went into autopilot: the repeat is isolated. The lengthen X 2 requirement can be achieved later in GIMP or as here via the table/ arrange/ size option in Numbers (wrong step for mosaic/ mazes)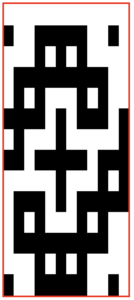 I change the outer border to one point dotted to have a guide for a screengrab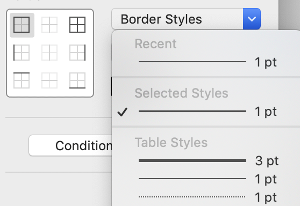 The captured image may then be imported into GIMP, image mode is changed to color indexed, B/W bitmap, and it is scaled to the appropriate size. The view grid, snap to grid options are in use.
I worked in 1800 magnification, created a new canvas 2 pixels wider than the original on the left, copied and pasted that image onto the new canvas. In the center illustration, RGB mode is once again in use. The added green pixels serve as guides for using rectangle select to capture each of the rows containing them in turn and then using invert value from the colors menu to reverse background and foreground within each of those rows.  The completed color separation is shown on the far right, with those 2 extra rows on its left side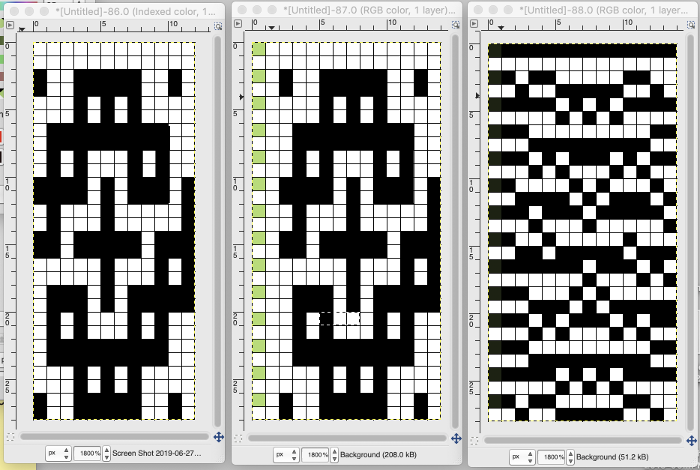 the last image needs to be once again converted to BW mode. The 2 extra rows of pixels on left are cropped off, the image is scaled to twice as long for use with the color changer, and the original 12X14 repeat is now 12X56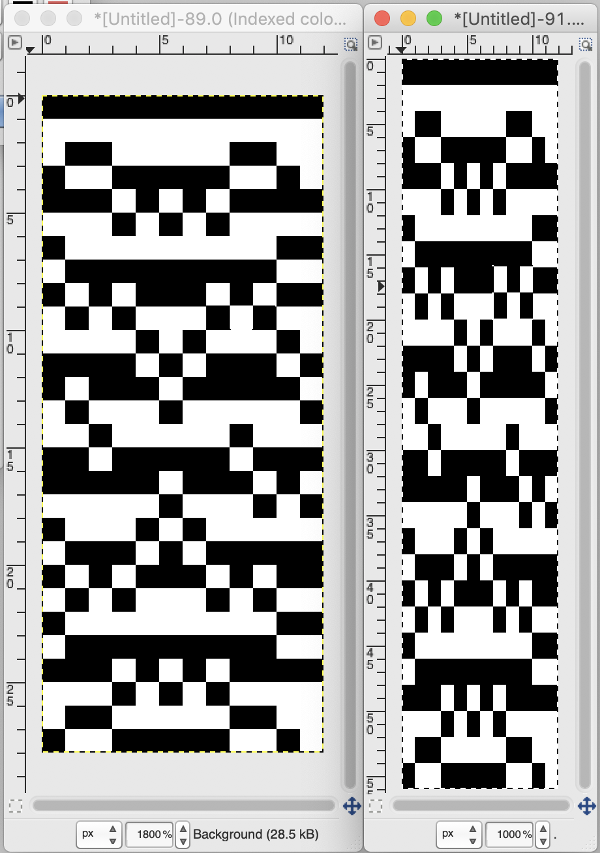 the actual BMP

this is the charted and tiled original repeat.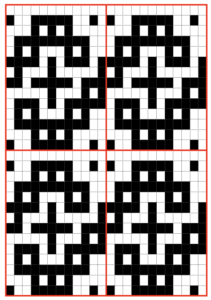 There are classic differences from what is typically thought of as "floatless fair isle" in it. The very last row ie is in one color only.  When those 2 passes are made with the "no knit" color with the change knob set to KC I, the first and last needle will be selected. Push them back to B position prior to knitting the next row to avoid side to side floats.  Because of the maze component floats of as many as 7 stitches are created on the purl side in one of the 2 colors. A quick proof of concept swatch: this is a slip stitch fabric, note the difference in width between the patterned area vs the plain knit. If one has a ribber and the appeal lies simply in the lines created by both mazes and mosaics, those features can be retained with DBJ, and the fabric will lie flat. There will be limitations as to the thickness of the yarn used.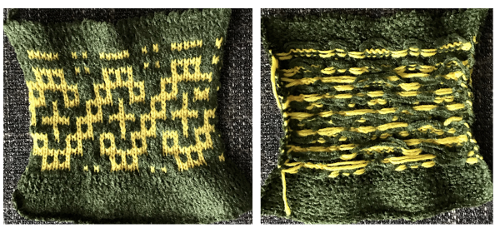 a "pretend" longer repeat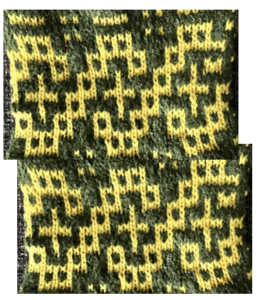 The question has come up in forums as to whether the DBJ separation can be used for mosaics and mazes. The "Japanese" one, which prevents elongation by knitting each color for each row only once does not since these shapes rely on knitting the same needle selection twice in each color. The default separation in the Passap or the designer self-drawn one that will knit each identical spot in the motif separation twice. The design is elongated. Susanna wrote a technique for use on the E6000 for having the console perform the color conversion for true mosaic knitting.

The repeat shown earlier in this post separated for DBJ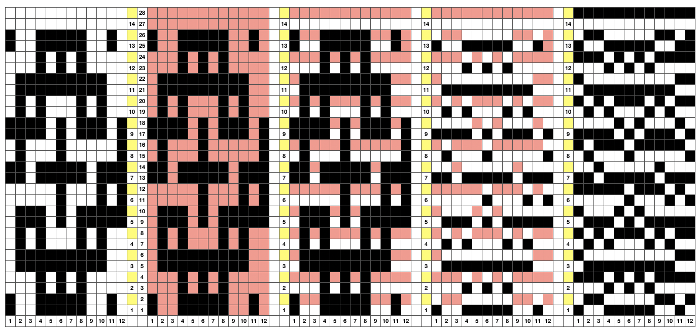 is compared here with the earlier wrong separation for "mosaic knitting" and found to appear identical. The process was a quicker way than that of dealing with different colors for ground and design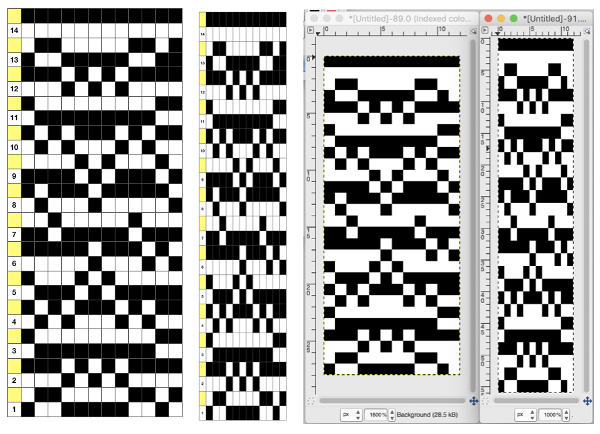 different pairs of colors, same results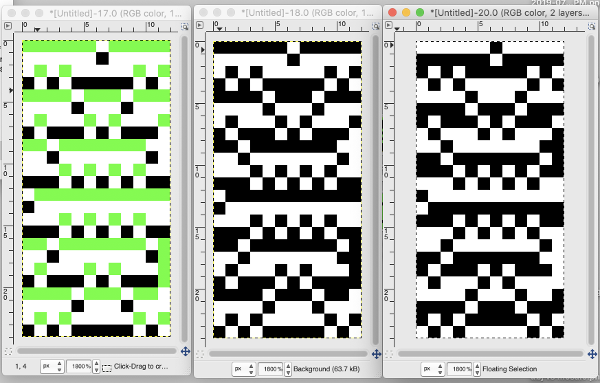 Back to the drawing board: row height is as in the original repeat 

being extra careful, not necessary, the process can be inverted once more to check the repeat color separation

the actual knitting repeat, double-length before downloading to machine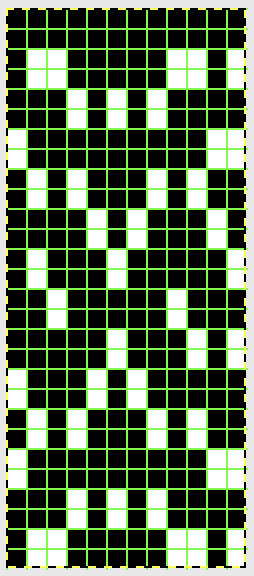 the corresponding proof of concept swatch,  with shorter floats than when the DBJ separation is used single bed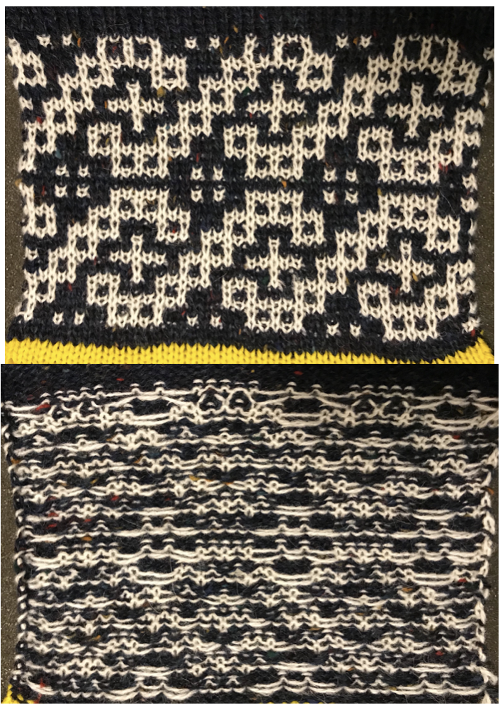 tiling of the original repeat and its color reversed image illustrate the optical difference between switching dark and light color starts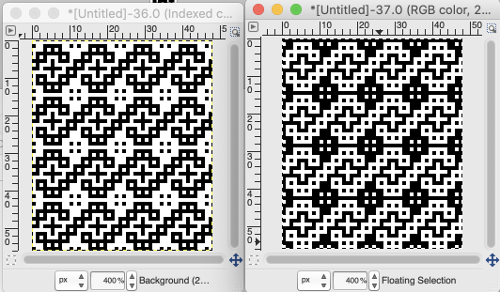 This repeat is from Kathleen Kinder's (24-stitch) Floatless Fair-Isle book, p.86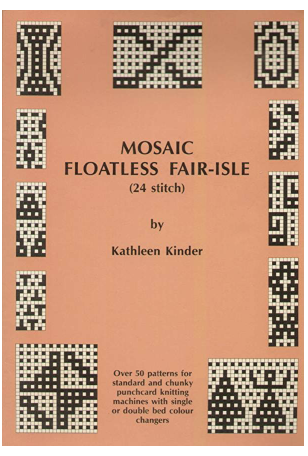 the repeat of the design separation on the right is intended for use in electronics with color reverse and double length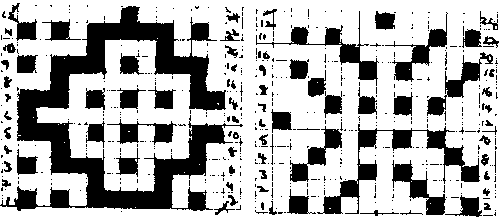 chart separated using GIMP for mosaic knitting matches her repeat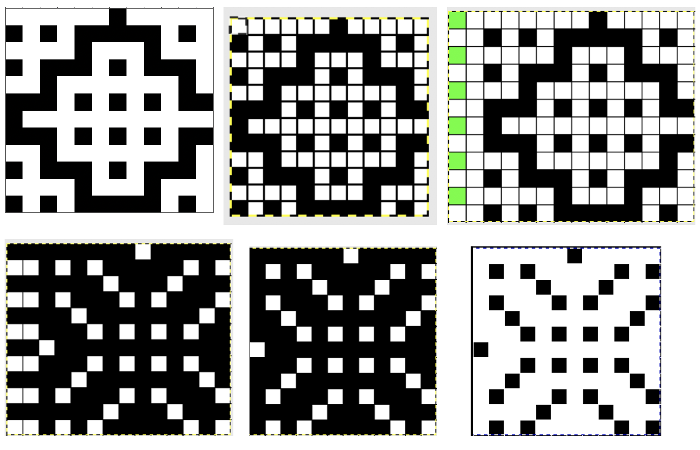 Recently on Facebook mazes turned up as a topic in machine knitting once more. Most maze generators online that I have found are designed for printing out game solving images ie here is one from http://hereandabove.com/maze/mazeorig.form.html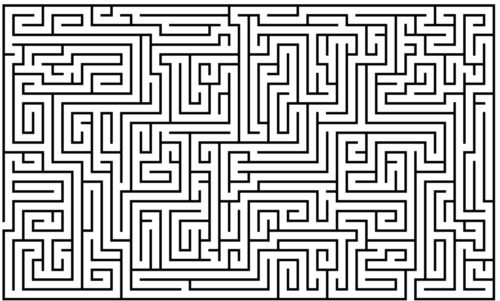 for knitting purposes unikatissima and Laura Kogler offer alternatives. Years have gone by since I first wrote on mazes and mosaics. The repeat worked with below was used in my post. 
Here I am revisiting the same image. To begin with, a repeat is isolated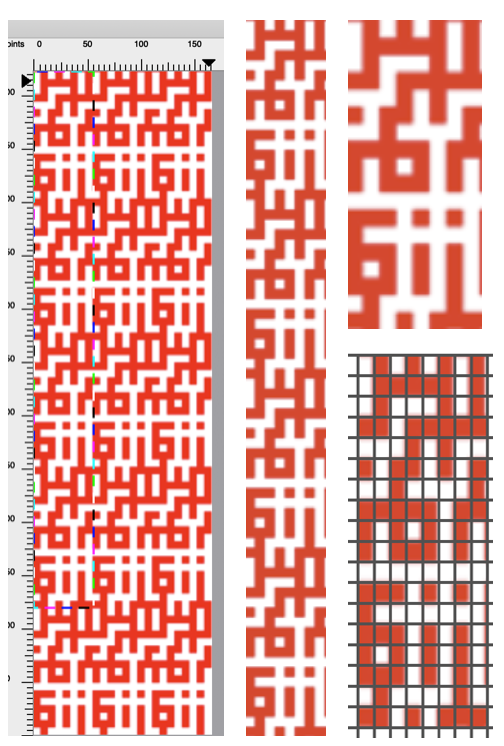 and processed in numbers (top row), and then in turn in Gimp. Always tile repeat to check for any errors and to see if the final image represents what was planned.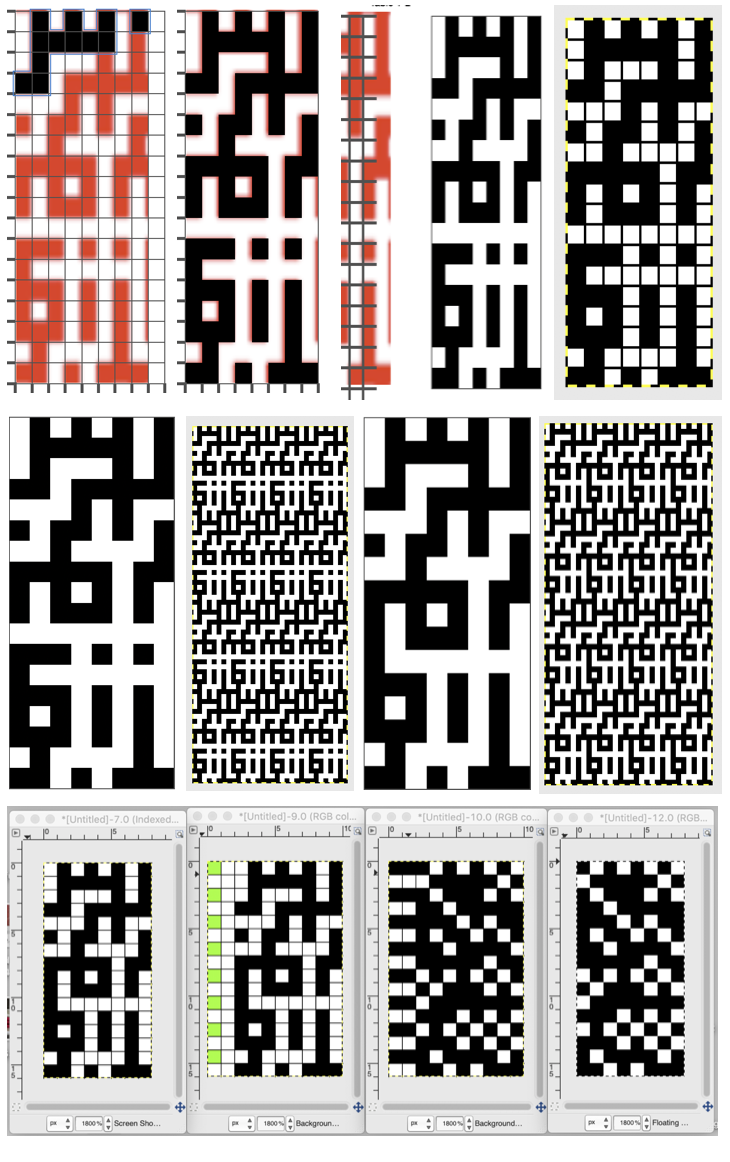 The repeat (8X16) is then doubled in length for knitting after that single all-white row was edited out (middle images). The repeat is now 8 rows wide by 32 rows in height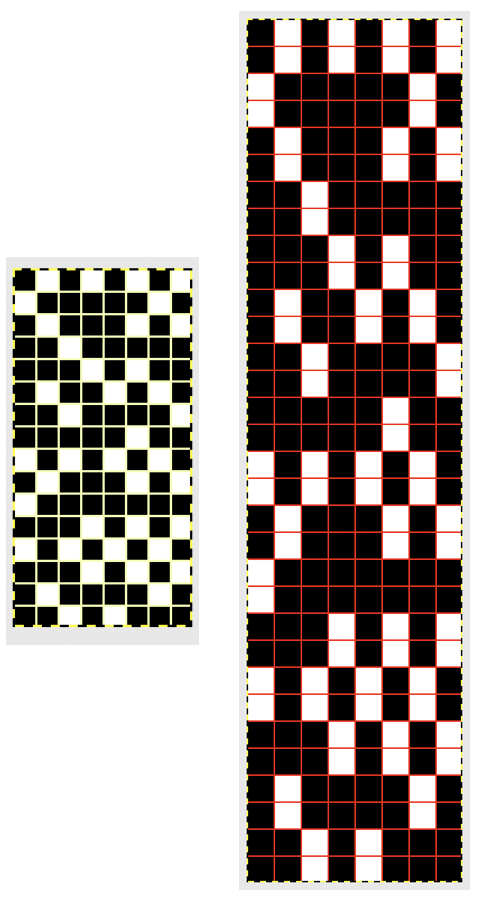 One of the yarns is chenille, the other a wool. The chenille is slightly thicker and fuzzy, so some of the yellow rows are almost hidden but the pattern is definitely there. Here the design is knit using both slip (bottom) and tuck (top) settings. Again, there is a noticeable difference in width produced by each stitch type.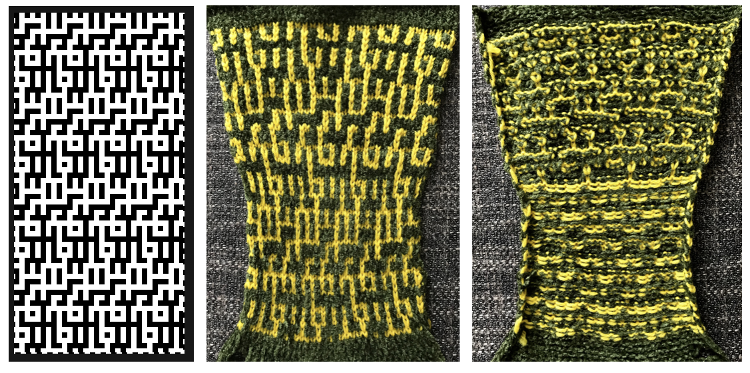 Observations: make certain that after the image is isolated in Numbers cell size is converted to square/ equal measurements in width and height before importing and scaling its screen grab in GIMP if not already so. It will likely load in RGB mode, convert to Indexed before scaling. Added colored squares are only possible if you return to RGB mode. After rows with colored squares are cut, return the image to indexed before saving as BMP for knitting. If any pairs of rows do not have 2 consecutive rows of cells in either color check your pattern. In DBJ the final repeat should be 4 times in numbers of rows in height to the original one, and thus divisible by four.  The separation first doubles height for each row for 2 colors. Then height is doubled once more to allow for color changes every 2 rows. In Mosaics and Mazes, the color reversal happens on every other row in the original design. When that is completed, the height will be doubled for actual knitting to allow for color changes every 2 rows, with the final row count double that of the original motif. Rules for tuck knitting apply here as in any other technique. If white squares in the final chart have black ones on either side of them, the appearance is that tuck would be possible. Examining needle preselection is an easy way to assess that possibility.  Reversing the colors used in actual knitting may yield interesting changes in the appearance of the fabric. 
Julie Haveland Beer shared a file on how to Convert Mosaic Knitting Chart to KM Skip Stitch Diagram (shared with her permission), as mentioned in my post on numbers-to-gimp-to-create-images-for-electronic-download/