Previous posts including fabrics in this family:
2011: Large-scale mesh, breaking the rules 
2013: Large eyelet lace, hand transferred (or not)
2020: Revisiting large eyelet lace, hand transferred (or not)
This was the punchcard provided in the first post, knit with 4 passes of each carriage, the knit carriage set to tuck in both directions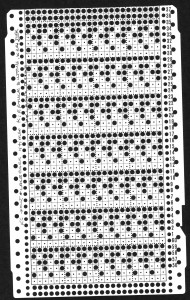 Brother punchcard machines do not advance pattern rows when two carriages are used for needle selection as each carriage begins to move from the opposite side, the same preselection is repeated. This means editing is required at times if the same designs are to be used on electronic machines, particularly true in lace combination fabrics. The process has been discussed in posts on automating lace edgings with slip stitch settings.
End needle selection is canceled in both carriages, if any end needles are selected prior to a lace carriage pass, they need to be pushed back to B position manually in order to avoid transfers resulting in decreasing stitch counts or dropped stitches.
All versions proposed below share transfers that result in 3 stitches on a single needle, with two empty needles on each side of them.  Here the needles are preselected for the next pass which will begin to fill in the double space, the needle in D position will knit, the one in B position will tuck;   

this is how the yarn is laid over those 2 needles after the first tuck row is completed,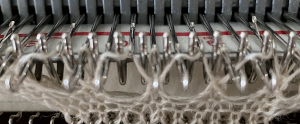 and both when using the card and in the first electronic repeat there will be a third tuck loop that is laid over the needle holding the 3 stitches. This is the appearance of the stitch formations just prior to an all-knit row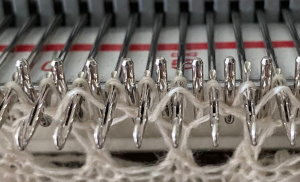 Here analyzing the actions of the punchcard, marking rows according to card actions, the repeat is expanded to include the extra duplicate rows. Though the repeat remains 24 stitches wide, it is no longer usable for use on a punchcard machine.

For knitting on the 930, the design requires flipping horizontally in order to knit properly.



The third tuck row may be eliminated to produce an extra all-knit row, resulting in a slight difference in the shape of the eyelets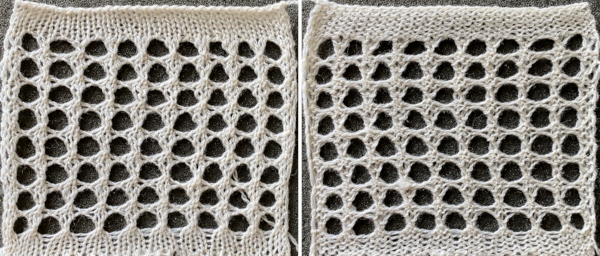 Lastly, the repeat may be amended with extra stitches and rows between each eyelet