Periodically I search out previous drafts, this post was started in September 2019. Drawn to folds in a variety of ways again, I am publishing it in progress with the intent of adding more information and related swatches.
Some previous posts with related topics and technique swatches:
origami-inspired pleats1, racked patterns Passap/Brother 2, ribber pleated fabrics, and some possible needle arrangements 3.
There are many considerations if long panels or wide ones are required when setting up repeats in addition to what happens at the edges of patterns in racking as one bed moves near or past the needles in work on the opposite bed. If something like a skirt is planned, the choice must be made as to which side of the knit is preferred, and the end stitches of each panel should be on the underside of the piece unless the join is a deliberate design feature. To achieve that, some panels may need to be wider than others. If the pleats are bulky and involve deep foldovers, panels may be attached to yokes to reduce bulk at the hips. If working from illustrations for pleats for another brand, the needle setups shown may need to be reversed, or, since many such fabrics are reversible if manually set up with no additional patterning on the Japanese machines knit bed or European true double bed they can be knit as illustrated. Lock settings for the Passap are given with the back lock first (ribber settings on Brother), then for the front bed lock (top, knit bed on Brother). Cast ons must be fairly tight so there is no flare at the bottom of the pleats. They usually start on a standard needle setting. Needle transfers are usually made after the cast-on is completed, sealing the stitches with one row of all knit stitches. Swatches should be a minimum of 100 stitches wide by 100 rows if the end goal is a gauge significant garment. All fabrics with texture may change in both appearance and gauge after a period of rest. Some shaping if needed may be obtained by tension changes, OOW needle arrangements on either or both beds, or stitch type within folds (ie adding fisherman, half fisherman, EON patterning, etc.)
Pleat formation on the double bed is "easy" because the pleats are formed "automatically" according to the needle arrangement on each bed. That is true if the resulting folds are created by stocking stitches in vertical bands. My goal is not to provide patterns. There are many well-written ones easily available.
How small can one go? A tiny pleat:

It is easier to transfer stitches when the ribber is set to P (Passap handle up).

Remember to return the setting to half-pitch before continuing. The pleat is reversible, shown on both sides, reminds me of shadow pleats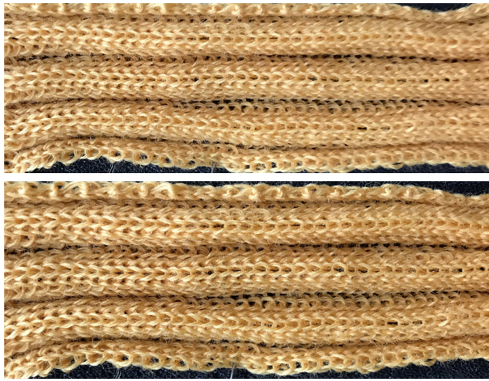 racking by one position X3 at first, and then X 5 in each direction did not produce results worth the effort IMO, the result is subtle, the reverse side of the fabric is slightly stretched in the bottom photo.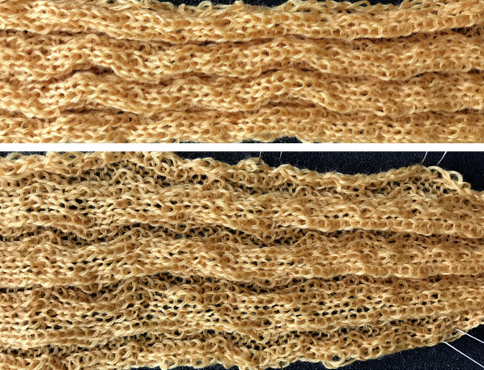 Here the fold is created by 2 stitches tucking for 2 consecutive, then knitting on the same needles for 2 rows on regularly spaced pairs of needles on either bed. Most knitting is on a single bed. A lacey series of eyelets begin to appear, and in some random racking at the top of the swatch, the possibility of developing a secondary pattern due to the combination of racking and tucking begins to show. The middle image is of the fabric slightly stretched.  Passap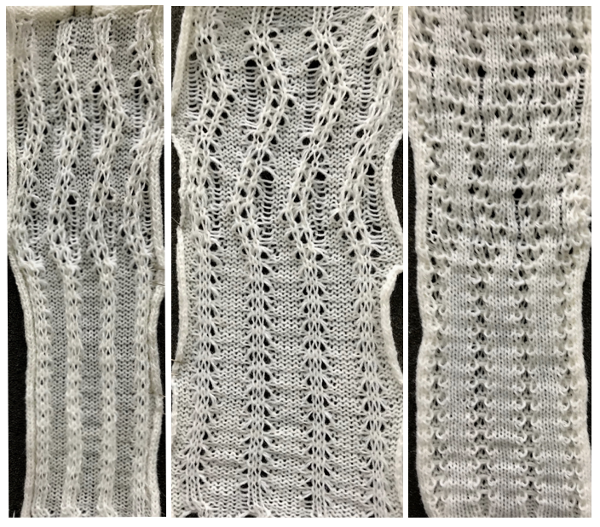 Brother: the ribber can do the stocking stitch background, every needle in work, carriage set to knit. The setup is the same as the Passap diagram. A repeat with 2 black rows of squares followed by 2 white can be programmed on the top bed. On every needle selected rows, pairs of needles will knit, on the white, no selection rows the same pairs of needles will tuck for 2 rows.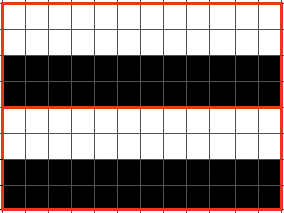 Moving away from vertical ribs becomes significantly easier if one has a G carriage. The alternative option is to create geometric folds that require transferring between beds. Any of these fabrics are best knit in a yarn that has memory and can spring back. Yarns such as acrylic can be permanently flattened by pressing, resulting in loss of texture. A quick experiment: black cells represent knit stitches, blue purl ones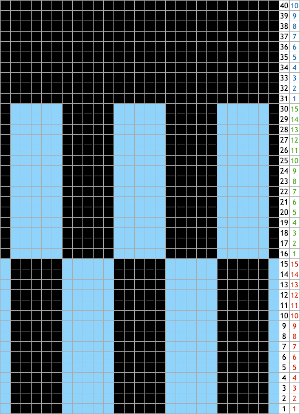 The needle setups: after casting on, transfer for a stitch configuration based in this case, of blocks that are 5 stitches wide. A single needle on the opposite bed is used on each outside edge of all needles in work.  

When there are no groups of stitches in work on both beds the pitch can be set to and remain on P, which also will make transfers easier, as needles will be point-to-point. The ratio used in the test was in multiples of 5. The groups were 5 stitches wide, 15 rows high, with all knit 10 rows in between the repeats. The fabric is shown first relaxed as immediately off the machine, then lightly steamed and stretched. The yarn is a 2/18 wool, far too thin for this use, and likely to flatten considerably with pressing. The close-up of the purl side offers a better view of the resulting folds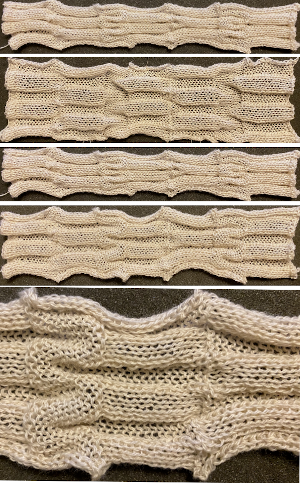 The repeat, 10 stitches by 40 rows. 


More on Knit and purl blocks to create folding fabric_ "pleats"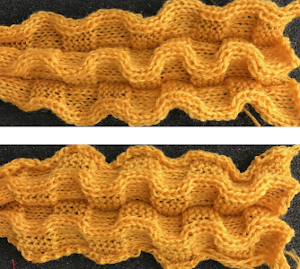 Pleated, plaited shadow lace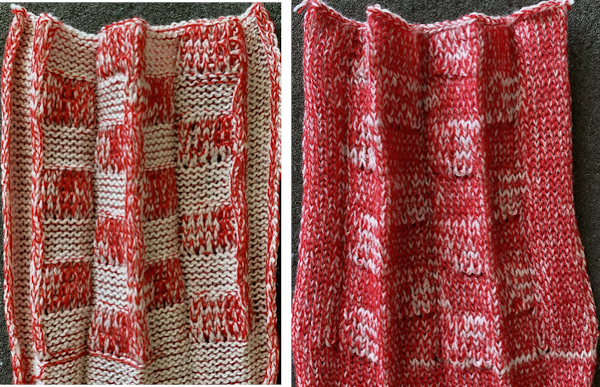 Pleated one color "shadow lace" in Slip stitch patterns with hand transferred stitches, double bed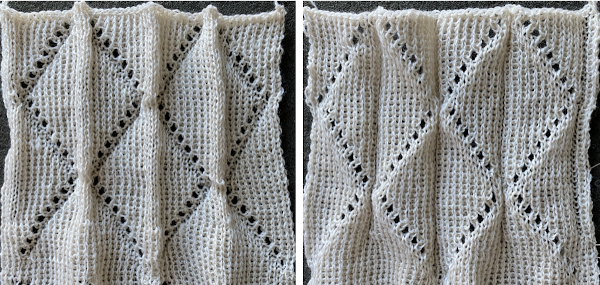 Pleated dbj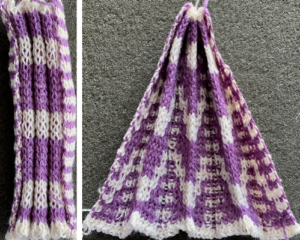 A repeat that will spiral, usable in spiral socks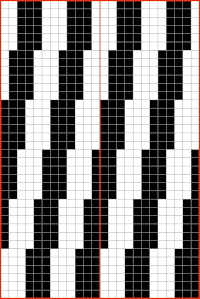 Spaces between any and all blocks may be adjusted to suit one's preferences.