I have been asked whether this particular fabric discussed in the post could be produced on the Passap. 

The only way to find out is to try it. The lesson already learned: use a yarn that is crisp or capable of retaining memory for maximum effect. Here the swatch is knit in a 3/14 cotton. To start with, racking was from position 0 to 6 and back. Racking every 2 rows at the bottom of the sample, every row at its top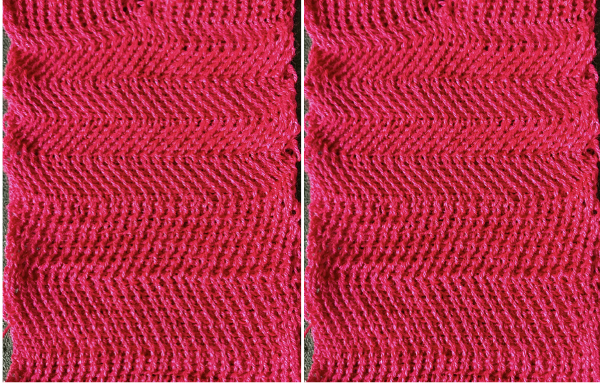 Now adding needles out of work with the expectation of folds at approximate center of each fold

This was my set up, after planning the repeat and transferring a couple of stitches on each end to the back bed for better side edges 

Racking started in center position 0, then swung to 3 left, to 3 right, ending on 0. I long ago got frustrated with the Passap numbering, marked the racking positions with a permanent marker from 0 on the right to 6 on the left. The knit result is definitely a rolling fabric, though a bit less so than the Brother sample which was able to move across more racking positions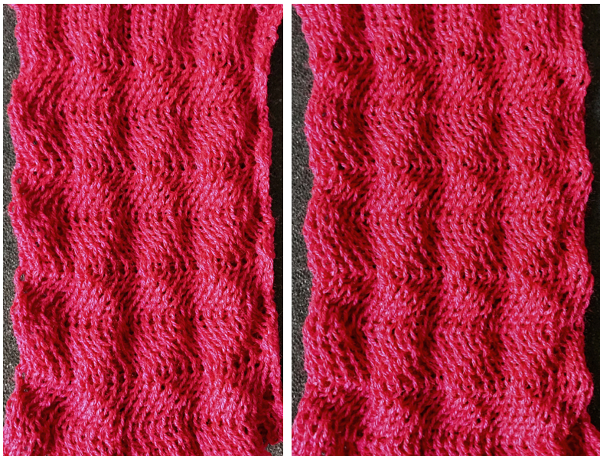 Reviewing some racking facts: several posts previously written that include information for racking designs on both brands
2018/07/19/more-scales-and-chevrons-in-ribbed-racked-4-fabrics/
2016/01/13/racking-2-vertical-chevrons-herringbone/
2016/02/02/vertical-racking-3-automating-half-fisherman-in-pattern-2/
2016/01/09/ribber-pitch-a-bit-on-racking-1-chevrons-horizontal-herringbone/
2018/10/14/fisherman-english-tuck-stitch-rib-1-checks-patterns-brother-passap/
2015/11/22/racked-ribber-cast-on-and-rib-configuration-tips/
Brother racking controls: the handle, racking indicator, and pitch lever

There are ample illustrations including from Brother Ribber Techniques Book in previous posts on procedural steps. Passap: racking handle is up for full pitch (point to point), down for half-pitch. It is turned one full rotation for each unit/ number change in ranking positions. Partial rotations may be suggested when some of its accessories ie their transfer carriage are used. As stated, Brother has 10 positions, Passap only 6. 


Passap E6 manual shows racking patterns possible with console built-in designs on pp. 118, 119, 120, 121, techniques used in racking patterns number 257-272. The console gives prompts for the direction in racking sequences. Self-programmed designs would need a separate knitting technique entered into the console as an additional "design". This can be done with a card reader combined with a pattern download from a computer. Programs that automated the function to any degree are no longer on the market. Typically, in published patterns for either brand, if the starting point for the racking sequence is important, it will be given along with the frequency of movements such as in this design from the Duo 80 book

Programming the front bed on Passap or main bed on Brother with tuck or slip selections begins to enter far greater common ground. Decades ago my advanced knitting curriculum included Passap weekend workshops in addition to Brother course classroom and studio hours. I spent a lot of time exploring techniques, often my manual includes scribbled notes. Manual guidelines for E6 patterning, beginning with advice for knitting them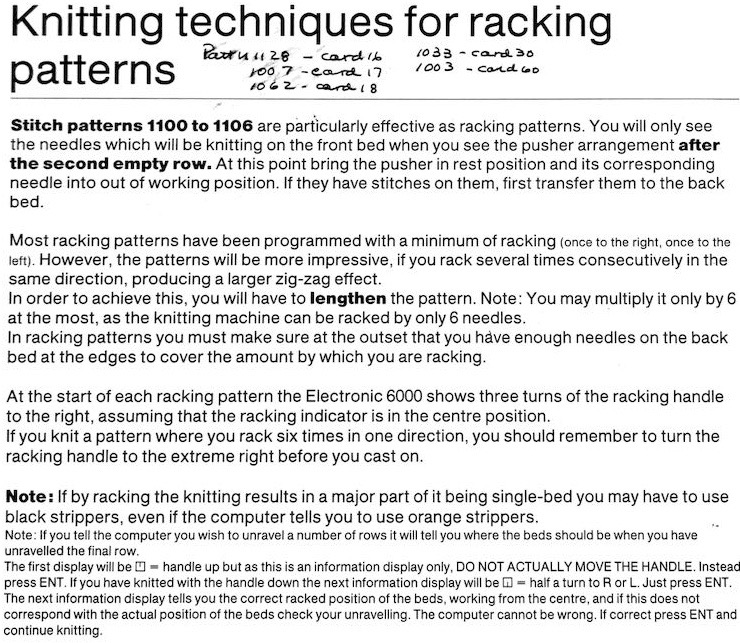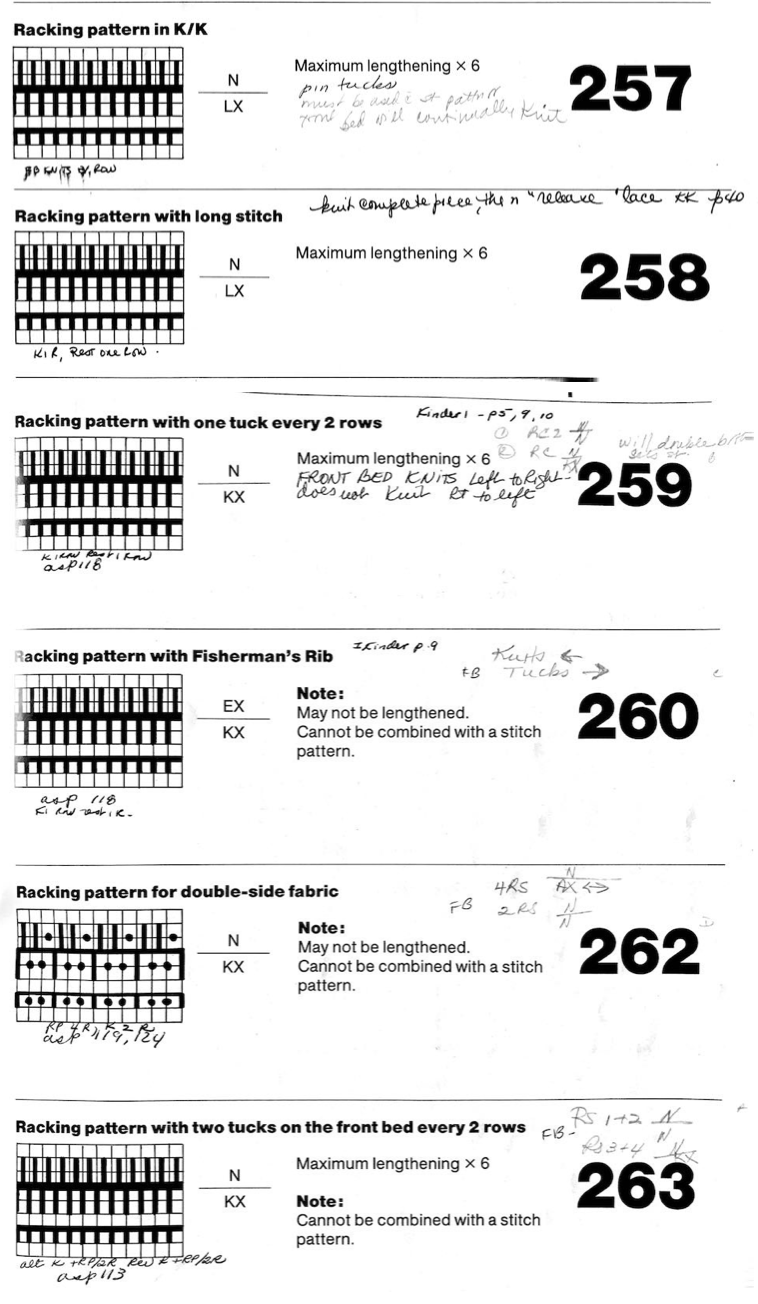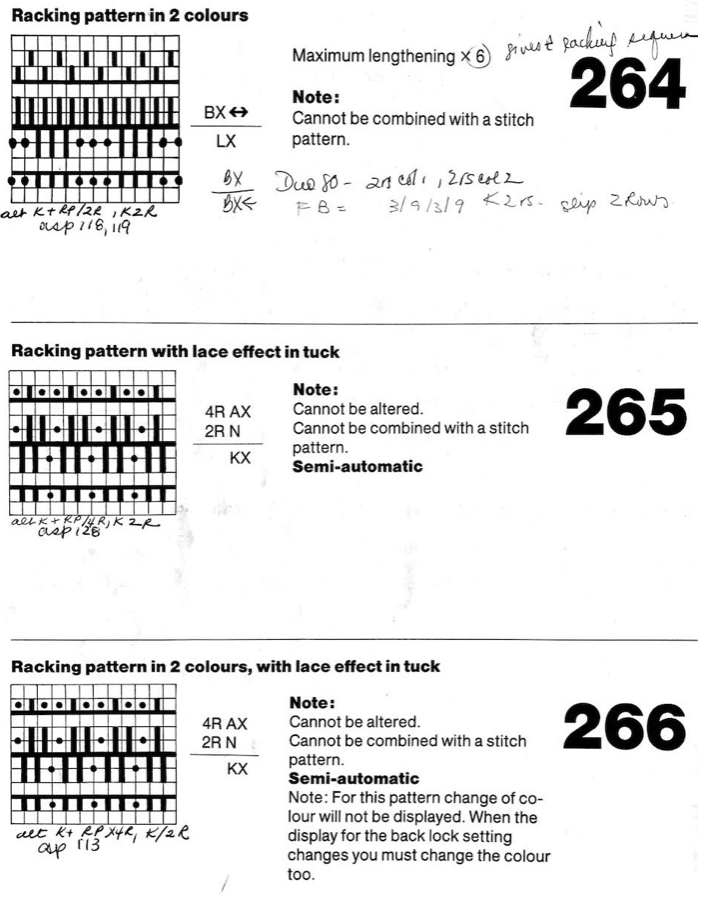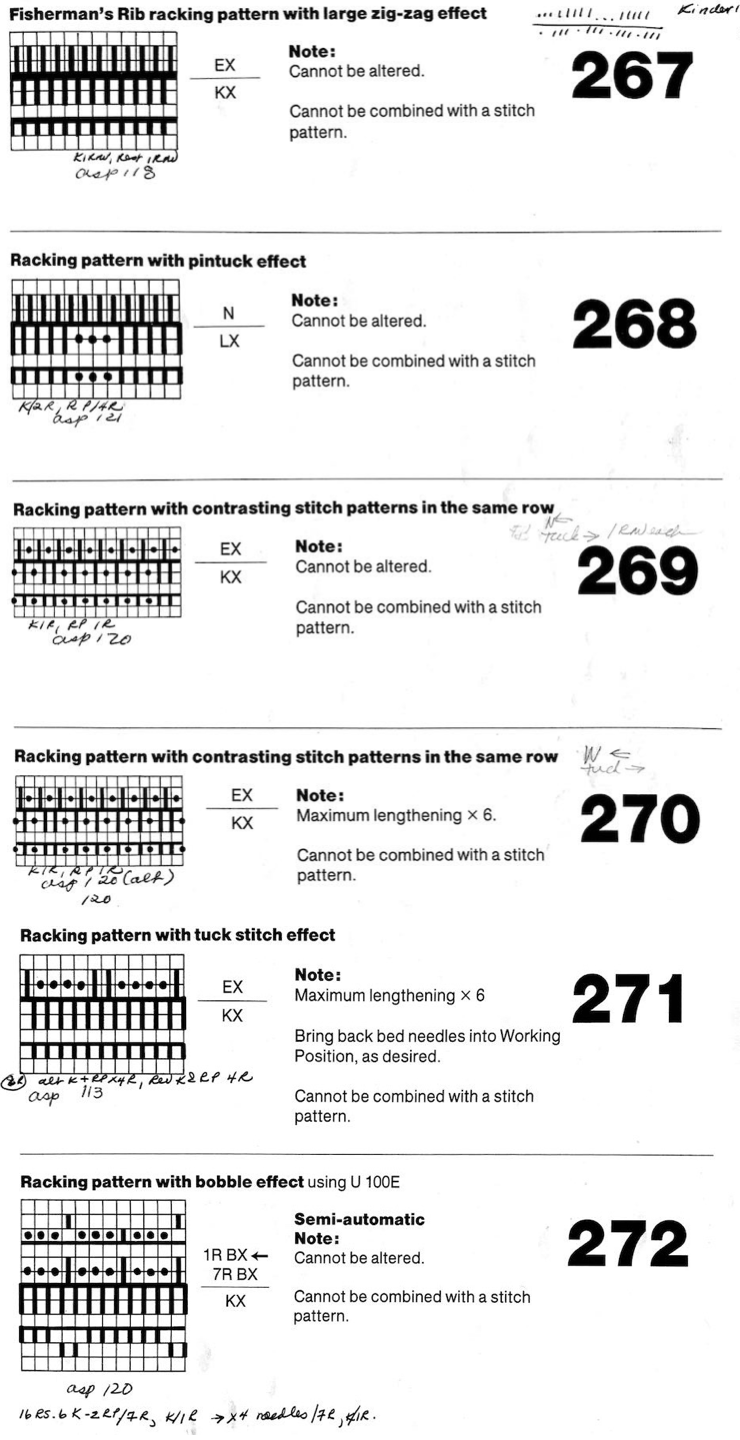 I have to admit I cannot always now decipher some of my note-taking or my own handwriting. The additional confusion that comes into work in cross-brand translations is the fact that some E6 techniques may only be used as programmed by the factory, others may be "combined with stitch patterns". Getting it down to black and white squares when stitch patterns in E6 and are to be translated for other KM brands is a bit more complex, easier done from the Duo 80 instructions when an E 6 is not available for test knitting. The Duo manual is low on swatch and pattern assortment, but a small book, available online can provide inspiration for many textures, the Passap system's particular strength.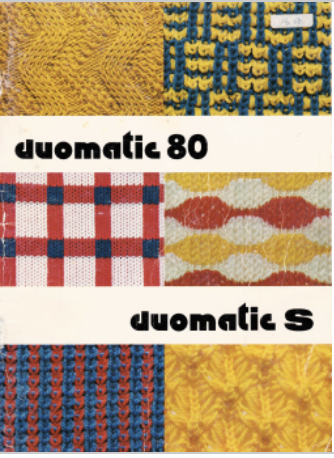 Some Duo symbols and their meaning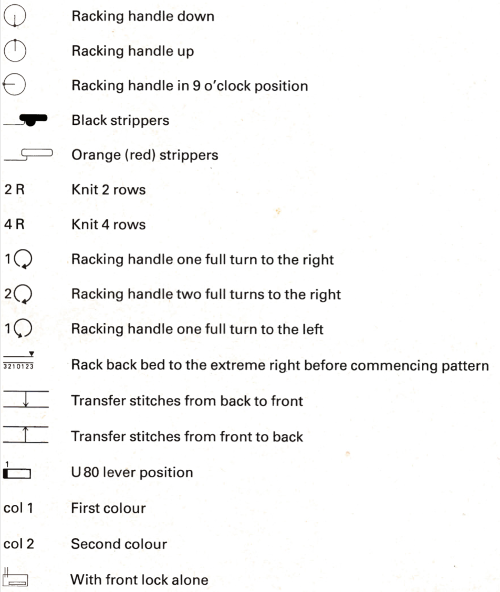 Many designs are based on one or both beds having needles out of work. Transferring stitches from one bed to the other can be done from needle diagrams on the Duo 80 and punchcard machines after the cast on row is closed. If the specific technique in the E6 offers a pusher selection after the first SX/GX row (262,264, 265, 269, 270, 282) transfer stitches then with locks on left, otherwise, transfer after the second SX/GX pass to the right (257,258,259). After the pattern is set up in E6 place all the pushers in rest position completely out of work.
Pushers corresponding to needles out of work on the back bed need to be in the back rail so as not to cause mispatterning if arrow keys are used. In Japanese electronics, transfers can be made after the first KC pass, making certain emptied needles are placed completely out of work. Set up the knit bed first, so alignment relationships are correct for out of work selections on both beds.
As in any ribber pattern, if the major part of the piece is being knit single bed, the tension will need to be adjusted to closer to that used in stocking stitch for the same yarn. Passap knitters have the added option of changing stripper in use to another color.
When designing your own patterns and starting the movements on either side of the machine, it will take some sorting out as to what arrangement of needles in work is best on the Passap back bed or Brother ribber is best for side edges as one bed moves beyond the last stitch in work on the knit bed. There should be no stitches on it without stitches behind them as the racked stitches travel from each side to the other if the goal is pieces that will be seamed ie. front and back of a sweater.
The E6 console may not always give the proper selection for needle set up for the front bed as seen in one of my swatches. There are never instructions for the back bed needle or pusher positions. Those need to be hand selected based on diagrams after the front bed is set up, and following the diagrams provided with each technique to produce the specific fabric illustrated. That can be disregarded in one's experiments with needle arrangement and lock settings and how they relate to the movement in the racked stitches.
If one needs to stop the process at any point it is a good idea to devise a method of keeping track of where the stop occurred and whether a racking movement has taken place yet or not. Forming personal, consistent habits is also useful, ie. I find when racking with color changes I rack before I change the color consistently. Racking when using multiple colors often happens at the end of the color change sequence ie. 2 colors, rack after 4 rows. A bit more attention needs to happen when racking is for only a few positions. I tend to start mine on the far right at 0, so I can move the one or 2 steps and am stopped by the machine on my return, giving me an error margin on only one side.
A few Duo/Passap comparisons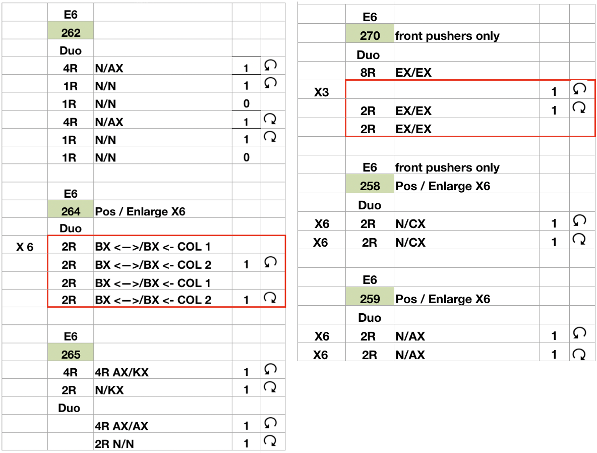 Swatches: this E6 design introduces needles out of work. The E6 swatch in color below on the far left has a slightly different needle arrangement than the DUO one to its right. Technique #257 has a * beside it, which usually indicates the repeat must be altered to produce the fabric. 120 is the page on which the swatch photo appears Altered designs are listed on pp. 129-131of the E6 pattern book for all stitch types. 

The original on the left is mirrored, the selection is fixed, the height is multiplied X 6. The lengthening does not influence the design, it tells the console how many swings in each direction are planned. The console, in turn, gives visual and sound prompts for each racking movement, in this instance,  by one full turn clockwise. The prompts often start the pattern in the center 0, and begin and end with half a sequence.  

The front bed is set to slip stitch, so black squares knit. Both beds will knit every needle/pusher in work throughout. After first preselection row on either brand needles and pushers in non selected areas need to be put out of work, accomplished by transferring them to the opposite bed. The design process is the same as having a fixed row on a punchcard machine, with a single selection being repeated over and over. The racking position indicator on the duo shows the start of the pattern at 0 position, Brother equivalent = 10. In the duomatic the carriage is set for plain knitting, no patterning is required. The needle out of work selection is different than the E6 sample, but the racking sequence is the same. Brother options: fixed needle selection if the fabric is created fully as a hand technique does not require any programming. Electronics could be used with the repeat drawn X6 in height so that the racking direction is reversed after the first sequence is completed and the return to row 1 of the repeat is preselected. Machines that allow for it can have info added to memo windows or even on mylars to help accuracy in long pieces. Punchcard machines could punch a single row on #1 for accurate needle selection if it falls within the 24 stitch limits or hand-select them, mark racking numbers in repeat, and go on from there.  


My sample was knit in a tightly twisted cotton, and when off the machine had an interesting and unexpected fold 3Dquality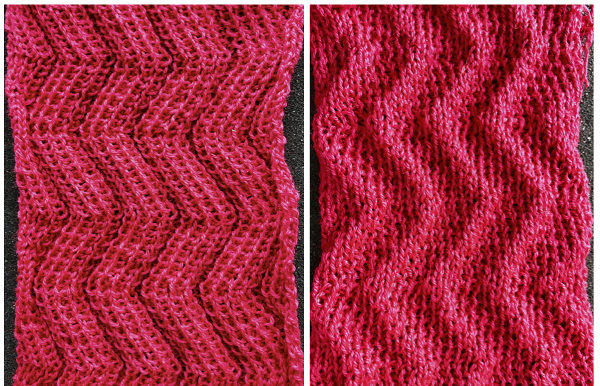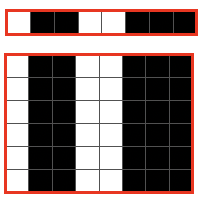 The setup is essentially the same, with white squares representing needles and pushers that need to be out of work. Tech 258 uses LX (slip) on the front bed, back bed si set to N. The duomatic pattern has a different OOW needle arrangement, the front lock is also set to tuck =  FX (E6=KX), adding another layer of texture and complexity. Needles are also out of work on the back bed.



E6000 264* is used both as a pattern and a technique number uses the X6 as well for accompanying prompts. Needle/pusher selection is for 3 in work and 9 out of work for 2 rows, then reversing it for to 9 in work, 2 out of work for 2 rows, thus accommodating the alternating color change. The Duo on the front bed performs a similar selection with the BX <– arrow key, racking is every 4 rows in both. It takes 24 rows to reach the full racking position reversal. These were the pusher selections, each repeated X 2, creating the wrong fabric

What is knitting in terms of black and white squares if one continues: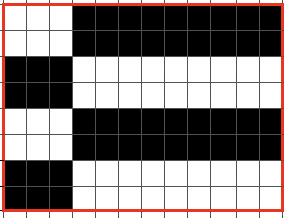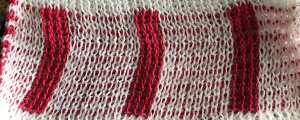 this repeat is what is required to match the technique diagram

After the first row of pusher selection transfer 3 stitches on either side of the center 3 in each group of 9 to the back bed. This shows the proper selection, each is repeated twice

I continued to knit with plain knitting on the back bed for proof of concept, every other needle selection, and slip (BX) stitch <– –> there would compress the "wave" since half as many rows would then be knit on that bed in each color. As always, forgetting to set the lock/carriage to slip will result in knit stripes as seen on the right of my sideways swatch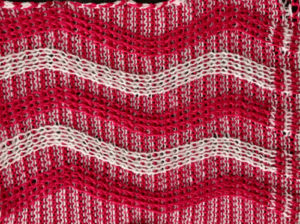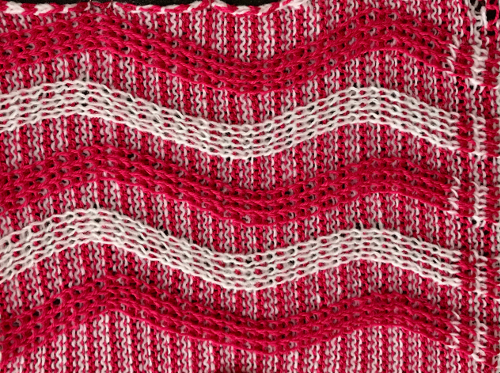 Below the pattern alternates blocks of 5 black squares, 5 white, color changing every 2 rows and reversing racking direction after every 24 rows. The full repeat is 48 rows. If rows knit in the zig-zag are counted, they amount to 12 because each color slips it is not knitting for 2 rows. Note that to achieve the color reversal at the halfway point of the repeat the same color (2) knits for 4 rows, at the top of the repeat color 1 does the same.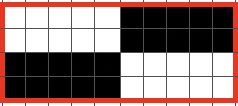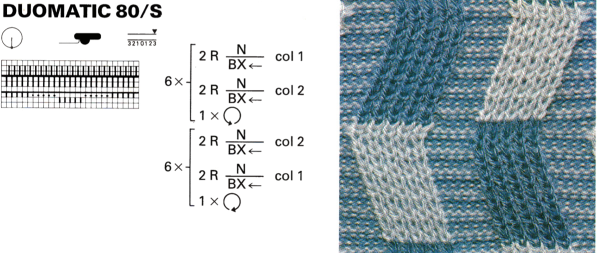 Below tuck patterning is introduced in both beds. The front bed is knitting tuck on every other needle for 2 rows each,  easy to reproduce on Brother

AX<– on the back bed will knit when pushers are up for 2 rows, tuck on the same needles when they are selected down, also for 2 rows. Brother knitters could try to set the ribber carriage to tuck in one direction only, or simply set it to knit every row

Though tech 264 states it may not be combined with a stitch pattern, I programmed built-in # 1002 X 6 in height, back bed set to slip (BX<–) every 2 rows. Racking occurs every 4.  Full repeat is 48 rows. Back bed pushers should be in work so they stay inside the edge from knit stitches on the front bed. This was a quick test. The knit side is unremarkable, the mess on the left edge on the upper right of the top photo is because I began with 2 needles in work on the back bed like in the illustration above. As I racked counterclockwise the stitches on them kept pulling away from the side edge (back bed, left). The technique continues to give racking prompts as written by the factory, so none would exist for the rows with no racking in the pattern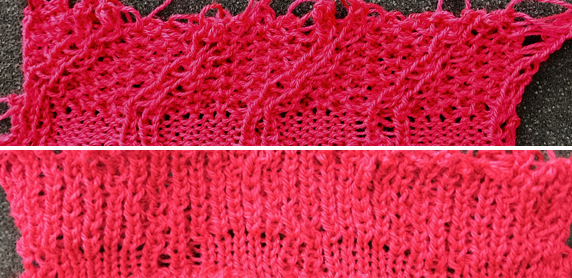 Back to acrylic yarn, light color for more visibility creative yarn snag on the left midway, full swing movement is shown, each is 48 rows in height. As always it helps to check whether stitches are obliging by staying on the needle bed. The top half of the swatch is shown.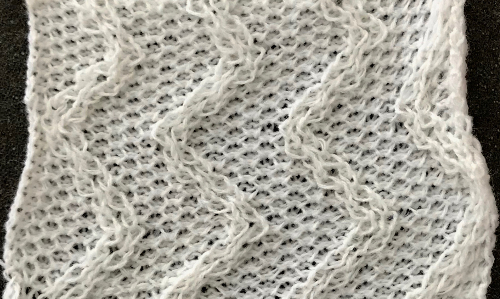 In turn, I programmed # 1000 X 6 in height but pusher selection was all up for one row, one down. I left it alone, and lastly, worked with pusher selection on the back bed, BX <–. Patterning advances a fixed repeat every row or every other, determined by original hand-selected up for selection and down above rail for out of selection. The front lock is left on N (disregard front for setting it to LX) there is a whole other world of possibilities, while the console racking sequences can be used from built-in techniques.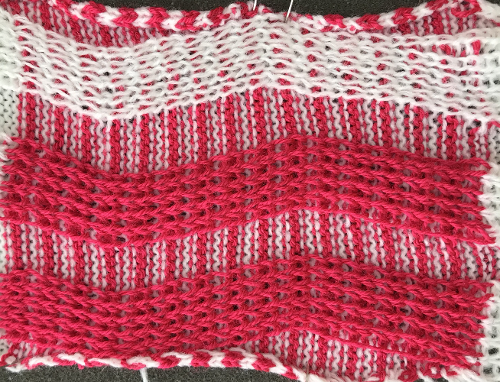 Any ribber needle selection on Brother other than the use of lili buttons would have to be done manually.
The range of fabrics with programming additional patterns in tuck, slip, or combinations thereof along with needles in and out of work on the either or both beds increases the possibilities for fabrics with texture and dimension exponentially.