These directions apply to Brother Machines; designs could be used as they are and programmed into Passaps, other brands would require some adjustments. In these samples, the holes resulting from holding for 2-row sequences are considered part of the design. Vertical strips in different colors could be knit and later joined. The final result is a "zig-zag" pattern. Written directions may read: to begin, cast on, and knit 2 rows. **COR: set the machine for holding. Place in hold all except the first 2 needles on the right (carriage side). Knit 2 rows. Return to work the next group of 2 needles on the left to work, knit 2 rows. Repeat until only 2 needles on the far left are in  hold, return them to work, knit one row (color 1 in the chart below). COL: pull the first 2 needles at far right to hold, knit 2 rows, repeat until last 2 are left in hold, knit 2 rows (color 2). COL: bring next 2 needles into work, knit 2 rows, continue until the last 2 stitches are returned to work on the right, knit one row (color 3). COR: pull first 2 needles on left into hold, knit 2 rows; repeat until last 4 stitches at right are put back into work, knit 2 rows**, and repeat from **. Knit 2 rows at end of the desired number of repeats bind off.
The sorting out hand tech sequences to achieve the desired shapes sample: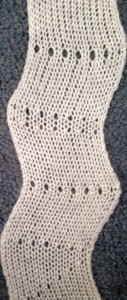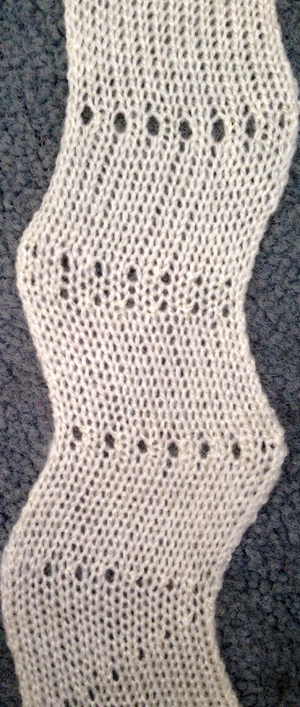 When producing my charts for using slip stitch to automate holding I like to draw what I would actually be knitting for each row, each stitch and row being a filled square, so the colored areas below represent knit stitches/rows on each row, the blank squares the stitches in holding. I test the repeat as a hand technique first, before in my case marking the mylar, then essentially fill in the knit stitches with color, keeping in mind the location of the knit carriage and the direction of the knitting. The colored squares are then programmed as punched holes, black squares, or pixels, and the pattern may be knit using slip stitch <—>. Needle selection needs to be canceled, otherwise, the yarn will be knit on the side of non-selected needles on that last stitch, creating a long float. The selection row needs to be toward the first 2 knit rows sequence. Here they are knit beginning on the right for 2 rows, so the selection row is made from left to right.  Odd rows move, knitting, from right to left, even rows from left to right. At this point, I prefer mac numbers for charting.
the final repeat, working chart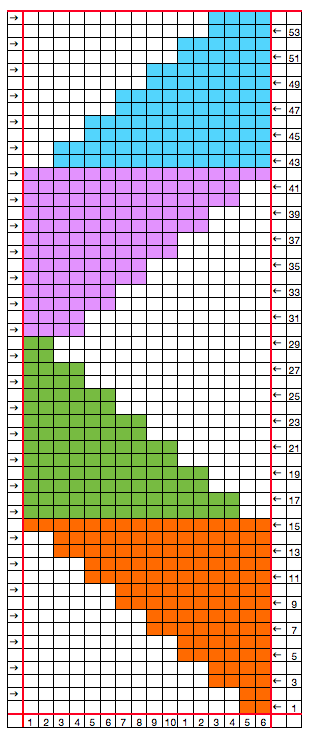 the mylar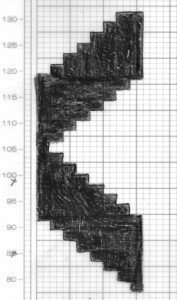 the swatch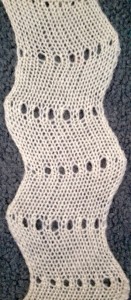 The  above repeat could be considered composed of 2 pairs of stacked, mirrored triangles, here is an instance of playing single "triangles"
the mylar repeat 

its accompanying swatch