I have recently been reviewing some of my ideas for using slip stitch to achieve fabrics normally created by hand pulling needles for short rows. The samples for most charts below are found in previous posts on the topic. My hacked machine is presently being put to bed for a while as I work on some production pieces on KMs that allow me to produce predictable lengths of knitting. I will not be providing proof of concept swatches for every chart.
A bit on defining short rows https://alessandrina.com/2013/12/18/holding-stitches-short-rows/
https://alessandrina.com/2014/02/20/wisteria-cousin-revisited-holding-using-slip-stitch/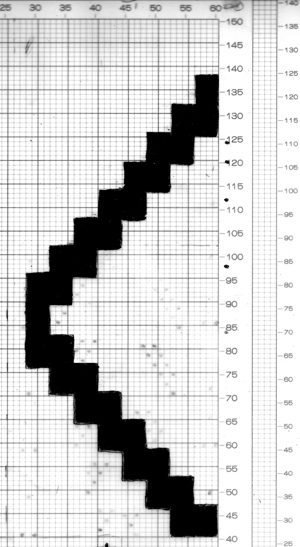 The carriage movements are partially illustrated below, beginning with the first-row pre-selection from left to right (red line/ arrow), which happens to be the only option when using ayab. Ayab also mirrors automatically, so either mirroring the rendered repeat or using the action mirror in software is required for the holding sequence to be correct. The lines indicate the direction of the carriage movement on each design row. Blocks need to be even numbers in height and may be adjusted in width. The full swing of the fabric in each direction needs to be programmed.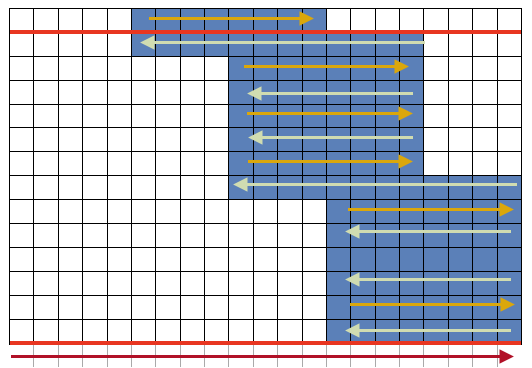 https://alessandrina.com/2013/12/28/short-rows_-balls-tams-3d-rounds/
here the holding sequence works toward the center 
Ayab will mirror it if drawn as is, which will place carriages in position for first preselection row to start from left, decreasing stitches in work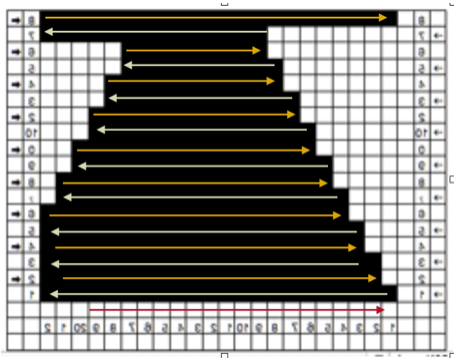 For increasing stitches in work rather than decreasing them, this illustrates the direction in which the carriages need to be moving. In this instance, the image needs to be mirrored to erase the software's automatic doing so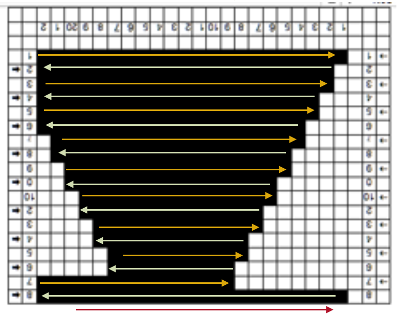 Single bed pleats https://alessandrina.com/2013/01/21/automating-pleating/. This repeat is planned for each square representing both a single stitch and a single row. Since the width of the knit piece needs to be programmed when using Ayab, this approach may be used for anything from ruffles to sideways skirts. Additional information on designing is offered in the previous post, used as is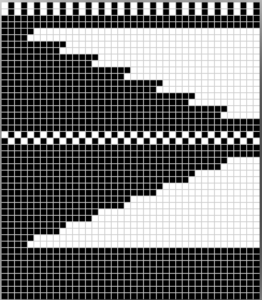 With a bit more planning and even using a garter bar, this is executable as well
https://alessandrina.com/2013/02/28/garter-bar-short-row-trim/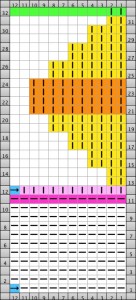 For a possible all knit surface variant the repeat on the left is drawn, due to auto mirror, no mirroring is required to obtain the knit rows in the directions illustrated the right. Knit as is, the resulting eyelets including the larger one at the center can serve as "design features". The motif on left, mirrored as it would be by Ayab on right. With narrow pieces of knitting, pay extra attention to beeps and flashes. Clearing the end marks on the needle bed may also be necessary to keep needle selection accurate, watch for yarn loop formation on either side as the result of  having to travel that far from the end of the needles in work.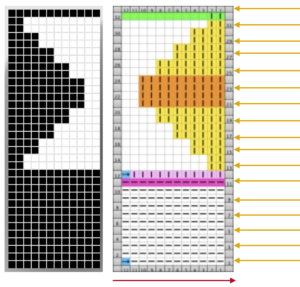 "just for fun" https://alessandrina.com/2017/06/11/crochet-meets-machine-knitting-techniques-working-with-short-rows/
Category search 
https://alessandrina.com/category/machine-knitting/short-rowing