Work in progress
A previous post shares information on gauge swatches and testing yarn for them. These are random FI samples from my collection, most from my teaching days. None of them were ever intended for use in finished product. They were knit to illustrate some of the possibilities for the different techniques using each of the cam button combinations. Some were knit during class demos. The colors made them easily identifiable as mine, from a personal yarn stash. The contrast helped identify how stitches were formed, the lack of helped evaluate some of the results from that as well.
In the first swatch, marking for measuring stitches per inch is done by leaving a needle out of work. Width between resulting ladders should be checked at various points after the swatch is treated in the way you plan to treat (block) the finished fabric. Adding a third color per row would require altering the pattern to a color separated slip stitch one, or one may add that color with duplicate stitch. Spots below are colored in with permanent fabric marker. At the height of the art to wear movement one artist in particular was producing limited edition knitwear by knitting the same design in black and white, and in turn over dyeing the white for different effects in each piece in the series. Eyelets at the bottom of the swatch are tension markings for the piece. The vertical line created by end needle selection (normally used in FI to avoid separation of colors et vertical edges) is interrupted in rows that are knit in only one color.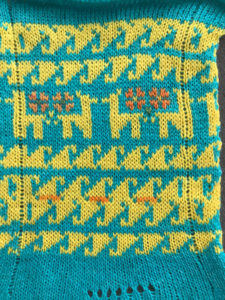 Recommended max for floats is usually 5 stitches.  How much the floats droop and cause potential "problems" on the purl side depend on fiber content. Sometimes such floats are intentionally created and worn on the outside of the garment as planned design features. The longer blue floats are seen below in the areas of the ladders where only the yellow is knitting, creating a wider span of the alternate color.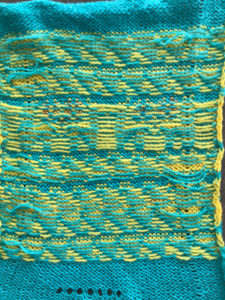 These repeats are as simple as one can get. A reminder: if using them in pieces of a garment ie baby leggings, etc. take note of which yarn feeder each color is in. Even if the repeat is correct and placed properly, the surface of the knit will appear different to the eye if colors placement is reversed in alternate pieces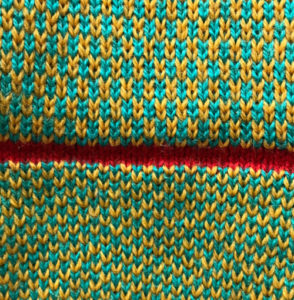 Color may be added or "taken away" as seen in post on bleach discharge on knits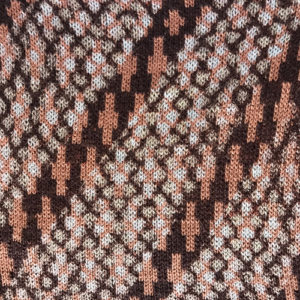 Here a factory punchcard is used. Thinner yarn in lighter colors may have some bleed through of darker colors traveling behind them, as seen on the left. Not an issue with the thicker wool on the right. Forgetting to set the card to advance can result in vertical lines, which could alternately be planned as a design feature.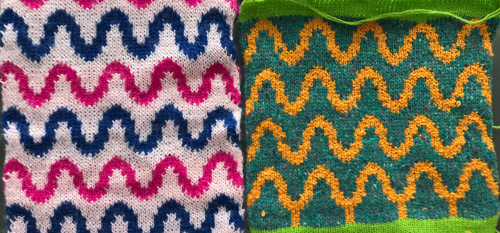 The longer floats seem manageable in these yarns, there is a bit of hooking up on the bottom right. The yarn traveling up the swatch on the right is an alternative way to mark for gauge measurements. A previous post provides some information on float control.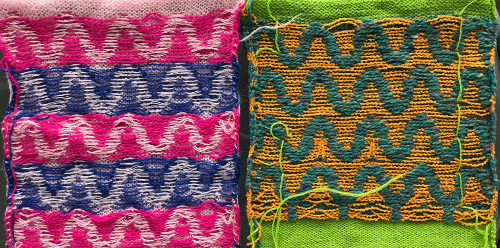 Varying the colors, fiber content, and considering complementary borders is worth exploring thoroughly at the swatch level, before committing to a larger piece. Truly contrasting yarn used at the bottom and top of the area to be measured for row gauge makes the process easier. As attractive and quick as single bed FI can be, keep in mind that long pieces knit in yarns with "memory" such as wool, will tend to roll to the purl side vertically even after blocking, and certainly with wearing of pieces such as scarves or shawls.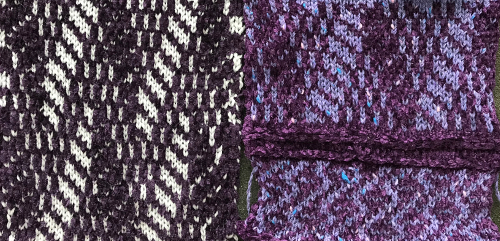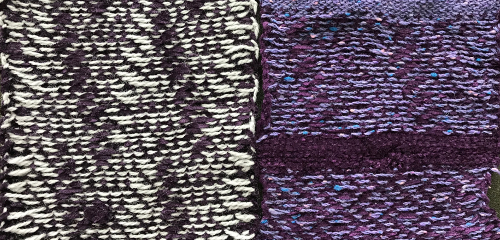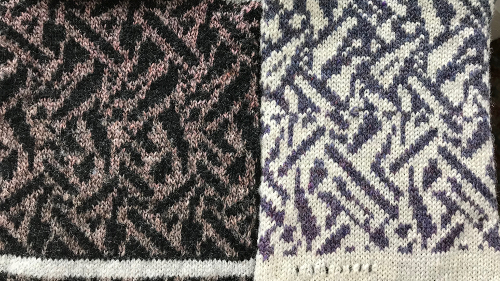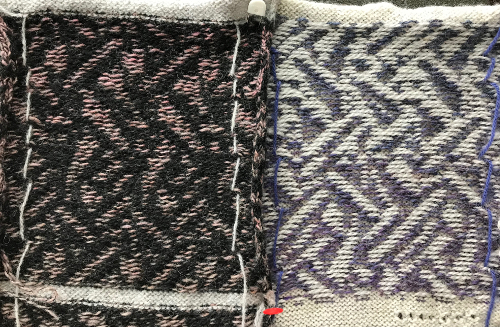 tone on tone chenille and all rayon, with "color reverse" by switching yarn positions in feeder 

less effective with a flat yarn as the alternative to the chenille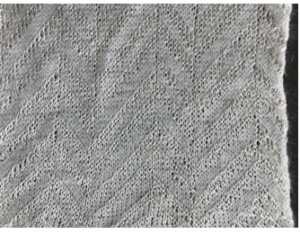 Using the same card:  every needle, 4.5 mm machine electronic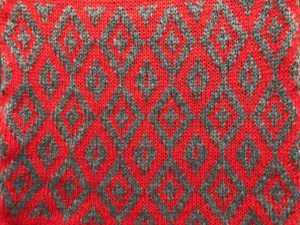 transferring stitches to every other needle, odd needles in work on one side, even  numbered needles on other using worsted weight (2 needles in center in work side by side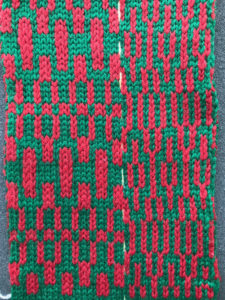 motif twice as wide, every other needle across fabric width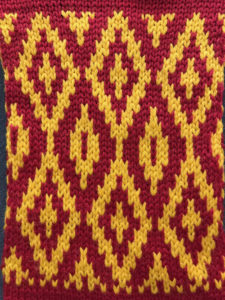 It is possible to vary designs by using the 3 functions of the card reader: locked, normal rotation, and elongation. Designs with long vertical features tend so separate at the edges where the 2 colors meet. Lining the fabric with a fusible makes the knit lose stretch, but it may be an option for stabilization, mock quilting, and float control. Hi contrast colors are best for sorting out how stitches are formed. Embroidery alters the "step ladder" effect outlining the shapes.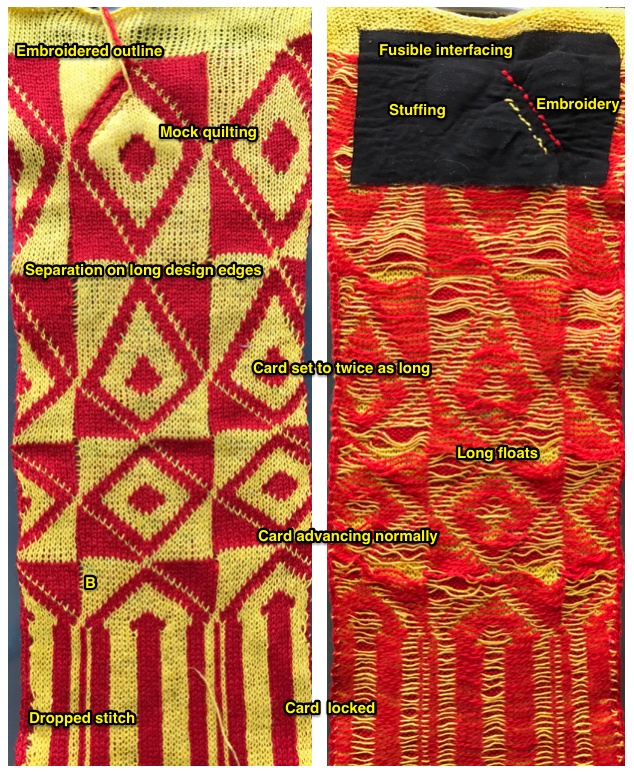 Hand techniques (in this case cables) can be combined with FI. In Brother it helps to be familiar with pattern, as needle selection may have to be manually restored after the technique is performed to stay in pattern 

hooked up floats not just for float control; note puckering on knit side where they have been hung up in groups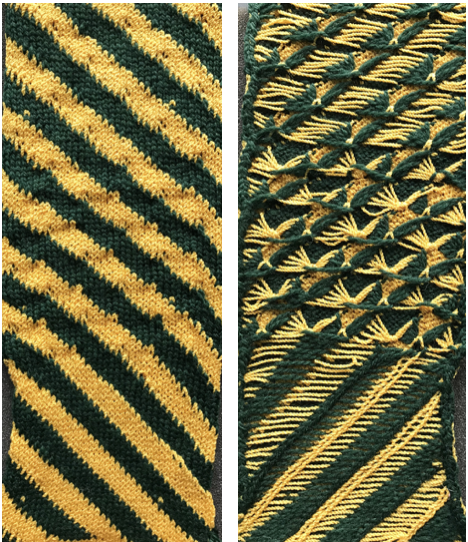 swatches were worked from bottom up, starting with positive/ negative comparison, sorting out possible placement of ladder with the intent of adding ladder lace details. Cancel end needle selection because of needles out of work, but bring needles into D or E positiong to avoid separation of colors and/ or dropped stitches at side edges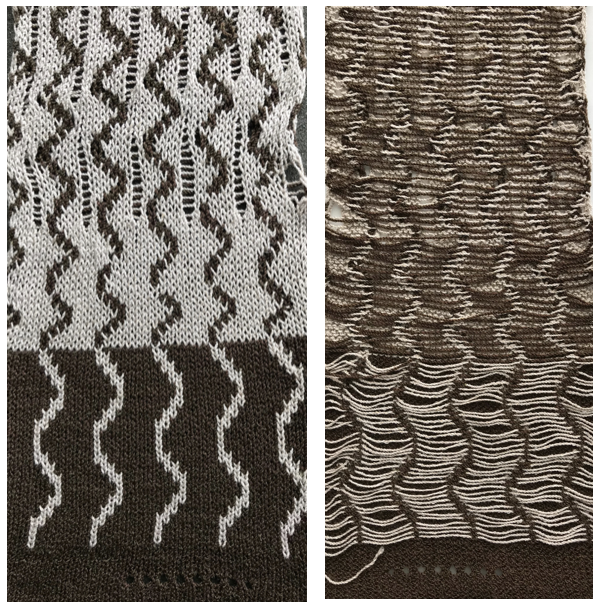 from bottom up: transitioning from ladder resulting from single NOOW, to 2 NOOW, hooking up floats on opposite sides, ending in "lace" pattern alone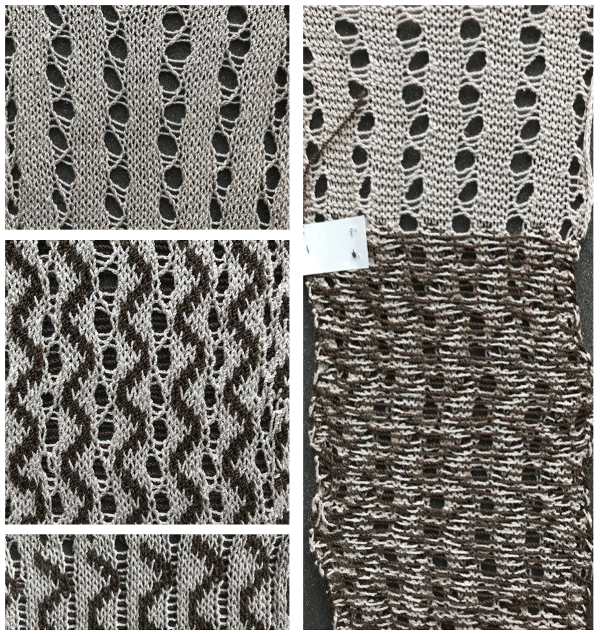 Here stainless 32 gauge wire is used as the second "color", making the piece moldable and shape retaining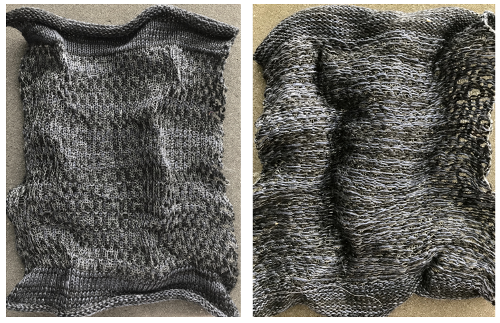 There is a vertical, single stitch line due to end needle selection in the contrast color formed on either side of any needle(s) out of work that can provide a visual guide for altering the fabric. This swatch was knit with wide NOOW spaces, then sewing machine stitching  joined the contrasting vertical lines to form a 2 color "fringe" on the knit side (left) and purl side (right)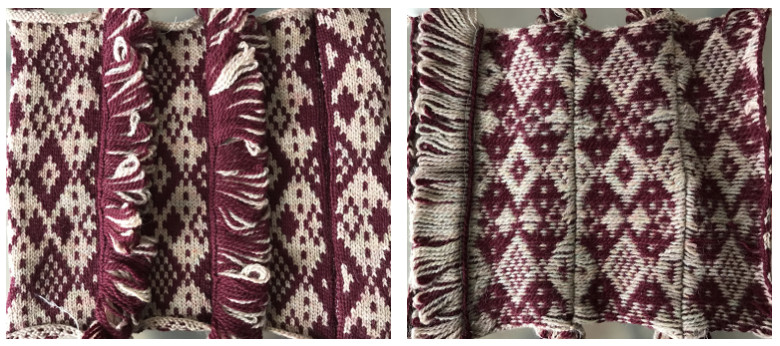 Variations with fibers: wool with raffia on bottom, fishing line on top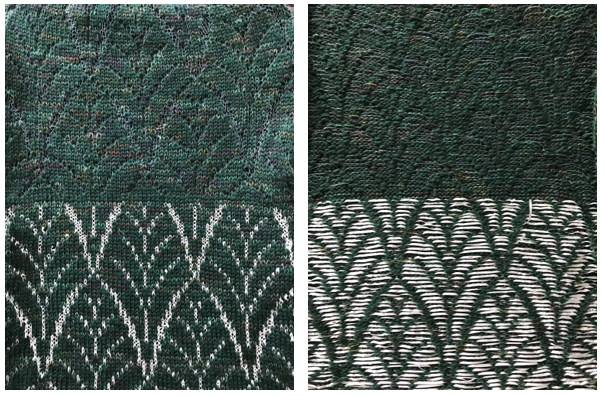 The same swatch continued on, using 3M elastic as the second colorSwitching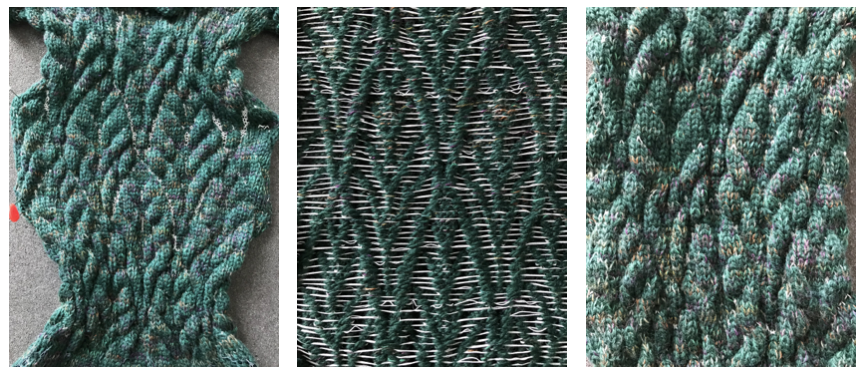 The same repeat in a rayon chainette and wool, followed by some felting. The rayon "bubbles" more visibly when the wool creates the wider floats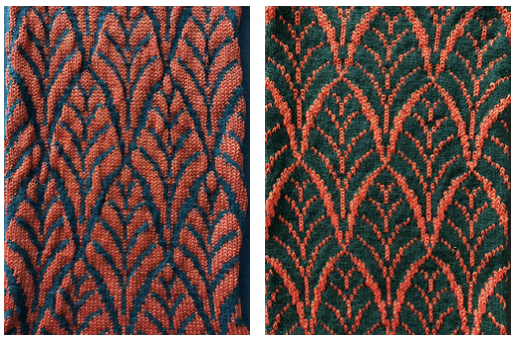 reversing color positions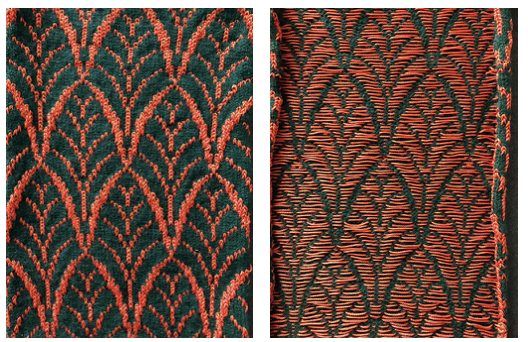 The punchcard is limited to varying the vertical repeat automatically in 3 ways: locking the card, normal rotation, and double length. Repeat width is fixed. Felting can produce interesting surfaces if one yarn is capable of being felted (green), and the other not (blue). The stitches knit with the latter will create puckers/ blisters. Since the knit will shrink in both width and height, the repeats here were used at double length. Note the added drooping of the blue floats on the purl side.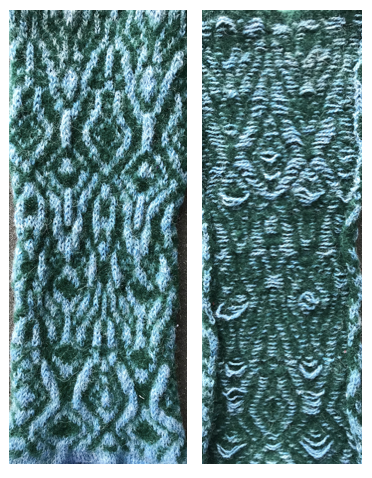 A punchcard can be further manipulated by masking areas with tape. It is not a good solution for production knitting, but adequate for testing out ideas before committing to punching a full, new card. The surface blisters here are much more dramatic. The green floats do not felt as much as in the previous swatch, and are considerably wider. On the right, far side you can see some of them were latched up, creating yet another design detail.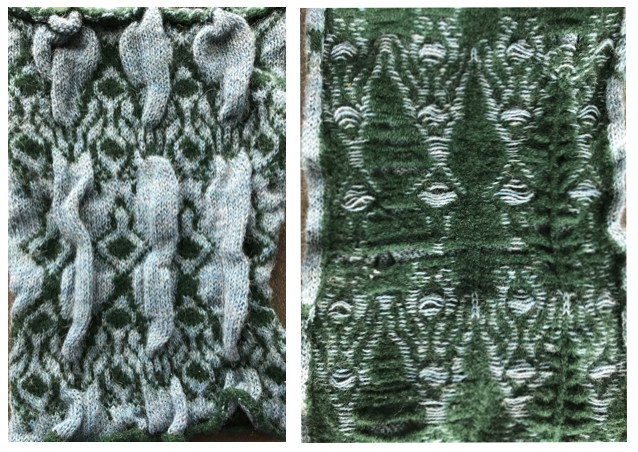 The reverse of both swatches showing the resulting difference in relative width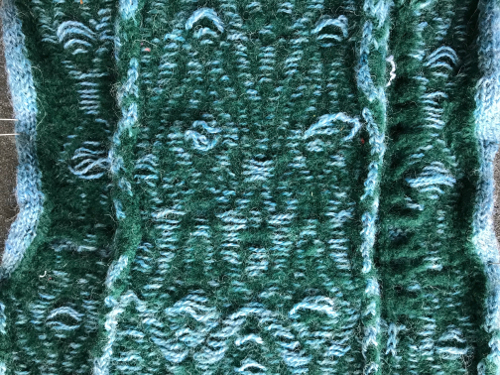 A factory supplied punchcard pattern, also felted. The fringe is created by ending on one side (in this case on the right) with a group of needles out of work and the outermost 2 needles in work, essentially producing a large "ladder".  Some needles close to the edge of the knit  were brought in and out of pattern to create the "zig zag". Knit side on left, purl side on right, no clearly visible, separate floats