A Ravelry post discussing cable connections to knitting machines for downloading patterns and associated software has led to my accumulating the information below. I am primarily a Brother and a sometimes Passap knitter and can speak to only part of the content below from direct experience.
The information on electronic downloads cannot be separated from a history of hacking, which began with Brother machines when mylar sheets became less available and folks began to have an interest in bypassing them. A review of such efforts was also shared in a previous post:
a hacking history https://www.beautifulseams.com/2014/10/29/tricodeur-writeup/
only the intro is in German: a nearly hour-long presentation by Fabienne<https://www.youtube.com/watch?v=n1CRNjzOuto>
Brother 930: http://learn.adafruit.com/electroknit
Brother 970: http://glitchknit.tumblr.com
930 knitting: http://andrewsalomone.com
910: Claire Williams  Wordpress site is no longer available
Fabienne http://fabienne.us/tag/knittingmachine/
keypad: http://travisgoodspeed.blogspot.com/2010/12/hacking-knitt…
FB100 Emulator software, disc utility program, cable
another approach for Brother models KH"'930, 940, 950i, and 970: http://daviworks.com/knitting/ and the associated group on Ravelry 
970 how to hack instructable 
for additional cumulative information, software compatibility, and hardware specs see Claire Williams' website
Superba hacking and open source software https://www.hackerspace-bamberg.de/Singer_Superba
E6000 https://www.hackerspace-bamberg.de/Passap_pfaff_e6000
hack and 3D printed accessories, Passap: Knitterstream
Present interfaces available for downloading patterns to Brother knitting machines: so far, both programs do not appear to run natively in the new iMac with M1 chip and Monterey OS.
That said, https://ayab-knitting.com , supported devices: https://ayab-knitting.com/supported-devices/. My experience using it has been with the 910. Pre-assembled kits used to be sold, over time they were offered by 2 different providers and were taken off the market by each of them. In many cases, there appear to be some issues with the program in DIY units as well resulting in mispatterning especially in long pieces of knitting.
Ayab operates as a true knit-from-screen, so the computer needs to be awake through the whole knitting process. In the case of the 910, the hack replaces the reader completely, the left side of the machine is left exposed, and the interface replaces the traditional patterning and power source, with its own cord connecting it to the power supply.
The last update to the program was in 2019. It performs color separations for dbj in multiple colors per row, including the only one of its kind, the Heart of Pluto one that eliminates jacquard color separation patterning errors and knits single passes for each color in each design row on the main bed.
Since the built-in patterning control buttons are rendered inoperable, Actions such as color invert, setting the number of repeats, vertical flip, mirror, rotate left, and rotate right are available within the program. Patterns may load both in color and shades of gray, palette color choices make a difference in achieving successful color separations.
Ribber settings include classic, middle color twice, HOP, and circular for tubular fair isle or other fabrics.
https://xxxclairewilliamsxxx.wordpress.com/hack-ta-machin… is an early post on the hack, showing steps involved. Kits with parts for DIY may be found online including at https://ko-fi.com/redpinkgreen/shop.
The program is free, any incurred expenses depend on how and from where the interface components are purchased.
The related Ravelry group has been quiet for a very long time, for more information on what is being developed and what users are knitting, the FB group has frequent shares. I would urge anyone interested in the program to join the group before making final decisions, to observe issues reported, and the finished projects if any using it https://www.facebook.com/groups/1384431355220966.
A recently added video KH 900+ KH 965 Brother knitting machine – How to install the AYAB Shield/alternative pattern control|
On my blog when I actively used the program, I shared my experiences using it and explored a variety of fabrics using its settings.
img2 track: works with Brother models KH 930, 940, 950i, 965i, and 970. https://daviworks.com/knitting/index.html. The program is also free to use on swatches limited to 60 stitches in width, to use the full width of the needle bed a the purchase of a registration key is required, the cost is around $100. The download cable can be ordered directly from Davi and directions are available for those with the ability to build their own. The program downloads the pattern into machine memory, so the computer does not need to be awake other than during download. The size of the download is limited by the machine model brain, with the 930 being the smallest.
When large files are planned, the program will reduce the pattern into tracks, and each has to be entered as a new program after the previous track is completed. The KH-930 takes just a few seconds to load the track because the memory holds only 2 KB of data (about 13000 stitches). Later models have a much larger memory (32 KB). The KH-940 and KH-950i require 42 seconds to load a track. The KH-965i and KH-970 load only the requested pattern, so the loading time depends on the size of the pattern. With Brother models KH-965i and 970, you can load a pattern from img2track without erasing the previous ones in the KM, as long as they fit in the memory. So you can have 901, 902, etc. loaded and choose between them.
Color separations are available for multiple color dbj, but not as a single pass for each color in each row as in Ayab Heart of Pluto. Images open in shades of grey. Each color in each design row is knit twice. It is possible to knit each design row color only once by adding a hand technique.
Adjustments may be made for vertical stretch, maximum width, and the number of colors used. Any remaining changes can be made by using knitting machine button selections.
Out of habit, I have used both programs to open bmps and pngs saved in indexed mode though both are said to open common file formats ie. jpg, gif, png, bmp, tiff, …Neither program exports files in other formats or allows for editing specific pixels in the designs in any way after they have been opened.
I have found img2track to be completely reliable, errors encountered during knitting or programming have usually been operator ones. I develop my patterns outside either program in paint programs, I prefer to use Gimp or ArahPaint6.
The AYAB GitHub offers a huge library of ready for download images from various sources,  most in png format.
I do not have any direct experience with Studio Electronic machines post-EC1 Studio's approach to machine brains was to develop an exterior box that could be purchased separately from the knitting beds, EC1 on the left, their PC1 on the right 

From the manual on its use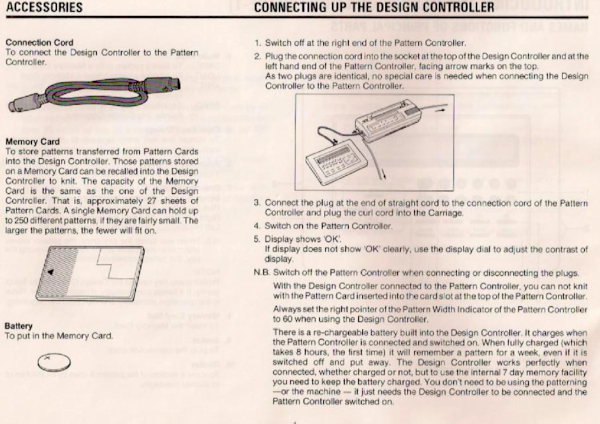 The following information is gleaned from online searches: Studio or Silver Reed's efforts to move away from mylar sheets as seen in the EC1, headed in a different direction than seen in Brother knitting. There are two options still available are the SilverKnit and SilverLink systems:
SilverKnit, with more info at https://silverknit.nl/dk/silverknit-en.htm "provides the knitting functionality of the EC1/PE1 for electronic Silver Reed machines. The site lists all pertinent information on system requirements and compatible models. One can knit patterns without the need for additional software, which may be created with a graphics package of your choice." The pieces involved include a controller unit, a coil cable connector curly cord, and the box, which may be secured on its side to the knitting machine case using velcro strips, usually true for other switch boxes and control units as well. There is a SilverKnit software user interface.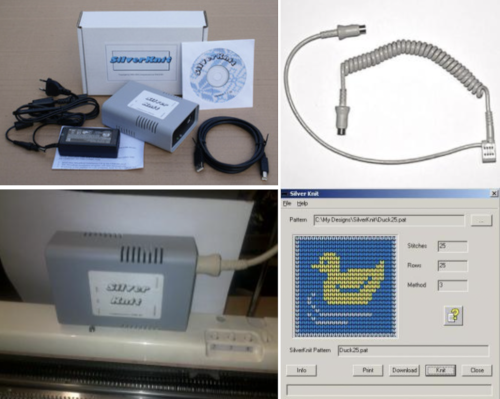 For Superba machines, there are the Superbaknit packages available: type A for pressure pad, 624, 9000 models, and type B for light scanner/pegboard models. They allow patterning across the entire bed, accept multiple file formats, and seem to use the same platform as the Silverlink program.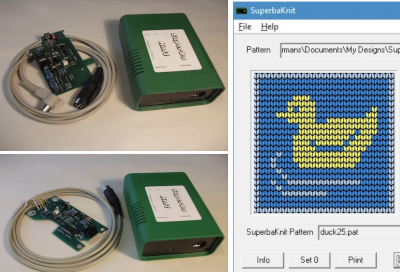 The Silverlink, now in Series 5 is for use with DAK. Manuals for softbyte cables include information on series 3, 4, and 5.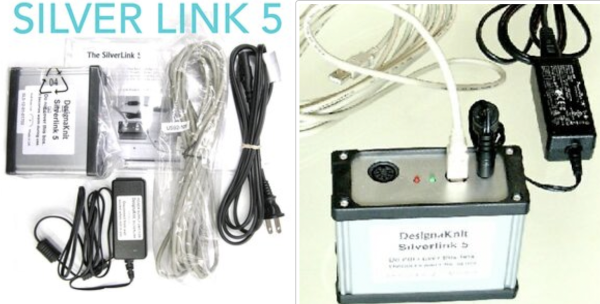 There are distributors in each country listed on the Softbyte site. There are also individual dealers selling related DAK products in other states and locations. Prices are not necessarily fixed, and relationships with local dealers may foster easier-to-reach individual support.
A 2020 review of the Five Pattern Control Methods for a Silver Reed Knitting Machine.
Passap knitters were first introduced to Creation 6 as the proprietary Madag E6000 software, usable with a short dongle on computers available at the time, making it necessary to remove the card reader from the machine in order to get it close enough to the computer for download. The dongle was plugged into where the curly cord connects on top of the console. Cochenille developed a download, knit from screen cable, and my early Passap pieces were made using Suzan Lazear's BitKnitter on a reader with 8K memory. With true knit-from-screen, console memory is bypassed. The system was also available for Studio machines, both became abandoned.
As is true for the present DAK system, there was also a proprietary Passap file format used, CUT, aka Dr. Halo. Eventually, I  purchased a switch box and download cable from Richard Croucher in England, and up to the present-day that has been my go-to for downloading patterns using and an ancient laptop. Personally, where I go now that I have a new PC available, is TBD. I failed to get the system to work using VMware on my old iMac.
One of the caveats with downloading to the Passap is that the cable connection for both the curly cord and the download cable share a single entry point to the console. This connector was temporarily available and spared some of the wear and tear on the console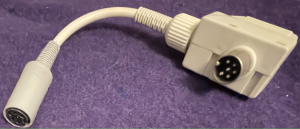 The addition of a switch box, secured with velcro on the console, allows for the possibility of downloading and knitting patterns without having to make any multiple other connections.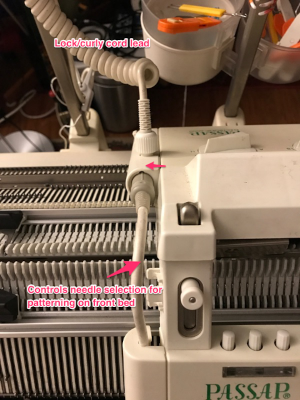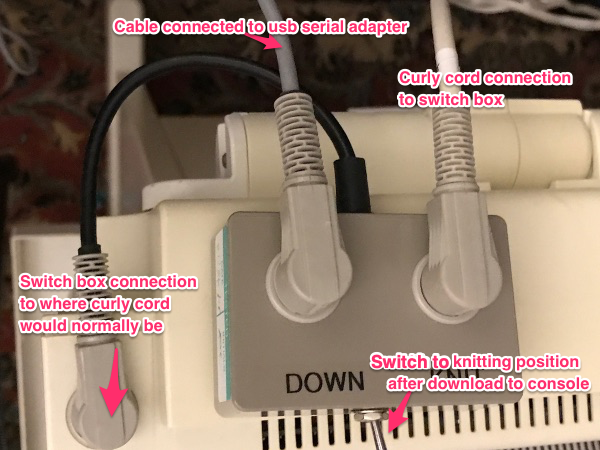 Aside from connections to the machine, there was the issue of available software for drawing repeats and downloading in the proper format.
In the heyday of machine knitting aside from textbooks and articles beginning to appear from authors such as Lewis in the US, Kinder in the UK, and Carmen Router in Australia, lots of practical accessories and other info grew out of a very active knitting community in Australia as well. Accessories included a plaiting feeder and a stitch ditcher, and homegrown freeware was shared for printing reader cards. To this day Wincrea is still available for downloading to the E6000 machines. Others have followed ie Journal 6, which is now available as freeware, the repository may be found here. Wincrea remains the easiest to use. Supported formats are CUT/ Dr. Halo, BMP, and WMF (Windows metafile). At the present time, downloads of patterns are only possible in machines that allow PC downloads with later manufacturer chips and larger, 32K memory.
CUT files have a separate palette, the program reads the palette if it is found in the same folder as the CUT file. If the program palette is not the same as when the pattern was saved previously, the colors may not be as expected.
Some scaling may be done within the program. Files may be saved in both CUT and BMP formats.
If one chooses to, saving palettes is done by using specified names in the 256 color PAL (Dr. Halo) format.
When a design is uploaded to Wincrea step one is to have it read the correct number of needles and the number of colors used. If it does not recognize a com port, it will give an error message, and com-ports can be reassigned using the E6000 settings option menu. Once it recognizes the port, then it will come up with the download to E6000 option, and will also give an estimated time for the download to take place. It walks the user through how to prepare the machine for download. Two things are required: the console's correct buttons need to be pushed to get to a "PC start" programming position, which verifies the machine itself is capable of accepting the download,  and the switch must be in the download position. If things work, a beep follows once the download option is selected and the LED screen on the passap actually shows a progress bar for downloads that take longer than a few seconds.  If the pattern has indeed downloaded successfully, the console beeps again and then follows up with questions on whether you want to alter the design in any way from its built-in additional options, what knitting "technique" you want to use, how many needles you want in work on either side of 0, and if you want to place the design in any particular place on the bed. It is possible to continue programming, either segments or different patterns altogether. At that point, cables are swapped out or if using a switch box, providing the operator remember to flip the switch to the knitting position, things should go smoothly. If one has forgotten to change to the knit position, the machine will beep and give you a totally different error message and beep. The Passap console has a whole series of lovely beeps, for all sorts of prompts and reasons that may be at times downright infuriating to people using the machine.
Passap color changers were available as add ons for automatic sequential color changing for up to 4 colors, are placed on the right rather than on the left as in Japanese machines, so programming downloads and first preselection rows must take that into consideration.
As CUT files proliferated, shared by Madag and individual designers, or as knitters wished to create their own, interest grew in creating, reading, and converting formats. Programs like Dr. Cutter for doing have long since become unavailable. Stitchpainter's early versions were able to save CUT files, I have not been able to verify online whether the present version still does.
Present-day options for opening and converting CUT files include for purchase Graphic converter. On my new M1 iMac, I had issues with CUT files not opening. The software developer was responsive to questions and troubleshooting, a nod of thanks to Thorsten Lemke. The advice: please download the latest version http://www.lemkesoft.org/beta.html, and make certain that in preferences, the box aside Detect Only clear formats is unchecked. 

and for solving the same issue in XnviewMP, a nod of thanks to Pierre-e Goulet for the solution:  in Settings, General, make certain that  Show all graphic formats is checked. 

Xn Convert allows for easy batch conversions.  I did not encounter any issues on Mac.
As these programs have grown in complexity, some of the CUT files open in strange colorways, need adjustments and editing, possible within the above programs, for increased or any visibility while some are viewed clearly. Batch conversions to other formats are possible, performed easily and quickly.  A Windows-only image conversion program for exploration: Konvertor
DAK proprietary formats ie STP and PAT to my knowledge are not readable by any program outside the DAK universe.
Softbyte now offers a similar setup with a switch box allowing for download to a console capable of accepting PC downloads, the E6000 Link 2. "This link has a switch that enables the selection of either downloading or Interactive Knitting. It means that the cable can be kept permanently attached to both the E6000 console and bed. This avoids the need for repeated connection and disconnection of the link, and therefore also avoids wear and tear on the E6000's sockets. The other links do not have the switch and need to be disconnected after downloading, so even if Interactive Knitting is not required, we recommend using the Serial E6000Link 2."

The Softbyte links for Brother machines include versions for downloading and uploading with a Brother PPD or to machines that take a pattern cartridge. The magnet arm for interactive knitting is not included with all, may be purchased separately. "The USB Brother Link 5 enables patterns to be downloaded from DesignaKnit, and any 900 series patterns to be uploaded to DesignaKnit. The 900 series pattern numbers are those loaded from another source into your knitting machine or PPD (e.g. from the PPD, Brother FB100 Disk Drive, or DesignaKnit). This link supports downloading and uploading with the KH930, KH940, KH950i, KH965i, KH970, and with the PPD using Cartridge III in KH900 mode, or with the PPD using the CK35 cartridge. This link is identical to the USB BrotherLink 1 except that it includes a magnet arm that attaches to the carriage and thereby enables Interactive Knitting with any knitting machine, including non-electronic ones."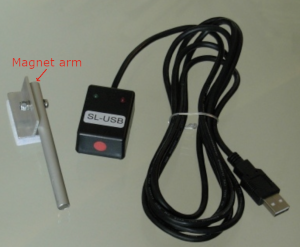 The ScreenLinks provide row by row instructions and audible memo alerts for non-electronic machines or anyone using mylars, built-in patterns, or other software for the pattern downloads. They are not able to download patterns. The Universal Link for DesignaKnit allows one to connect any knitting machine, including plastic beds, to the DesignaKnit interactive knitting as opposed to knit from screen function. The USB cable is attached to your personal computer. The other end of the cable is attached to the mainframe of your knitting machine, the magnet to the carriage or lock of your knitting machine. The cable senses the magnet as it moves past it, and as it does DesignaKnit will advance the pattern one row. From the manual: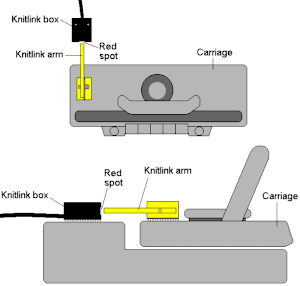 And shown applied to a plastic bed machine @ https://www.allbrands.com/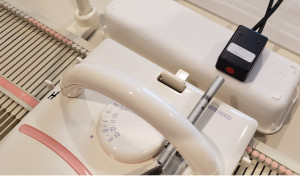 Garment shapes filled with patterns may be developed in DAK, the cable allows one to use DesignaKnit as a knitleader or knit radar device increasing the capabilities of the knitting machine when shapes are created illustrating pixel-based increases and decreases, akin to what could be drawn on graph paper with each cell representing both a single row and a single stitch, and connecting dots placed on the basis of gauge calculations.
Having a small supply of self-stick velcro tape to put on each of your machines, allows for the cable and magnet to be moved as required.
A second knitlink arm appears to be required for the use of the lace carriage. I would guess it might be attached to a second knit carriage as well if one is choosing to knit with 2 knit carriages selecting needles.

DAK cable manuals published by Softbyte. Full Dak software manuals are not available until the program is purchased. There are 5 program modules. Some of the user experiences, answers to questions, and related knits may be found in the FB associated group.