9/18/21 There have recently been efforts to provide the Stitchworld I files for easy download for electronic knitting. The file is in progress, the work of Thomas Price, it may be found at https://github.com/t0mpr1c3/ayab-patterns/tree/master/kh930. Click on the main folder "ayab. patterns" and then click on the green button at the right top of the page (code)
My starting document for subdivisions into categories: ayab patterns.numbers
I have been asked about Lace categorizations in the document, and specifically about fine lace.
Folks without access to the github can find similar collections of electronic repeats on KnitStudium.com 
Fine lace is created by changing the setting on the lace carriage between N and L whether for a whole piece or between the 2 settings on combination fabrics. Instead of being transferred from one needle to another, when the F setting is used, the single stitch is shared between two needles. Depending on the yarn and tension, far smaller eyelets may still appear. In my opinion, fine lace fabrics have a texture that is so "fine" that unless one is using a light shade of yarn with a smooth twist that highlights the changes in the surface of the knit the resulting texture may be hard to recognize. The combination fabrics have both eyelets and surface textures.

There are illustrations from punchcard books and accompanying instructions on what symbols mean in my blogpost
https://alessandrina.com/2017/12/08/punch-cards-to-electronics-book-symbols-and-samples/
Fabrics using the word lace in their name may not necessarily use the lace carriage or result in the familiar LC transfer eyelets
Variations using L point cams: punchcard machines method for isolating and/or spacing lace motifs or columns, I have read some folks have used cams on electronic machines as well
Tuck and lace: LC transfers combined with tuck stitch patterning
Woven lace: LC transfer lace combined with the weaving technique
Lace and fair isle: LC and FI patterning, both carriages selecting needles
"Lace-like patterns": possible in machines such as Brother and Passap, which allow for the same stitches tucking in one direction, slipping on the return of the knit carriage to its starting side. It matters which cam button function leads in the start of each pattern
Punch/ thread lace: thick and thin yarns used together in machines that have the option of a setting that allows for knitting both yarns together in unpunched areas or blank pixel rows, with traditionally, the thin yarn knitting in the front of the fabric, the thicker floating behind it
Tuck lace: tuck setting in both directions with specific needles out of work
Ladder Lace: worked with columns created by needles left out of work
Punch tuck rib: every needle rib combined with tuck setting patterning on the knit bed Drive/ drop stitch lace: stitches start on either of the 2 beds, and loops are picked up and dropped on the opposite bed
Shadow lace: stitches are moved between beds in a pattern to create knit stitches on purl ground or vice versa
Repeats can be used in multiple cam settings:
Fair Isle repeats with short floats may often be used in other stitch settings
Though listed in the FI section, 3 A, B, and C are knit as tuck stitches with needles out of work, NOOW
Any patterns with large floats ie 6 -8 are best knit as DBJ, double bed, ribber setting
In patterns such as #43, the left-hand column lists numbers 2, 3, and 4 indicating color changes in the B feeder, while maintaining a constant color ground in the A feeder
Any single motif pattern may be used for DBJ if programmed accordingly
Many FI may work well when programmed with the G carriage.
Transfer lace, fine lace, and combinations of both are used exclusively for that fabrics.
Tuck patterns are safe to try with every cam setting, though the resulting knit may not be exciting. Most containing single or double rows of white squares may be knit double-long for more texture.

If the tucks occur for 2 or 4 rows, with a color changer it becomes easy to change colors every 2 or 4 rows respectively, and patterns with many white cells may result in a knit that looks like what is often referred to as mazes or mosaics.
Three tuck rows such as in 236 and 248 would only tolerate elongation if a very fine yarn is in use. Color changes would result in elongated stitches being knit off on stripes in the alternating color, a less often used method than having them knit off on the next same color stripe. Any tuck repeat may also be knit using the slip stitch setting, but while tuck fabrics are usually considered reversible, the slip stitch purl side may be far less interesting.
Tuck repeats 283-292 rely on the correct needles being taken out of work to produce a fabric known as tuck lace. Depending on the machine model, the repeat may have to be flipped horizontally to set up proper NOOW for successful patterning.
Slip stitch settings with all-over pixel units matching those illustrated for tuck may be used in the tuck setting as well, ones with small areas of black cells may also work in weaving. Taking floats into consideration, repeats with rows with no more than 5 continuous black squares may work for Fair Isle.
When using tuck or slip patterns for FI, color reverse the image so the patterning of the white cells occurs in the B feeder and any color changes other than in the ground may be more easily made.
Patterns that look scrambled to the eye are usually intended for use with the color changer and again are accompanied by suggestions for color rotations made in the far left-hand column of the repeat ie in # 386 and 392 where the slip setting is used. The same patterns may be knit double bed, but any fabric changing color every 2 rows needs the first preselection row for row 1 to happen from the right, so adjustments need to be made when using such repeats in Ayab.
Thread lace patterns are best left for thread lace.
Hooked-up floats such as in patterns 408 – 413 use the technique to achieve added patterning on the purl side.
Some weaving patterns ie 427, 432, and 440 could be used for tuck or slip as well. Using repeats in other settings becomes easier when one recognized a few "rules". Hooked-up floats appear here as well, ie 460, and variations on e-wraps ie 463
As presented the garter carriage patterns do not translate well for other techniques without manipulation ie color reverse or more.
Patterns in the series KHC 512-521 are intended for use with the single bed color changer to produce the striped color patterning, the first preselection row is assumed to happen from the right.
Patterns in the series KRC 522-531 are intended for use with the double bed color changer. The first preselection row is from left to right.
Both sets indicate color changes in columns on the far left of the illustrations.
The remaining patterns are also intended for use with the G carriage.
A spreadsheet I built at the time with the goal to divide the patterns into folders ayab patterns
1/2021 For a variety of reasons it has been nearly a year since I attempted any swatch tests in significant lengths using Ayab. I am interested in exploring long repeats created with small stitch units, and the possible illusion of color variations if any created by the fabric movement. My first design was a dbj heart of Pluto fail because of a problem between the monitor and the chair, the middle value was too close to one of the 2 other colors in the palette, so it did not get knit on the top bed, I did not pay attention, kept on going,  the patterning for only 2 colors appeared correct over more than 200 rows. The second test was of a different repeat in 2 colors. It was knit in single bed FI for the first run and here I am again with the issue I have had in the past with patterning errors in longer knit pieces. The fabric begins to do what I intended, the effect may be more marked if knit at a tighter tension.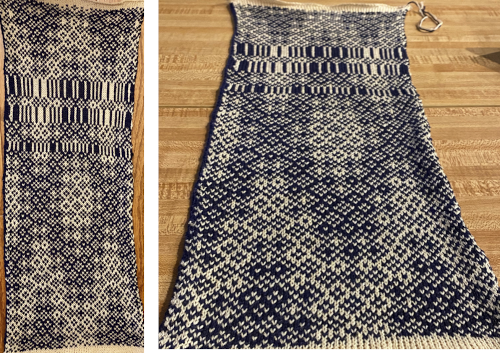 This is the working repeat, 34 X140 pixels, check if downloaded that the mode does not get switched back to RBC,  

here repeated X2 in width, with a 2 stitch border in black on either side (72 X 140), suitable width for a scarf in DBJ. DBJ is a better choice for long pieces since fair isle has a tendency to not stay flat, rolling toward the purl side. The side border is a personal preference of mine. Now that Ayab allows for repeating the patterns both in width and height, such border additions, whether for a single color vertical line or to produce all knit stitches aside tuck or slip center areas are still not possible additions within the program itself 

There have previous posts on automated lace edging on Brother machines, ie 1, and 2. For anyone wishing to try them, this shows the proper Ayab orientation for the repeat, along with selection errors on my 910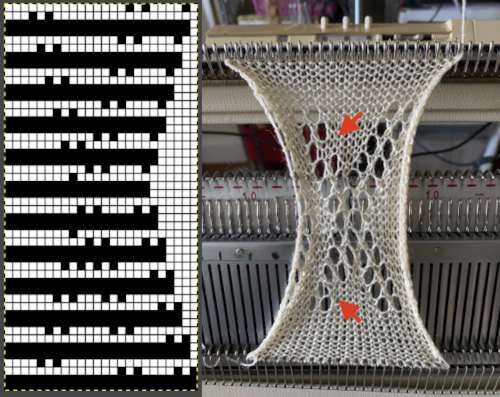 The first preselection row is as always from left to right, the knit carriage, set to slip in both directions when on the right knits 2 rows, preselects for the first row of transfers as it moves from left to right, and lace patterning and selection begins from the opposite side. Extension rails are a must on both sides since both carriages are now selecting needles and each needs to be off the belt while the opposite carriage is in use
After absences from topics, I find it necessary to review them and their categories. This list, for now, catalogs my previous shares on Ayab use specifically, all are subject to future editing
Revisiting Ayab_multiple colors per row DBJ  1/20
Ayab: short rows automated with slipstitch  5/18
Revisiting knitting with 2 carriages single bed, 910 vs Ayab so far  4/18
A Brother 910/ Ayab diary/ EMS kit 3/18
Quilting using Ayab software  2/18
Drop stitch lace using Ayab software  1/18
Lace punchcards meet Ayab 1/18
Although my swatches this past year were often knit using another interface I have added mentions of ayab repeats which will turn up in searches. Other times I have added them to earlier posts such as this one combining KC patterning with racking 2017/12/20