Switching to the abbreviated cowls/collars I found I needed lighter weight large "buttons". These are hard to find or often expensive enough that in production the added cost would affect pricing significantly. As an avid collector of craft and multi-media supplies, I have a significant stash of polymer clay dating back from months to decades. In an ah ah! the moment I made prototypes for what I thought might solve the button weight and supply problem. After the fact, I began to do searches on the care of polymer clay buttons and methods used in making them, which in turn led to a big oops! moment.
I recommend dry cleaning for most of my items unless they are felted ones, in which case hand washing or even a gentle washing machine cycle in cold water works just fine. Polymer clay it turns out does not like dry cleaning chemicals. If used on items cleaned that way it is recommended that the button be covered with plastic wrap and aluminum foil prior to exposure to cleaning agents. Hot water washes and driers also damage the clay, cool water hand /machine gentle washing appears to not be a problem.
Here are some online sources on these related topics: for a wealth of information on polymer buttons. Ready-made molds and ideas may be found here. Button shanks are available if that method of securing the buttons is desired.
The option I am choosing to pursue is making the button removable when the item is cleaned, which led to a search for button covers. Local chains that carry sewing notions had not even heard of them. A local mom-and-pop craft store, however, had an endless supply in their "backroom" dating back to when they were "in vogue". Have to love elderly owners that are the shop version of inventory software and can just "go to" things that have not been out on the selling floor in years.
For anyone not familiar with them, here is an image of the item, available in a few sizes depending on the source.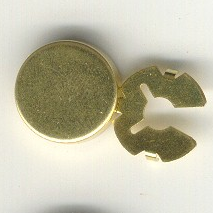 The plan of the moment is to affix the baked clay to the flat metal surface with glue such as E6000 and further test the idea. Having the removable cover also means clay could be painted and finishes could be varied in ways that would not be possible if the item was to undergo dry cleaning. My sample first efforts which I will torture/test are below. If not buttons perhaps all that clay may mutate to use in shawl pins.