I have to admit I can and do hand knit but now operate in life is short mode, and have decreased patience for projects that require a huge time commitment (relatively speaking) to complete. At a knitting seminar in the early 90s a demonstrator (who happened to be male) used to tour with a sweater he had "completed on the machine"  that had more than 3,000 (yes, thousand) cables in it: complex twists inside larger diamonds in turn formed by cables. IMO such a garment would be faster done by hand. One of the advantages in hand knitting is that errors are more easily seen since one has the opportunity to observe what happens on the knit side closer to the event. The fixed spacing on the machines that twists must travel can be a challenge in forming fabrics, particularly in all over patterns.
One possible solution is to combine machine and hand knit panels. Hand knit center arans may be joined to plain side and sleeves knit in stocking stitch on the KM (also a solution when larger sizes are required), and stitch patterns may be used in isolated areas or selectively rather than all over the garment. Patterning shifts in the knit/purl ground in garter stitch patterns may produce knit and purl "illusions" of shapes otherwise created by moving stitches in cables.
I have recently been playing with this crossing idea. The original intent was to try it out in an all over pattern in a brick repeat, and only one row of knit in between transfer rows. With yarn at maximum tension, after the first round of transfers the second round of them became impossible to perform. Am still at the drawing board, but the idea may well simply end with a 2 inch patch as opposed to anything larger. Wonder if Barbie is in the market for a lapghan?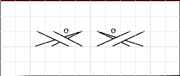 Follow up: the new working repeat with 2 rows of knit between cable crossings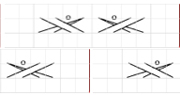 a test on standard KM: the ladders were a "surprise", a by product of the distance the stitches were moved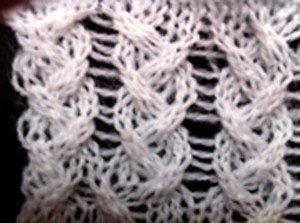 the same fabric with ladder "floats" being hung on adjacent needles to diminish ladders and produce holes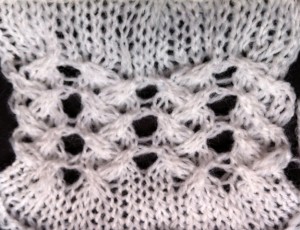 the stocking stitch fabric top and bottom of this last swatch is considerably wider than its cabled portion, a possible consideration for trims or insertions based on this idea; "you can't always get what you want" but sometimes one can still quite work with what one gets.