Still geared up for accessories, I felt compelled to come up with an edging: the following is an end stitch release knit. Prior to binding off the "tape" end stitches are transferred to the knitting bed, and then they and the remaining stitches are bound off. The transferred stitches do not drop and create a long stitch double knit segment. I am still working with the white acrylic
bound off and before release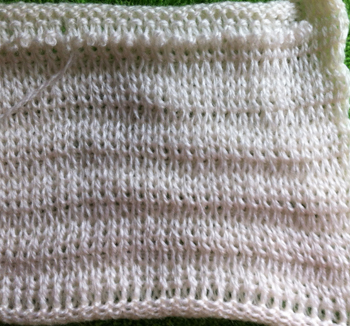 with the release starting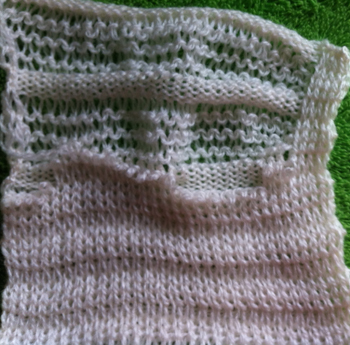 after release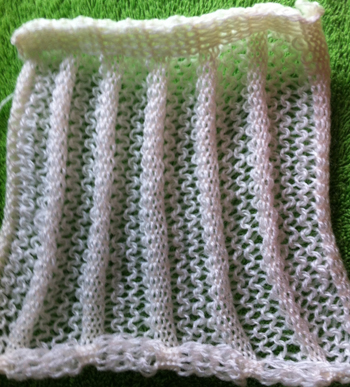 after pressing: flat, edge stitches too short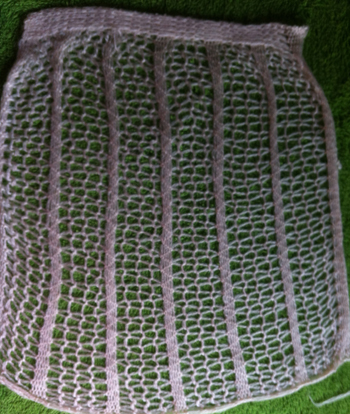 attached to back bed before knitting pattern  (purl side)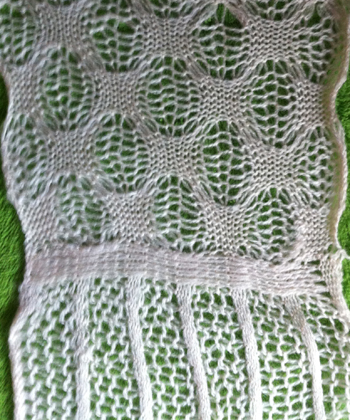 knit side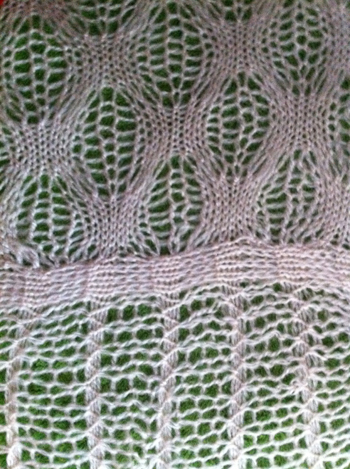 alpaca and silk swatch, surprise: this baby knits up/steams fairly flat!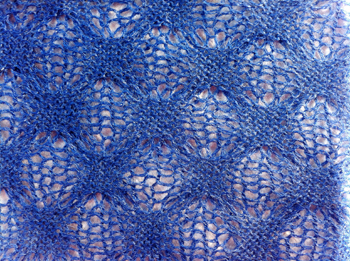 The most regular dropped stitches happened when the stitch ditcher was used at least as frequently as every 4 rows, the lock was too hard to push with it resting on the knitting bed before each pass. I thought I might break down and use a built-in technique and my color changer to drop stitches: Technique 256 here I come, and figlet! this is a completely different fabric and there is one row of loops formed for every 4 passes of the lock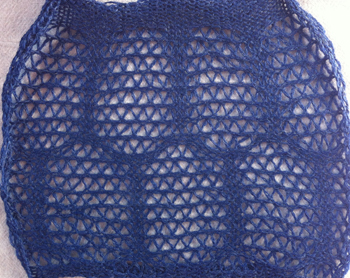 I now get why some people call drop stitch with this technique mock garter stitch, but that is so not what I was going for, so back to the drawing board for me! I have an idea….
if the repeat is twice as long, and 2 of the 4 rows are knit without yarn, then loops created on the first 2 rows should in theory be dropped. Tech 130 in essence doubles repeat length. Using it and the same back bed pusher arrangement and settings as tech 256 the fabric is much more like the original, but tension now needs to be adjusted, denser knit stitches are now too loose… time for a very long break!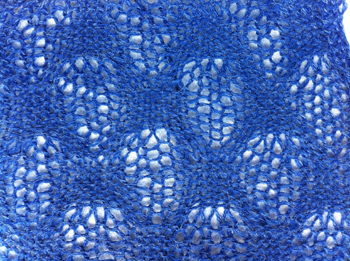 you can't always get what you want, do you sometimes get what you need? Curses! triple the number of stitches and tension problems occur, stitches don't want to drop in specific areas of knit, now using a combination of empty lock and occasional hand ditching, different yarn, totally different look fabric than on the first sample: here it is on the machine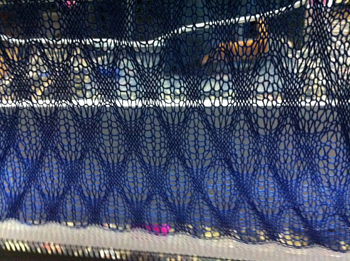 this shows why any lace needs blocking.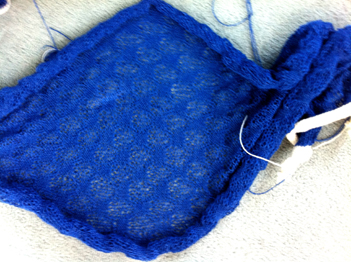 Finishing on the Brother: bottom and top of ruffle rehung and cast off around 2 gate-pegs for length matching width of "pleats"; piece and "ruffles" also rehung for the same type of join after 1 row of knitting through both layers. 
The finished piece measuring 17X60 inches after partial blocking.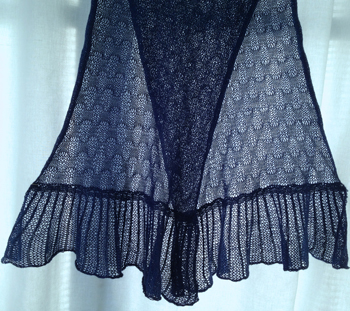 A different stitch pattern (E6000 1130) in the white acrylic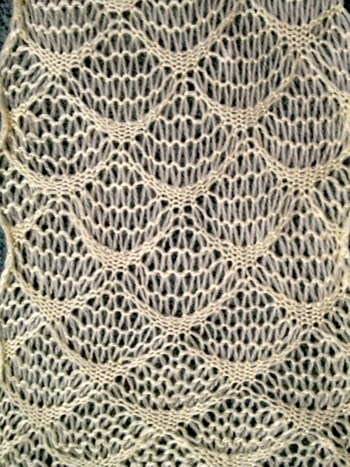 color striping in the alpaca/silk blend, requiring dealing with yarn ends at color changer side.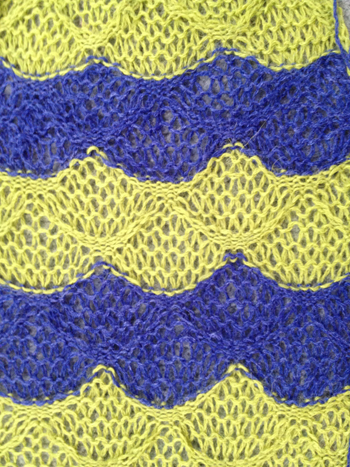 I had an interesting experience while knitting the one above of both locks jamming in the color changer. So many ways to have fun! and … I still want some bubbles!
A thicker yarn, larger tension difference between the locks, a bit more bubble on the knit side, but  too  much effort to knit