Reviewed and in the process of being edited with added charts and photos  12/2022. My working and presentation methods have evolved, resulting from evolving working methods and skill in using the new generations of available hardware and software including new generation iPhones with their built-in cameras.
The previous share on this topic: Ruching 1, a fern pretender and more.
Going straight up: in the 2014 chart color blocks illustrate needle groups that get picked up and transferred onto the same color row on the machine, with no specific references to needle tape or any other markings.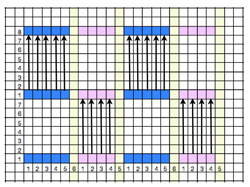 When repeating the operation in the same needle locations, having NOOW (needles out of work), thus creating ladders, makes it easier to keep track of groups in configurations.
The yellow lines represent needles taken completely OOW at the start of knitting.
Any of these fabrics may be made in a single color or varied color sequences. Sometimes changing the color in swatches and using sharply contrasting ones helps one understand the structure of the resulting fabric a bit more easily.
The number of rows knit between picking up stitches can be varied to suit, and not all horizontal stripes need to match in height.
Plain knit rows in the same color or an alternate one can add interest and decrease the total number of carriage passes in the overall piece.
In a different approach at the same visualization, all blank vertical rows represent locations where needles are in the A position, out of work, and remaining that way throughout.
To maintain equal edges in the piece, this setup is on a multiple of 6+5 needles: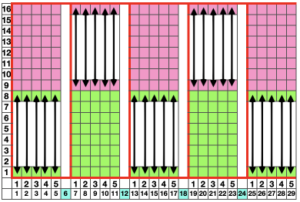 The block layout can be varied,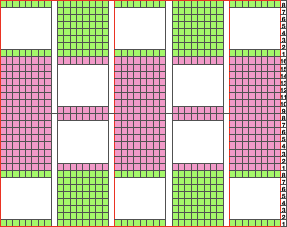 along with adding all knit stripes in any chosen color.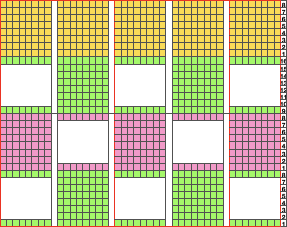 An illustration of what part of the stitches to pick up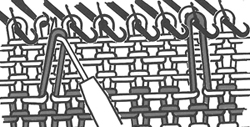 Variations in picking up sequences may be seen here creating different secondary patterns. 

Playing with spacings and rows, the setup is on a multiple of 9+8 needles.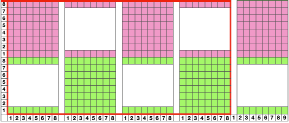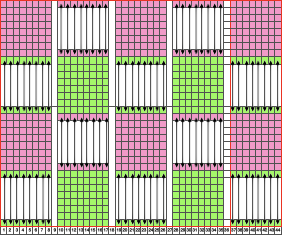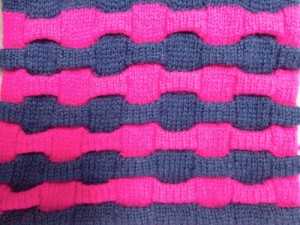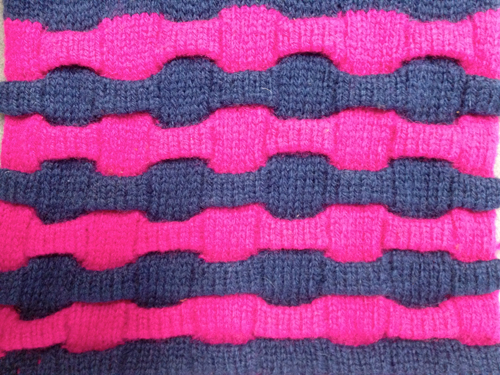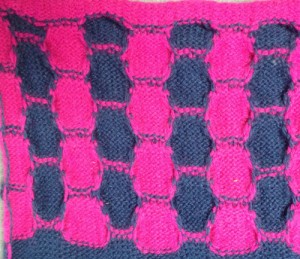 Playing with ladder spacing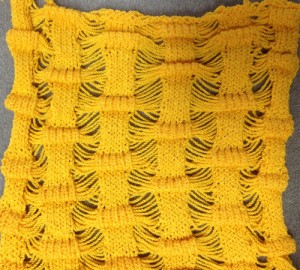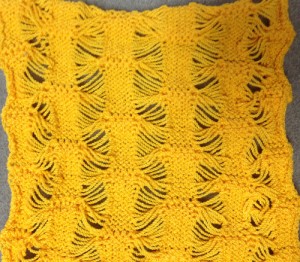 Using the FI setting in addition. When using Brother machines, any needle preselection correct patterning needs to be maintained.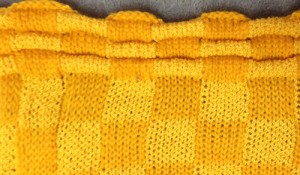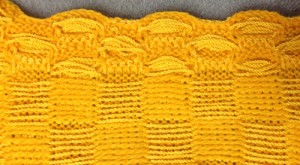 Some tips on ruched FI knitting: the fabric will shrink considerably in length, so most motifs will need to be elongated to accommodate that. Having a pattern that may be tracked easily by watching the floats on its reverse is helpful as may working in bands where the colors swap spaces (changing yarn feeder positions). Because of the fabric bubbles, knitting rows in only one color at intervals may track hook-up rows, while not visibly disrupting the pattern on its knit side. If small groups of stitches are to be picked up and rehung, markers with segments of nylon thread or yarn may be placed on the corresponding needles and be temporarily knit in. In addition, the needle tape or needle bed may be marked with a water-soluble pen to indicate locations for rehanging. Depending on the pattern, the number of stitches involved, and personal preference in terms of floats, needle selection in brother machines may have to be restored "by hand" to keep the design uninterrupted.
A few more: playing with striping and segment sizes.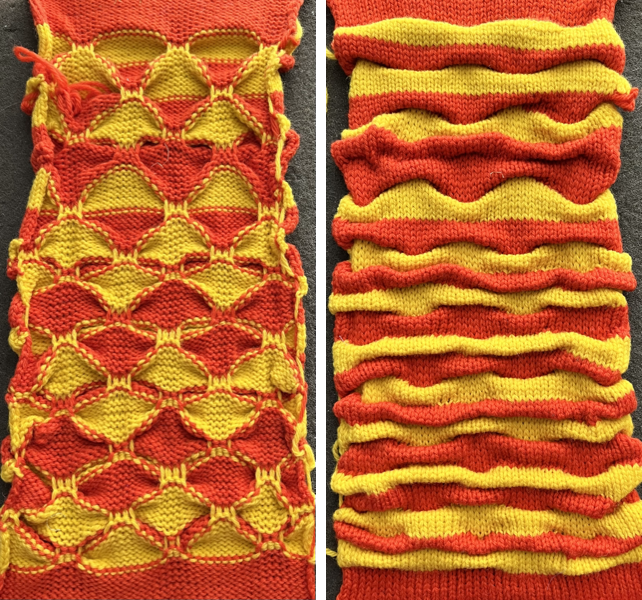 the red markings indicate a row of additional ruching in the center of solid striping.
Cast on a multiple of 12+4 stitches: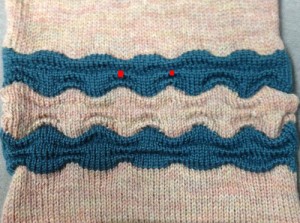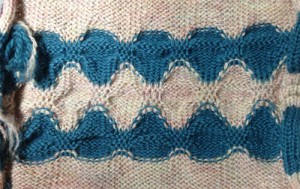 In response to the comment on the post, here is a proposed variant of the technique to try on a 40-stitch (36+4) sample. Visualizing the brick layout single stripe segments. 

Maintaining the brick layout, each segment may be repeated the desired number of times, creating stripes in extended textures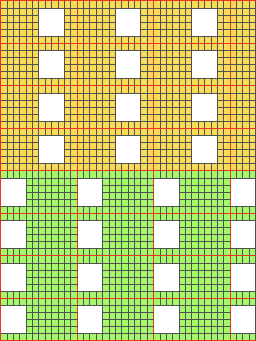 Working in a single color, with ruching in the center of the piece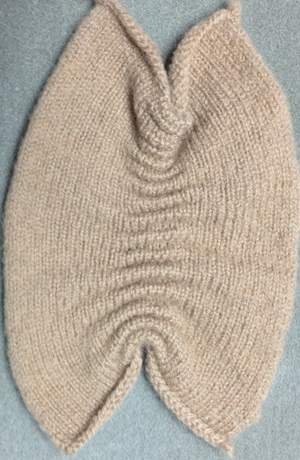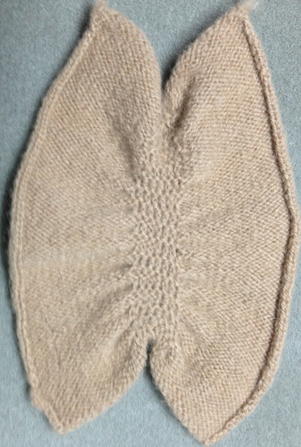 all on one edge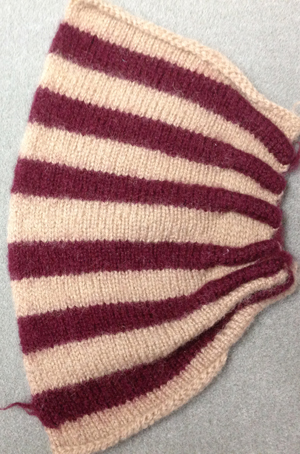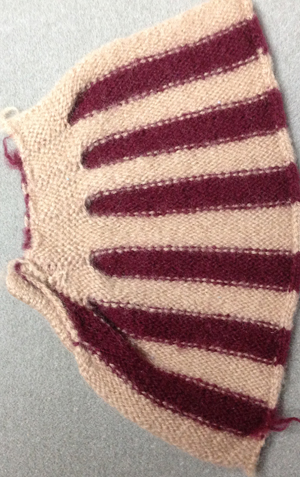 hooking up smaller numbers of stitches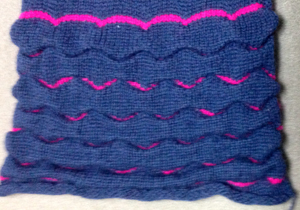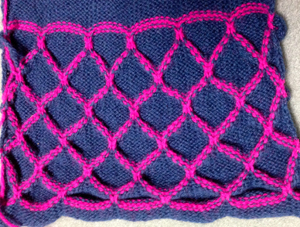 going partway, gathering one side, using thick and thin yarns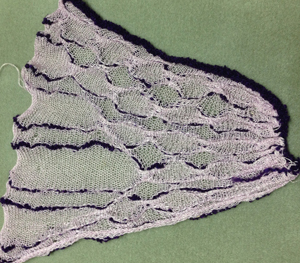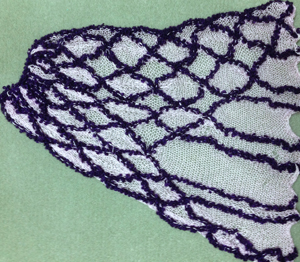 as design bands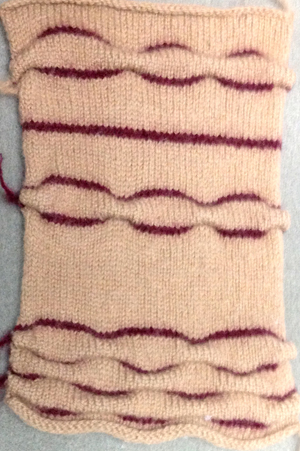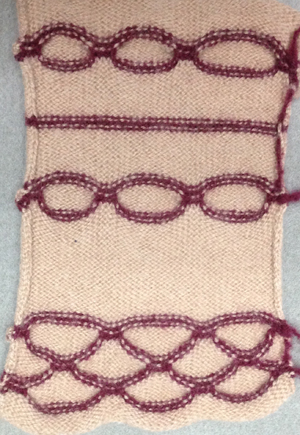 going mini