Working with the half fisherman racking discussed in the last post, here is an approach to interpreting the fabric seen below for knitting on a Brother model knitting machine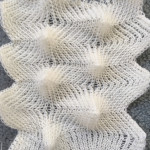 For the sample chart I chose a 12 stitch repeat, making it executable on any knitting machine. The ribber is set to half pitch. An often overlooked clue as to what is happening or is about to, is found in the arrows just below the racking position indicator. With the latter at 5, the red triangle appears pointing to L. As the bed is racked to position 4, the red arrow now points to the letter R. This is a simple racking pattern involving only the 2 positions, either to R or L
Once on position 4, the red arrow indicates the direction in which the bed was racked on the last move (R), the "empty" arrow the direction for the next move (L), bringing position back to 5. More complex patterns require a bit more planning and tracking to avoid errors.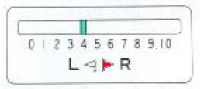 Racking patterns in books often recommend beginning fabric with the setting on 5, or the center position for the machine in question.  Doing so allows for balanced edges in patterns that swing by multiple positions in both directions. In this instance, for the sake of avoiding mistakes in as many ways as possible, I would start the pattern on racking position 10. Racking cannot go any further to the right, so no chance for example of racking to 6 rather than 4 in the knitting because of inattention. Having a "cheat sheet" with row numbers where no racking occurs, and position of the carriage to R or L at their start and or after knitting is also helpful. I had to lower the tension on both beds considerably to avoid forming loops that in turn got hung up on gate pegs. Especially at the start make certain that the comb and weights drop properly. Using KCI will insure that the first and last stitch on the main bed are always knit. In the patterning used on the Passap back bed (previous post), the groups of needles in each half of the repeat will change to the alternate position with each pass of the lock. On the rows where the back lock is changed to N, selection continues in pattern, but no tucking occurs. In this chart the pattern is maintained continuous throughout, while blank "remaining" squares are filled in on rows where no tucking or racking occurs = N, every needle knits. In Brother machines both tuck buttons are pushed in. Selected needles knit, non selected tuck across the row. 

I tested the pattern approach on my 910, with a 38 row, 20 stitch repeat in a random acrylic. I had some issue with some needles not selecting properly, for whatever reason. The repeat was not planned so a full 10 stitches were at each side of the knit, resulting in the difference on the right side of the swatch photo from its left.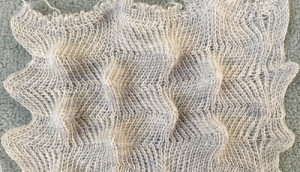 half the repeat with color change on single plain knit row (use of color changer only possible with even row change sequences), top stripe of swatch in plain rib