WORK IN PROGRESS
The only sock(s) I have ever knit have been as demos in my classes. I actively dislike wearing them, and it winds up being a sheer necessity in our winters to actually break down and wear them. I have had an ongoing interest in 3D knitted, explored some pleating, have always been fond of holding techniques. This year has not allowed for as much time exploring and producing as I might have wanted, am hoping to increase both activities in the coming one.
Forums of late have buzzed with knit socks, here are some possible online resources: from machineknittingetc.com:
studio-tips-and-techniques-issue-37-charting-socks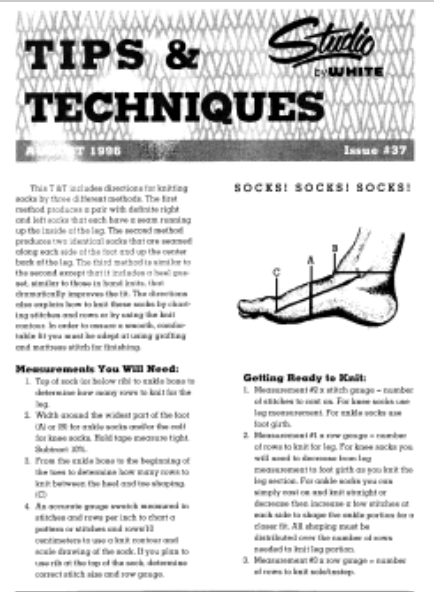 singer-sock-book-seamed-and-circular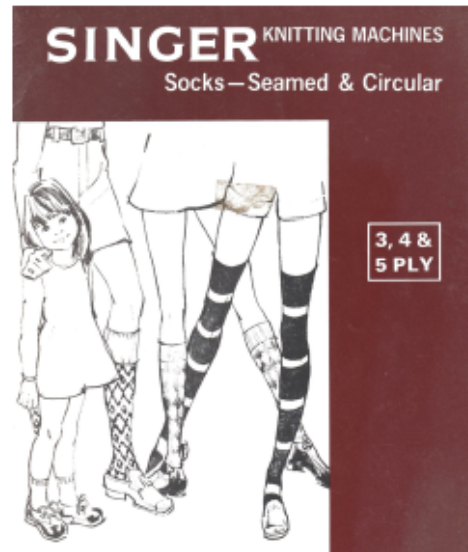 machine-knit-news-machine-knit-socks-supplement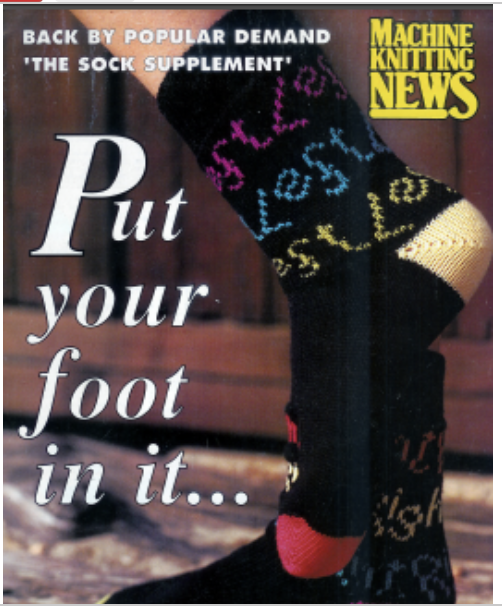 empisal-sock-patterns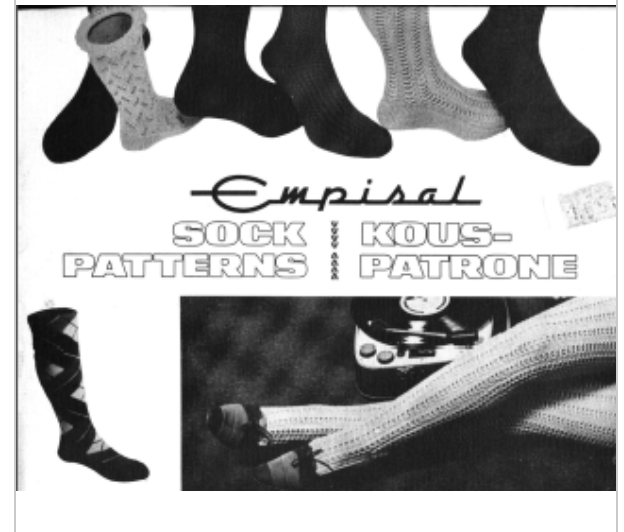 From assorted sources: visualizing shaping sequences: aspect ratio was disregarded in order to combine several images into a large one, particularly noticeable in the middle image on the top row 😉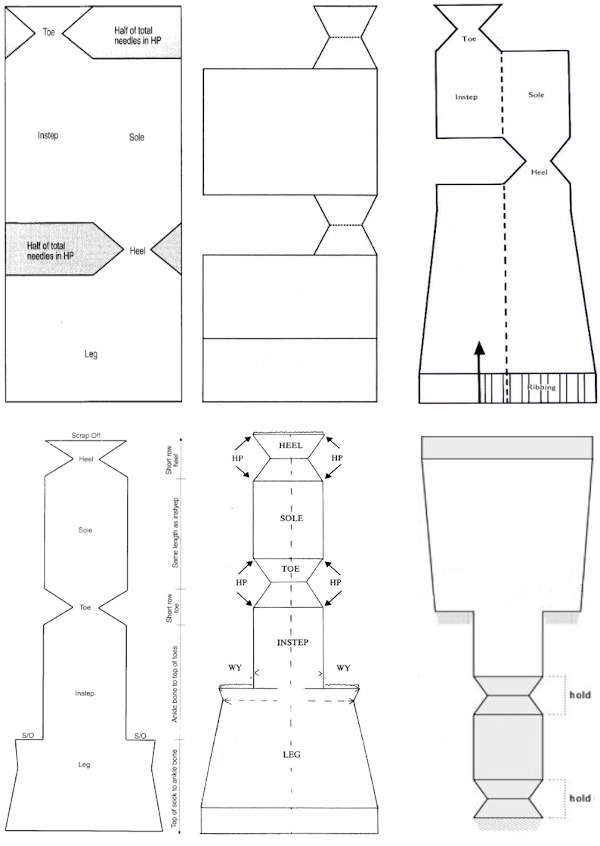 Patterns from manufacturers: Superba manual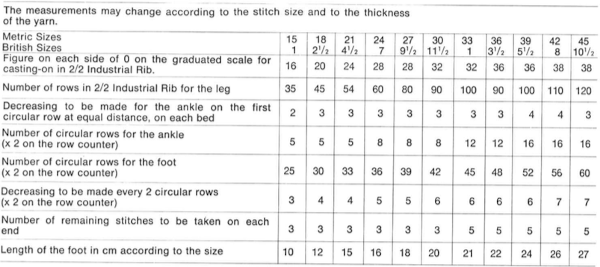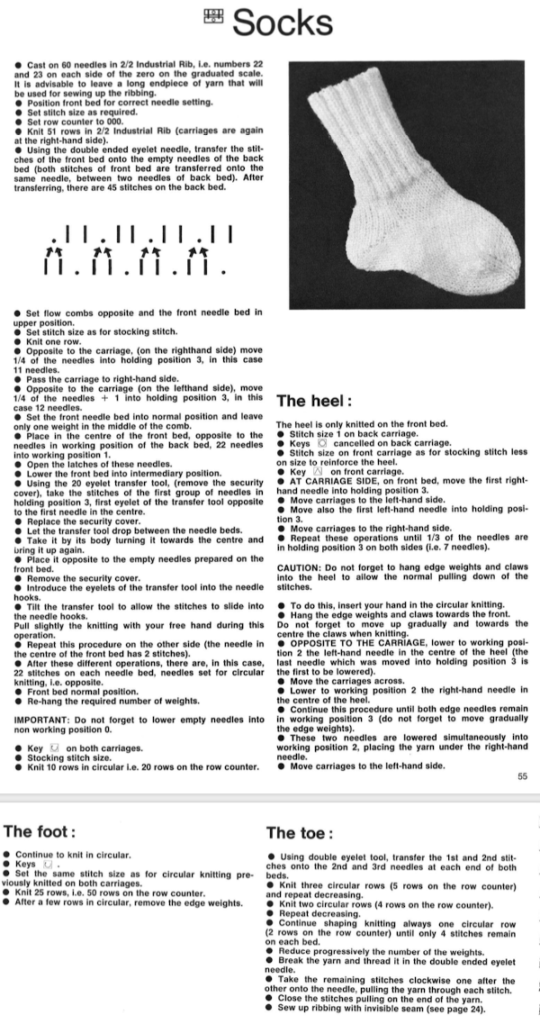 Passap Duo 80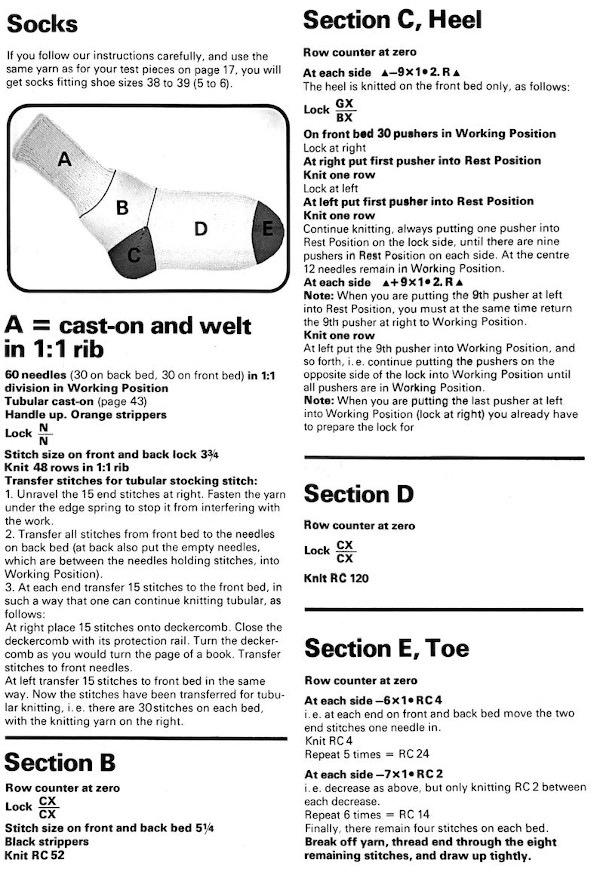 From a Brother pub. The original paper version actually came with knit leader patterns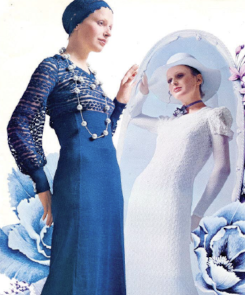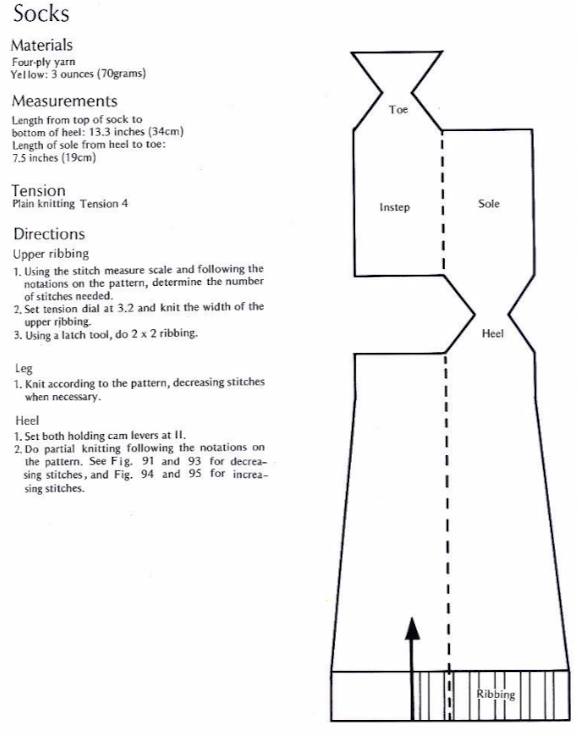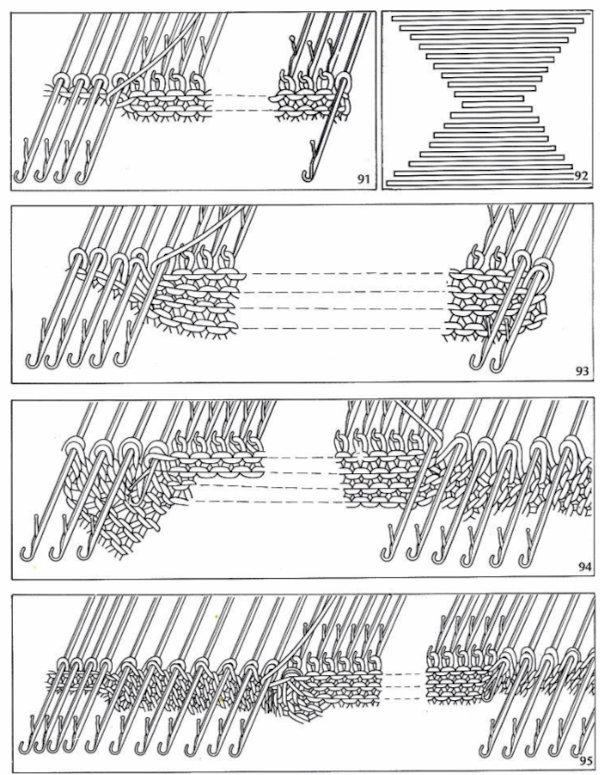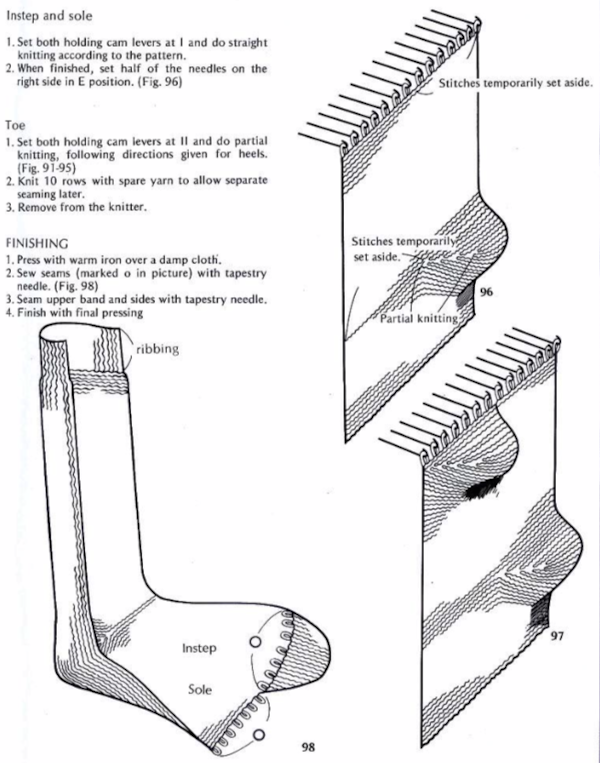 There are many ways to seam join such shapes. Seam-as-you-knit is another option. Diana Sullivan offers a video on the technique. Considering its limitations: the seaming needs to occur on equally shaped segments, this would eliminate any shaping to allow for widening parts of the leg as one moves toward the knee, so the height of the sock would need to be shortened, planning for fit. If one desires a true rib at the top of the completed sock, IMO seams at least for the rib are unavoidable, and one must take measures to make certain cast ons and bind offs for ribbed bands match in look and width. The same issue with shaping occurs when knitting socks tubular. For a tube to grow or decrease in diameter retaining its circular form, the only way to achieve the result is to increase or decrease evenly across knitting bed(s) involved, far easier to achieve if one surrenders the seamless idea and allows for a seam in the design. Here A sections would be knit first, B sections would follow with seaming along the dotted lines. The toe is a 3D shape achieved by holding, with no seaming necessary.
If one is fond of holding intarsia techniques and cumulative joins, this book is available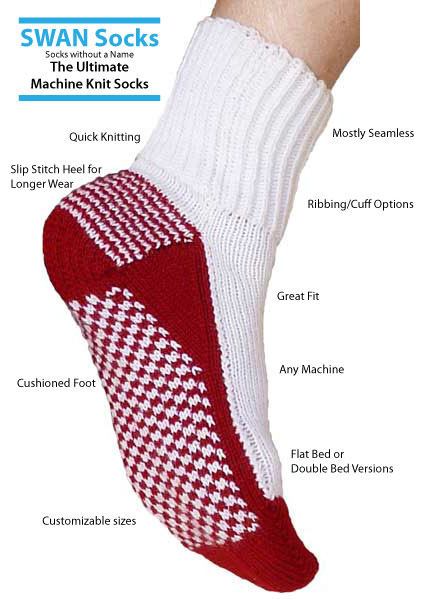 for advice and ideas on knitting the swan socks see https://knitterstoolchest.wordpress.com/category/circular-knitting/
a video link is included, as well as this schematic
machine knit sock and slipper pattern resource
socks, heels, and more 
eliminating short row holes
general instructions 
penny socks 
Sock calculators: http://roued.com/supersockcalculator.php  https://www.goodknitkisses.com/sock-calculator/  https://www.storey.com/crochet-calculator/toe-up-sock.html
From Knitty, an online hand knitting magazine: universal sock article 
A hand knitting resource on choosing your sock heels 
From Drops design, HK, a spiral sock , and a side to side version, both food for thought in terms of adapting for machine knitting.
For folks who prefer videos, a search on youtube will offer lots of choices, and Roberta Rose Kelley offers 2 that provide a wealth of ideas and information, on tubular socks, the other on adding afterthought heels , using decker combs on Passap machines, transferring ribbed band stitches using a garter bar 
Small scale experiments for larger ideas: the spiral sock
Mary Thomas' book of knitting patterns was first published in 1943, my edition in 1972. This is the usual cover photo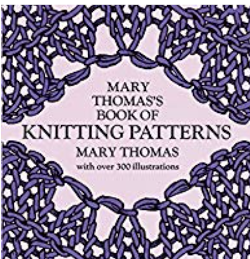 on page 38 a repeat and instructions are offered for a spiral tube sock. The latter has no heel shaping, but traditional toe shaping can be added.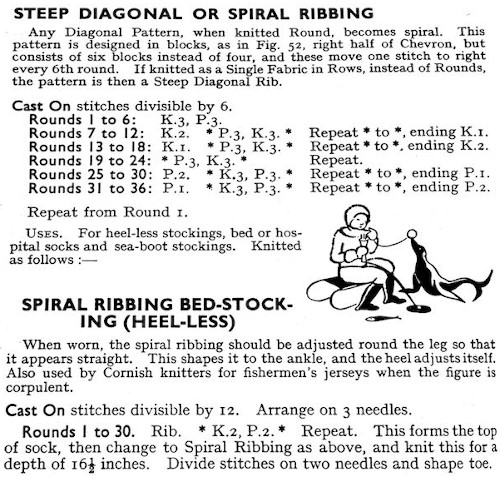 The knit/purl design can easily be executed single bed by folks who own a G carriage. My mini sock was knit on 30 stitches +1 for sewing. The blocks can be varied in width depending on the required circumference of the finished tube. The extra pattern stitch in the chart is to allow for seaming a half stitch on each edge and maintaining the pattern. *After every 6 rows knit transfer the right-hand needle of every ribber group to the main bed, on the main bed transfer the right needle of every group down to the ribber**,  repeat * to ** for the desired length. There are a number of ways to deal with the toe part of the stocking. I would opt for transferring stitches to the main bed and knitting one row, using holding remove half the width onto waste yarn then bringing half the stitches on the alternate side into work. The toes may then be worked using stocking stitch, scrapping off, and seaming or grafting the stitches held on scrap to each other. My working repeat, with a 12 stitch repeat usable on punchcard machines as well isolated by the added green border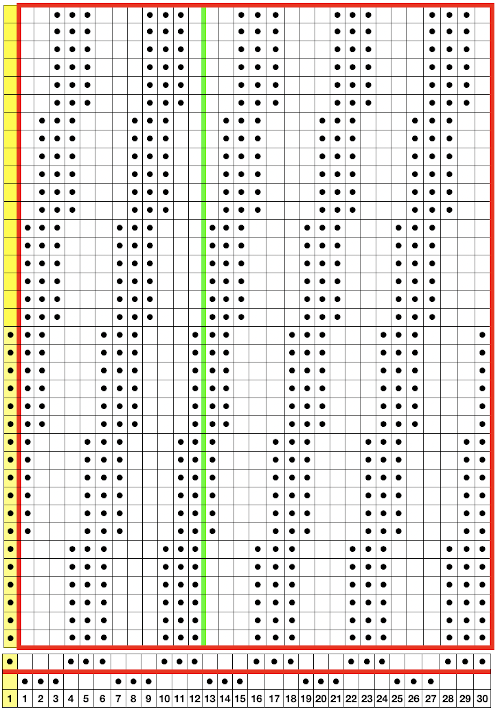 testing the tiling, making certain any programming would line up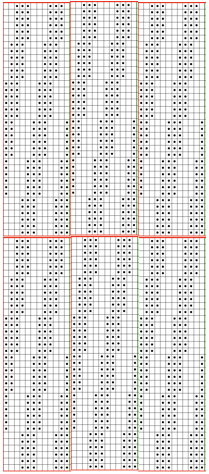 Cast on for a ribbed band at top of the sock  in any preferred configuration. Be certain cast on stretches enough to accommodate the finished width of the tube as it stretches to fit the leg. Transfer stitches between beds in the desired knit/purl configuration. When the desired height is reached transfer all stitches to the top bed, drop the ribber, switch sinker plates, knit a row on all stitches, divide for toe shaping. Here one half away from yarn end and carriage is knit with waste yarn and dropped off when shaping is complete,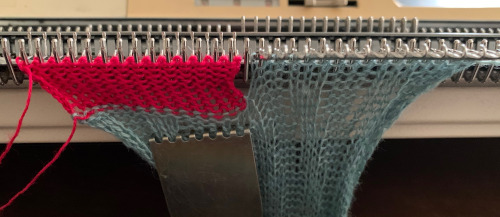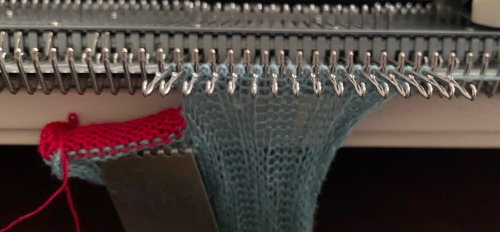 After toe shaping is finished and waste yarn is added, the work is removed from the machine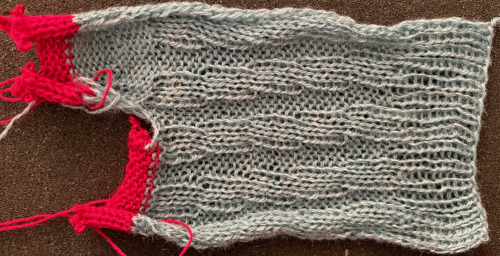 Because all transfers are made in one direction, as in any knit fabric where that happens, the fabric will bias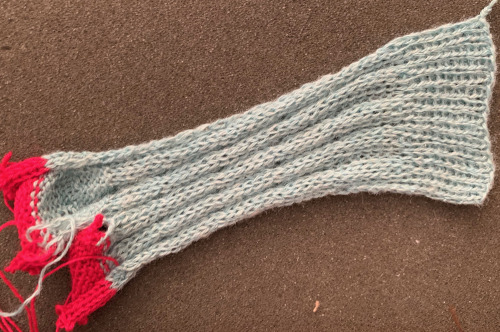 Here the toe shaping is seamed, the twist in the body of the sock begins to show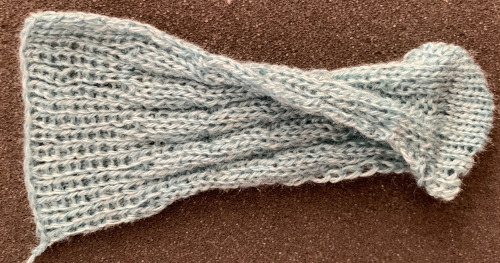 One side of my knitting was looser than the other, something to watch in any "real" piece. Thin yarn knit on tension 4 is probably also not the best suited for any socks in terms of wear. After seaming

and worn by a few cotton balls 😉